How to knit for beginners
Published on

March 28, 2020
By

LoveCrafts
6

min read
Learning to knit can seem a bit daunting, so if you're keen to kick start your knitting journey but you're not sure where to begin, you've come to the right place! We've got loads of brilliant learn to knit videos that cover everything from beginner tutorials on how to hold the needles and knit your first row, through to more advanced knitting techniques such as how to work those tricky button holes. You'll be knitting up a storm in no time!
Getting started
Before you begin your journey of learning how to knit, you'll need a few essentials to get you started. We'll talk you through the essential first steps to getting started including picking a knitting project, choosing the best needles for the job and selecting your yarn, as well as showcasing some fabulous kits. Then enjoy browsing our gallery of step-by-step tutorials.
1. Pick a pattern
The first step on your knitting odyssey is to pick a pattern! We've got hundreds of knitting projects from a host of designers and much-loved brands for all abilities. Whether you're looking to craft a cosy hat for a buddy, a snuggly baby blanket, or dreamy scarf, we have a beautiful pool of projects to inspire you!
Check out our free knitting patterns for beginners to get started!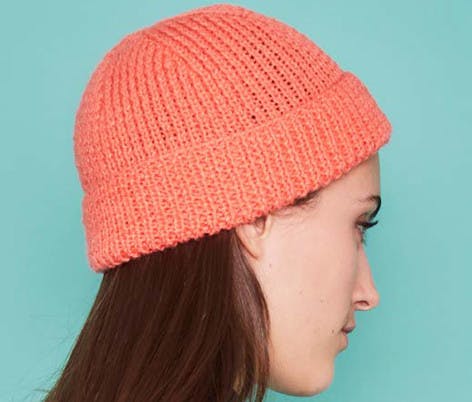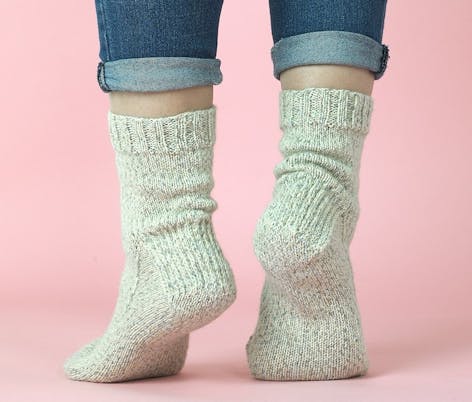 2. Choose the best needles to get started
First up, if you're learning traditional knitting techniques, we would recommend starting with single point needles, which are used in our beginner videos. But there's a whole menagerie of knitting needles to explore from DPNs to circular in different sizes and materials, from bamboo to plastic.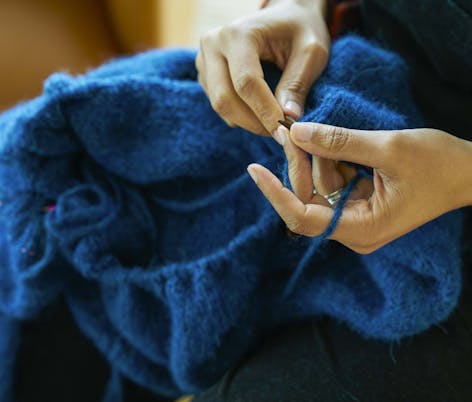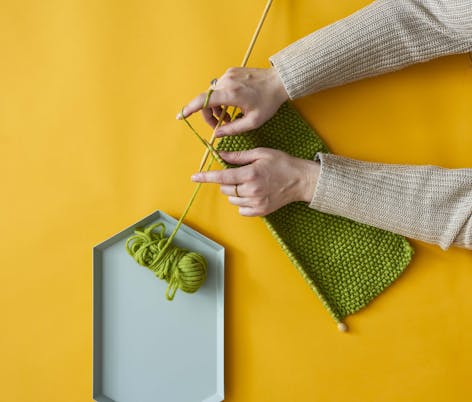 3. Select your yarn
Yarn glorious yarn! One of the greatest joys a knitter has on her way to making divine projects is choosing which yummy yarn to work with. With so many yarns to choose from in every shade imaginable, it can easily get a knitting newbie in a tangle. From selecting a suitable fiber to exploring color, we're here to help!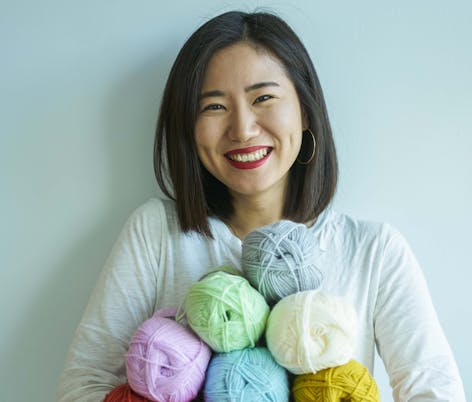 How to tie a slip knot and cast on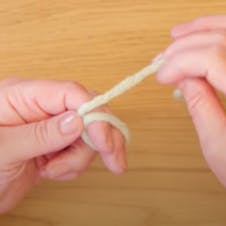 Leaving a nice long tail (which you'll sew in later), take the yarn and wind it around your fingers.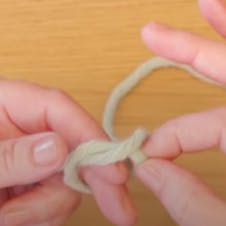 Reach through the loop around your fingers and pull your working yarn (attached to the ball) through.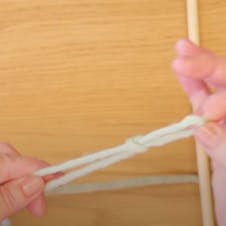 Remove your fingers, and pull the working yarn tight to produce a slip knot. You're ready to start casting on!
Pro Tip
A slip knot is a special knot on your yarn that means you can adjust the size of your loop.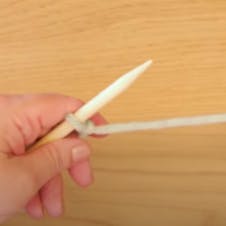 Place your loop around your needle and adjust size to secure if you need to. Hold in your left hand.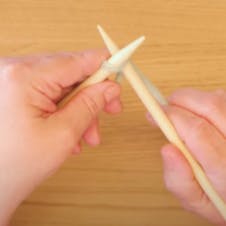 Insert right-hand needle diagonally underneath and into the stitch.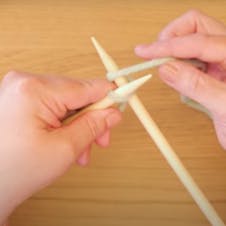 Take the working yarn and wrap around the front of the right needle.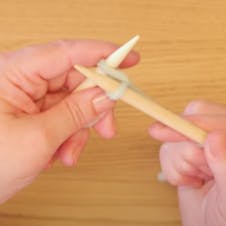 Bring the right needle back and place on top of the left needle, bringing the loop of yarn with it. You will have a loop on each needle.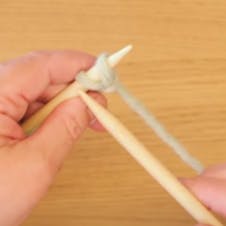 Now, transfer the loop on your right needle onto your left needle, so you have 2 loops on your left. You've cast on your first stitch!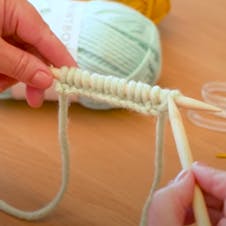 Now repeat step 5 - 8 until you've cast on the amount of stitches you'd like to knit!
5. Knit a row of stitches
Now you've cast on you're ready to knit your first row of stitches. The knit stitch, which is also called garter stitch, is the first basic knitting stitch to master when you begin. We'll show you how step-by-step.
How to knit stitch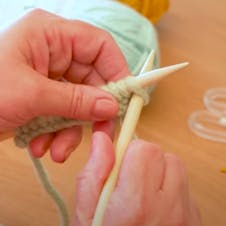 Insert your right needle underneath the first stitch on your left needle.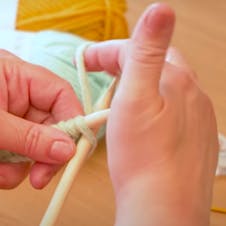 Bring the working yarn around the right needle.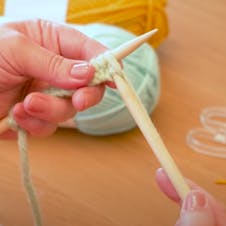 Slide the right needle back bringing the yarn with it, so the right needle sits on top of the left.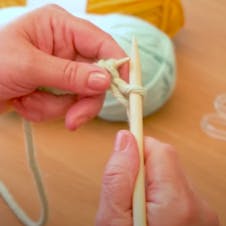 Slide the stitch off the left hand needle so you now have one knitted stitch on your right. You've completed your first knit stitch. Go you!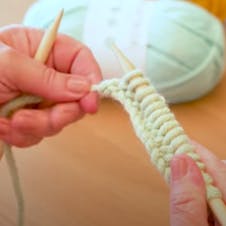 Repeat your knit stitch until you've completed the first row!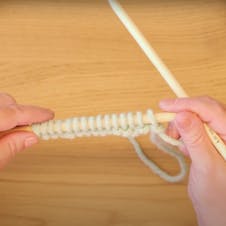 Turn your right needle around and transfer it to your left hand. Swap your empty left hand needle into your right hand to begin stitching your second row using steps 1-5.
Repeat the number of rows you'd like to build your fabric.
Binding off is the final knitting technique you'll need to complete your first knitting project. While there are lots of ways to bind off, we're going to show you a simple bind off method to get you started. 
To 'bind off' just means fastening up your live stitches using your needles, so you have a nice neat and secure edge. Once you've got this finishing technique in the bag you're ready to start your first project!
How to make a simple bind off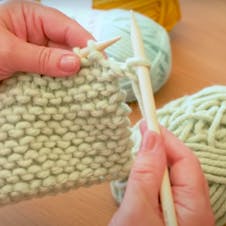 Knit your first stitch, as if you were beginning a new row.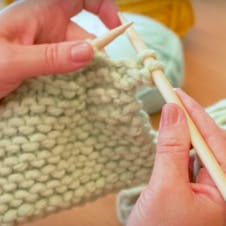 Knit the second stitch so you have two stitches on your right needle.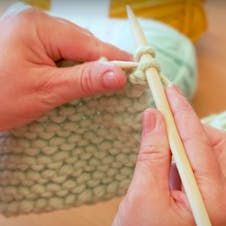 Use the tip of your left needle to insert underneath and into the first stitch on your right needle.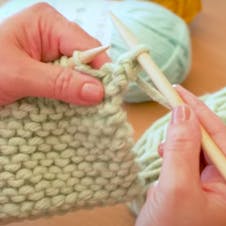 Use the left needle to lift the first stitch and pull it over the second, and that's it! You've completed your first bind off stitch.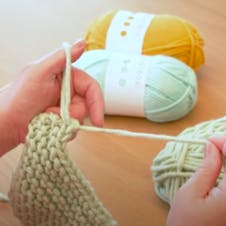 Repeat this bind off method all the way to the end of your row. Once you've reached the end use your scissors to snip the working yarn leaving a tail. Pull the tail through the final loop and tighten to secure a knot.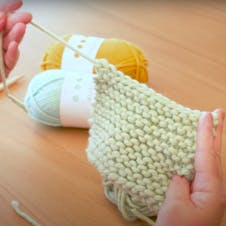 Now you've finished binding off, sew in your ends to complete!
Knitting videos for beginners
Get started with the knitting basics! If you've never picked up a pair of needles before, the thought of learning to knit can seem pretty overwhelming. Our beginners' knitting videos are packed full of helpful tutorials and tips on everything from knitting your first row to experimenting with super simple stitches - and once you've learned to knit, there's even a step-by-step project to practice your new skills at the end!
More beginner knitting videos & guides
Why not try out a knitting kit!
Kits are a wonderful way to purchase everything you need to get started knitting in one joyful bundle. These featured kits include yarn, patterns and needles; all you need to bring your project to life!
Get started with beginners knitting kits
Videos for intermediate knitters
Great! You've mastered the knitting basics, and now it's time to move onto something a little more complicated. Once you've learned to knit, you can start thinking about getting creative with your new skills, which means progressing from knitting squares and simple scarves to fun accessories and cosy garments. Our intermediate knitting videos are perfect for the knitter who knows their single pointed needles from their circular, and is ready to tackle more tricky knitting skills such as button holes and decorative bands. What are you waiting for? Grab that gorgeous yarn and get knitting!
Intermediate knitting videos
Videos for advanced knitters
If you're already a pro at knitting and purling, and you've got a cupboard full of gorgeous handmade sweater, then this is the section for you. In our final selection of fun learn to knit videos, we'll be getting to grips with the basics of colorwork with knitting lessons in stripes, stranding and the magnificence of Fair Isle. Time to color your world!
FAQs
'Is it easier to learn to knit or crochet?'
Both knitting and crochet are super easy once you master the first steps. Most people find one to the other, so we recommend trying both and seeing what works best for you. Still not sure which one to try first? We'll guide your through the differences between knitting and crochet.
Like to try crochet? Our guide to crochet for beginners is great for testing the water! 
'What is the easiest thing to knit?'
We recommend starting off with a simple hat or scarf when you begin knitting. Not only because it's a great way to practice your basic stitches, but also because it will be quicker to finish - which means you're more likely to stay motivated. Our free beginner knitting patterns have lots of ideas to inspire that first knitting adventure! 
'Which yarn weight should I start with?'
Start by using a bulky or super bulky yarn so you can easily see your stitches and track your progress. The best thing about thicker yarns too is that you can knit gorgeous fabric quicker than finer yarn, so you can have the satisfaction of seeing results sooner! 
'Which knitting needles are best for beginners?'
We recommend simple single pointed bamboo or wooden needles to begin with, as it's less fiddly, they have a nice grip and are able to anchor your work as you learn your first knitting stitches.