How to crochet a scarf for beginners: 10 simple steps
Published on

December 2, 2019
By

Merion
Skill level

beginner

Project time

6

hours
Crochet beginner? Need a last minute scarf to keep you warm, or a fast finish gift? We've got you covered with our easy to follow video with Merion, to show you how to crochet a scarf!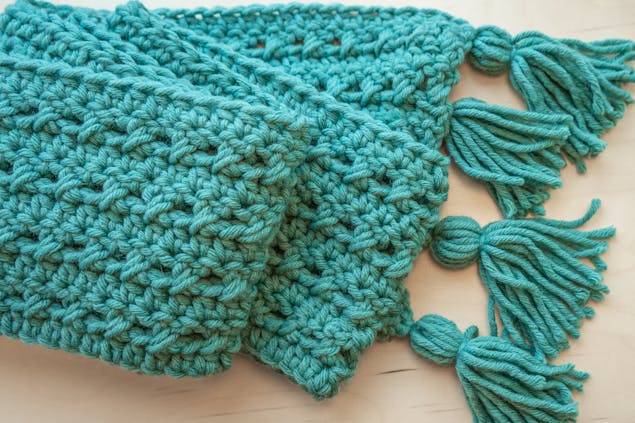 Great for crochet beginners!
Getting started with crochet can feel daunting, but once you can work basic stitches, a scarf is a great first project! This scarf is worked in one long length, from end to end, in super chunky weight yarn which will work up fast and make it easier to see your stitches.
Using simple stitches, follow our step by step video tutorial to make a simple crochet scarf. We'll be using double crochet, half double crochet and chain stitches using US terminology, and then added gorgeous tassels or a fringe edging!
Top tips for first projects
Choose a color you love - there's no point making yourself a scarf in a color you won't wear!
Take your time. If you make a mistake, gently pull back your stitches, stitch by stitch, until you know where you are, and start again.
If you spot a mistake earlier on, don't worry - think of it as a design feature!
Watch the video at your own pace - you can start and stop whenever you like! Some people like to watch all the way through and then start the scarf with the video from the beginning again.
If this is your first project, settle yourself down in a quiet place without interruptions, a drink and some snacks and hook up a storm!

US Abbreviations
Ch - chain
HDC - half double crochet (HTR half treble crochet UK)
DC - double crochet (TR treble crochet UK)
To make Merion's simple crochet scarf, you will need 1500 yards of super chunky yarn (we've used Paintbox Yarns Wool Mix Super Chunky in Slate Green, Ballet Pink and Mustard), a 10mm crochet hook and a sewing needle for ends.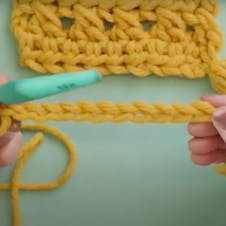 Chain 101 stitches. Then turn your work.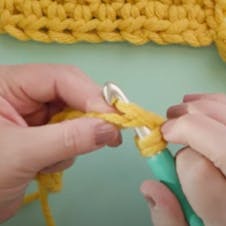 Starting in the second chain from the hook, work a row of HDC (HTR in UK terms) to the end, and turn.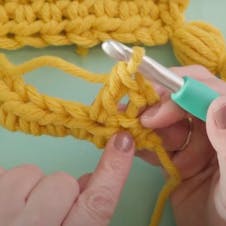 Chain 2, and work a double crochet (treble in UK terms) into the second stitch from the hook. Then work a double crochet into the first stitch, to create a diagonal cross. Skip a stitch and work a double crochet, and then work a double crochet into the stitch before. Repeat to the end of the row, and turn.
Chain 1, and work a row of HDC, turn.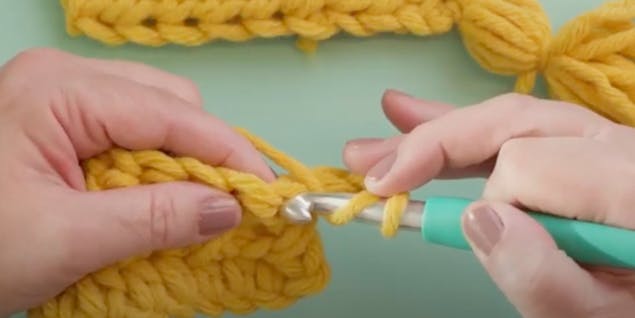 Repeat row 3 (crossed doubles)
Repeat row 3 (crossed doubles)
Repeat row 3 (crossed doubles)
Repeat row 3 (hdc), fasten off and sew in ends.
And you're finished! Another gorgeous crocheted project to add to your collection, and new skills learned. Now that you know how to crochet a scarf, you'll be crocheting scarves for the whole family!
Which yarn?
We've used Paintbox Yarns Woolmix Super Chunky for our scarf, but you can use any super chunky yarn. If you like natural fibres, try a wool yarn or wool blend, or if you'd like a plant based fibre try hemp or a cotton/acrylic blend. There are plenty of acrylic super chunky yarns to try, too! If you're going to choose a different yarn, you can calculate the number of balls by looking at the yardage on a single ball and calculating how many you will need to reach the 1500 yards you need for the scarf.
Browse FREE crochet scarf patterns
Learn more crochet stitches with even more tutorials!