Want to learn how to crochet but don't know where to start? Learning a new craft can seem daunting, especially if you've never picked up a hook before - but here at LoveCrochet we think everyone should jump on the crochet train.
We've got lots of helpful guides and tutorials to teach you how to crochet, from picking the right tools to step-by-step crochet tutorials. You'll be hooked in no time!
1. Choose your crochet hook
Before you begin picking your project, let's explore the essential tools and materials you need before you learn your first stitch.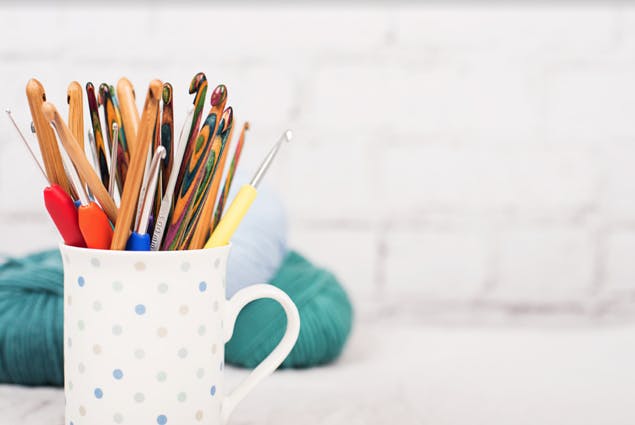 Crochet hooks come in all sizes and materials including metal, plastic and wood. The hooked end is used to pull the working yarn through loops to make stitches which eventually evolve into beautifully textured crocheted fabric.
Every crocheter has different preferences when it comes to choosing a hook; some people prefer metal, while others like the warmth of a wooden crochet hook. Soft grip plastic hooks are gentle on sore hands or for those who suffer with arthritis.
Before you decide, check out our crochet hook buying guide which is packed with everything you need to know about types of hook, and how to choose the the right one for you!
Shop crochet hooks for beginners
2. Grab your yarn
Once you've chosen your crochet hook, you're ready to explore the wonderful world of yarn.
Yarn comes in a whole range of different weights, fibre blends and shades. Different yarns work better for certain crochet projects, for instance, bulky weight wool is brilliant for deliciously cozy scarves and blankets, while lighter weights are better for intricate shawls and wraps.
3. Learn your crochet stitches
So you've shopped for crochet hooks, found that perfect ball of yarn, now you're ready to create your first crochet stitch. We've got plenty of step-by-step guides and learning to crochet videos, from the single crochet stitch, all the way up to more complicated increases, decreases and cable-effect stitches. But let's get started with the basics!
It's also important to remember that American and British crochet terminology are different, so it's always important to check which one the designer is using. If you're unsure take a look at our handy conversion table.
Beginner crochet projects
We've got a whole collection of beautiful beginner crochet patterns for you to try. Whether it's a chic scarf or vibrant mandala bag, you'll be amazed how easy it is to craft beautiful projects with a few basic stitches. We've rounded up some of our most loved easy projects for you to explore.