How to crochet for beginners
Want to learn to crochet but don't know where to start? Well, you can learn how to crochet right here! If you're a complete beginner, get ready to be hooked on your first project, and for the seasoned crocheters, we have tons of crochet inspiration and fun projects to discover. All you need is a few staple supplies and your favorite pattern. Let's get crocheting!
This video uses US terminology, but just in case you get a little confused or working with a pattern with UK terminology, we have a super handy crochet conversion table to help.
Crochet hooks are the essential tool you need in your stash. They come in all sizes and materials, including metal, plastic and wood. Every crocheter has a different preference, and there's no right or wrong when it comes to choosing a hook. Some people prefer the smoothness of a metal hook, while others like the warmth of a wooden crochet hook. Soft grip plastic hooks are gentle on sore hands or for those who suffer with arthritis.
2. Grab your yarn
The best thing about crochet is exploring the wonderful world of yarn! Crochet yarn comes in a whole range of different weights, fibers and shades. Different yarns work better for certain crochet projects, for instance, bulky yarns are brilliant for cozy scarves and blankets, while lighter weights like DK and lace are better for intricate shawls and wraps.
3. How to hold a crochet hook and yarn
While there is loads of different of ways to hold your crochet hook, pencil grip is often the comfiest and most popular.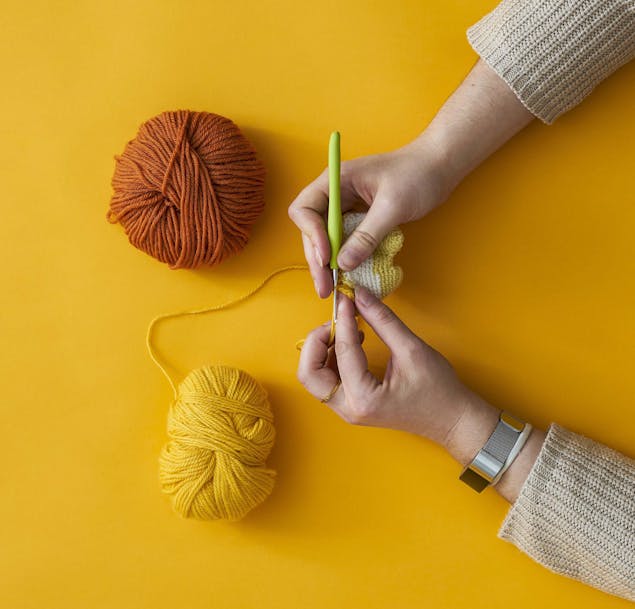 Hold your hook between your thumb and forefinger, just like you would a pencil, hence the pencil grip! This gives a nice, comfy grip as you loop and swoop your yarn. The hook end is used to pull the working yarn through loops to make stitches, and will be facing towards you rather than up or down. 
Tying a slip knot is the very first step in any crochet project. It creates the essential adjustable loop, that you then slip onto your hook. Holding the yarn in your hand, quickly create a loop by folding the short end over the long end. Pull the short end through the loop, before sliding it onto your hook and tighten. Practice a few times to get used to it. You've got this!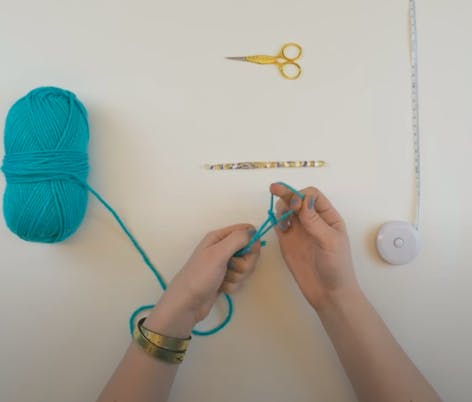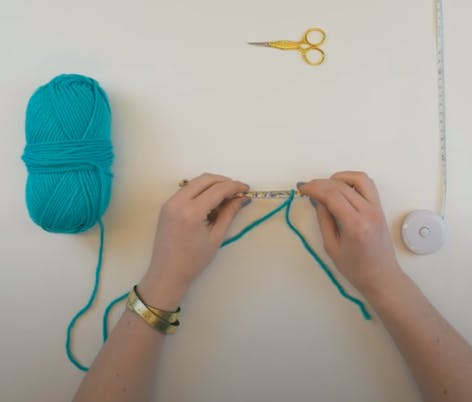 Once you've mastered the slip knot, the next step is to learn how to crochet a chain stitch. With the abbreviation "ch" or "chs", the chain stitch will be the first stitch you learn - an essential crochet stitch you'll use time and time again. Usually, the pattern will tell you how many chain stitches to make by adding a number after "ch". 
When you feel comfortable with the chain stitch, it's time to move onto the single crochet stitch. A single crochet is abbreviated to "sc" in US terms. This may differ depending on the pattern's language. In the UK, a single crochet is a double crochet, abbreviated to "dc". Keep our crochet abbreviations list on hand for whenever you need!
The double crochet stitch (known as the treble crochet stitch in the UK) is taller than the single crochet and an absolute essential for any crocheter. The double stitch can be used in pretty much any crochet project you can imagine, from irresistible scarves to squishy hats! 
8. How to fasten off your crochet design
When you've finished crocheting, fastening off is the final step to secure your yarn in place. Make sure to cut your yarn, leaving a long enough tail to sew in. Pull the tail through the final loop and tug tight to secure. Sew in your loose ends or follow the instructions on your pattern for the next steps. Now you're ready to experiment with more crochet stitches!
What to crochet next?
Discover thousands of crochet patterns from top designers and brands. Find the perfect pattern for your next project amongst crochet patterns for women, men, boys and girls.