Don't get yourself in knots! Learn to knit like a pro with our trusty stitch guide. We'll introduce you to everyday essentials as well as decorative stitches to use in more complex knits. Take a walk through our stitch tutorials and learn all about a variety of knitting stitches, whether you are brushing up on your skills or starting your very first project.
Knit stitch/Garter stitch
If you're a newbie to knitting, the knit stitch is the beginner's bestie! Also known as Garter stitch, it is simple and supple, and produces a sturdy yet flexible material (that won't curl around the edges). Garter stitch creates a classic 'wavy' texture that is perfect for beautiful basic accessories and garments to and toys and homeware.
Purl stitch
If you've mastered the knit stitch, time to get your purl on! The purl stitch is simply the reverse of the humble knit stitch, where the yarn is positioned in front of the needle instead of the back. Knit and purl together make up several well known combined stitches such as stocking stitch/stockinette and rib.
1 x 1 Rib stitch
Knit one, purl one is the most used combination for a rib stitch, creating the lovely stretchy fabric we use on cuffs and hems for just about everything!
2 x 2 Rib stitch
Make your rib stitch wider by working knit two, purl two to make a comfy rib stitch that works beautifully as a turtle neck collar or scarf.
K2tog
'Knit two together', or more commonly known as k2tog, is how to knit two stitches together, producing a right leaning decrease. K2tog is often used in conjunction with SSK, a left leaning decrease when working raglan shaping.
P2tog
P2tog is simply shorthand for purl two together, which describes the method of purling two stitches together, to decrease one stitch.
SSK - slip, slip, knit
SSK is the abbreviation for slip slip knit, which creates a decrease that leans to the left, usually partnered with k2tog to create shaping for sleeves and any stitch pattern that needs a decreases from both sides.
Slip stitch
The slip stitch is the slick technique of passing your stitch from one needle to another without actually knitting it. This is used by knitters for a variety of purposes including creating firm edges, decorative colourwork and textural effects.
Seed stitch
The seed stitch is a much loved knitting stitch, thanks to the rich textured fabric it produces. It is perfect for accessories, and makes a good alternative to rib for collars, cuffs and button bands because it doesn't curl.
Kitchener stitch
The kitchener stitch, a technique also known as grafting, joins two rows of live stitches leaving no seam, making it a perfect join for shoulder seams, toes on socks and around collars. This is a principle finishing technique for your knitting toolbox!
Wondering how this particular stitch got its name? We have just the post for you...
Stockinette
Stockinette is the most used knitting stitch of all, creating the smoothest fabric and the best surface for colorwork. It is created by working one row of knit/garter stitch followed by one row of purl, repeated. If you are knitting on circular needles, it is automatically created by knitting garter stitch in the round.
Moss stitch
Moss stitch creates a beautifully textured motif, and is worked by switching knit and purl sequences every two rows. In the UK this is known as double moss stitch.
Take a look here, to see how to knit double moss stitch with Anna Nikipirowicz.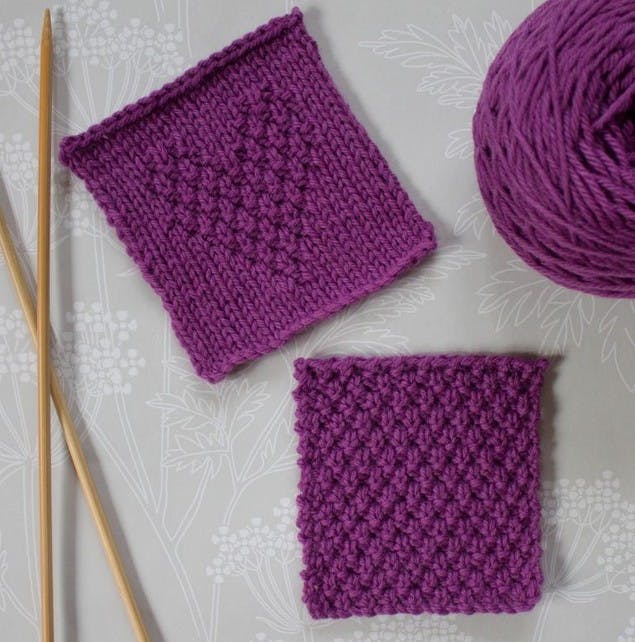 Linen stitch
Dense and detailed, the luxurious linen stitch has a rich woven texture. Perfect for any project, the linen stitch is particularly lovely for accessories and homeware.
Rib stitch
Ribbing is used everywhere in knitting, from cosy hats and scarves, to the cuffs of snuggly jumpers and even blankets. The single rib stitch is formed by alternating knit and purl stitches to the end of each row, and creates a fabric which is stretchy and textured. You will see it in knitting patterns as K1, P1 (knit one, purl one), or often if the rib is 2 stitches wide, K2, P2.
Button bands and button holes
Follow our handy guide to creating button bands and button holes for some handy skills to have under your knitting belt - they turn up on everything from cosy cardigans and jackets to cushion covers and snuggly cowls.
Bands and borders
Bands and borders are fabulous for adding interest to knitted projects such as blankets, cardigans, scarves and cowls, and they're easier to work than you might think!
Changing colours
Knowing how to change colours neatly will transform your knitting, from learning how to start a new colour to how to carry a thread along a row, our video is full of helpful hints and tips to master the essentials.
Striping by carrying yarn
Changing colours is a great way to brighten up your knitting, but there are always lots of pesky ends to sew in afterwards. Learning how to carry the yarn up the sides of the work, rather than breaking and introducing new colours each time, means your knitting stays neat.
Stranding colours for Fair Isle
Stranding yarn is a nifty little trick used for lots of different colourwork patterns, from stripes and geometrics to more intricate Fair Isle designs. The yarn not in use is carried loosely behind the work, and then picked up again at the next colour change.