Ever wanted to try embroidery? Get started today with our handy embroidery guide. This beautiful craft often looks complicated, but anyone can learn!
Hand embroidery doesn't require a lot of supplies and you don't even need to take a class. It's easy to learn a few stitches, which is all you need to start. Plus, the supplies are inexpensive, and there are so many excited free embroidery patterns for you to create beautiful beginner projects. Yes, there are fancy embroidery supplies, but simple works!
If those aren't enough reasons for you to jump into embroidery, it's also fun and so very satisfying to stitch your first design. Grab some supplies and get started today!
Browse Beginner Embroidery Patterns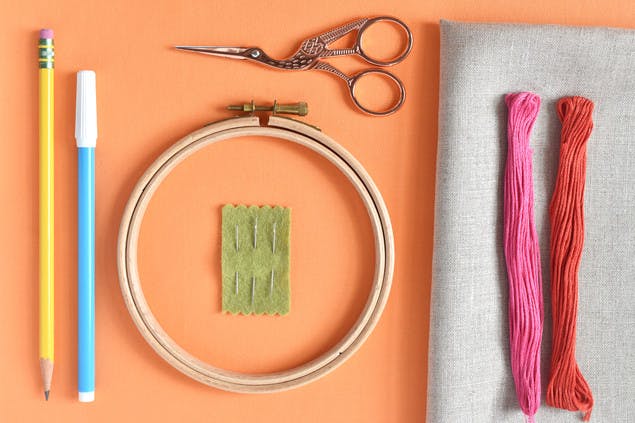 Embroidery tools and materials
You can embroider on anything you can get a needle through, but some fabrics are easier than others. Fabrics with a tighter weave work best. Linen and quilting cotton are good choices for getting started. Avoid Aida cloth, which is designed for cross stitch.
Hoops come in all kinds of materials and sizes, so you can find what works best for you. To start, a medium wooden hoop is great. As long the hoop holds your fabric securely, you're set.
Most embroidery patterns suggest stranded cotton embroidery thread (or floss), but you can also use perle cotton or other specialty threads. When using stranded thread, you can separate the embroidery floss and use from one to six strands, which affects the thickness of your stitches.
It's best to use a needle that's designed (and labeled!) for embroidery. These needles have a sharp point and a larger eye, which makes it easier to thread and to pass through the fabric. Embroidery needle sizes are numbered, and the smaller the number, the larger the needle. Choose a size that feels right for the thickness of the thread you're using.
Any pair of scissors that's sharp enough to cleanly cut your thread will work for you. However, small embroidery scissors are helpful because you can get them close to the back of your work for trimming the floss ends. Plus, there are so many cute styles to choose from!
Transfer tools
There are plenty of options when it comes to transferring a pattern to your fabric. The tool and method you choose will vary, depending on your fabric. For light fabrics you can usually use a regular pencil, but you can also buy special tools, such as iron-transfer pens or water-soluble stabilizer.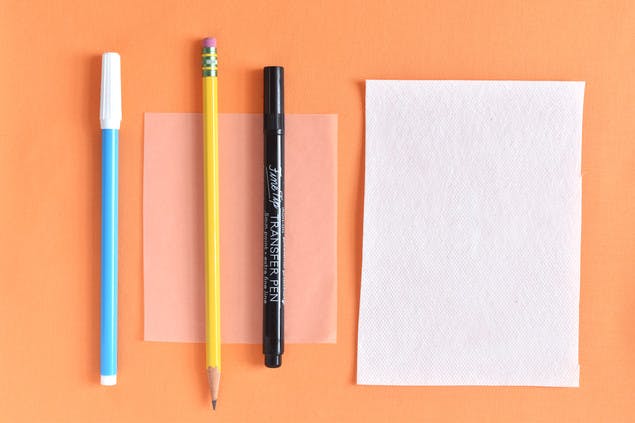 Browse More Embroidery Supplies
Water-soluble pens
A simple method for transferring an embroidery pattern to your fabric is tracing. Use a lightbox or a bright window, hold your fabric over the pattern, and draw over the lines with a water-soluble pen. These pens are designed for embroidery and quilting so you can wash the lines away when you're done stitching. Be sure to soak the fabric so that all the markings wash away.
Iron transfer pens
Transfer pens are a way to create your own iron-transfer patterns. To use these pens, start by flipping the pattern on a computer (many patterns come with a reversed version ready for transfer). Trace your pattern onto heavy tracing paper, then place the pattern face down on your fabric. Press the back of the paper with a hot iron, but don't move it around (it could blur your transfer!). Iron transfer pen markings are permanent, so be sure to cover them with your stitching.
Water-soluble stabilizer
This amazing supply makes pattern transfer so easy, and it's especially helpful for dark fabrics. Print the pattern directly onto the water-soluble stabilizer, then peel off the backing and stick it onto your fabric. Embroider through the fabric and stabilizer. When you're finished, soak the material and it dissolves away like magic!
Tracing paper
Another way to get your pattern on dark or difficult to trace fabrics is with tracing paper. Trace the pattern onto thin tracing paper (tissue paper works if you're gentle) and baste the paper onto your fabric. Stitch through the paper and fabric, then carefully tear the paper away when you're finished.
Pencil
It's not always ideal, but you can even grab a freshly-sharpened standard pencil and trace the pattern onto your fabric, just like you would with a water-soluble pen. Sometimes the pencil drags on the fabric, which makes it tricky, and the markings are permanent, but odds are you already have this tool on hand!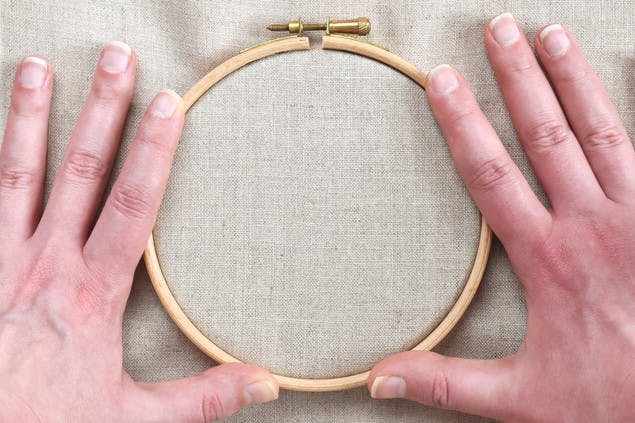 Placing fabric in a hoop
You can find different styles of embroidery hoops, and some may come with special tips for placing your fabric in the hoop. Most hoops have a solid inner hoop and an outer hoop with a tightening screw.
Loosen the tightening screw enough to separate the pieces. Place the inner hoop on a flat surface and lay your fabric over it. Press the outer hoop down onto the fabric and inner hoop, then tighten the screw.
When you place the outer hoop on the fabric, try to get the tension just loose enough to go over the fabric, but not so loose that you can easily move the fabric around. Use even pressure as you push it onto the inner hoop.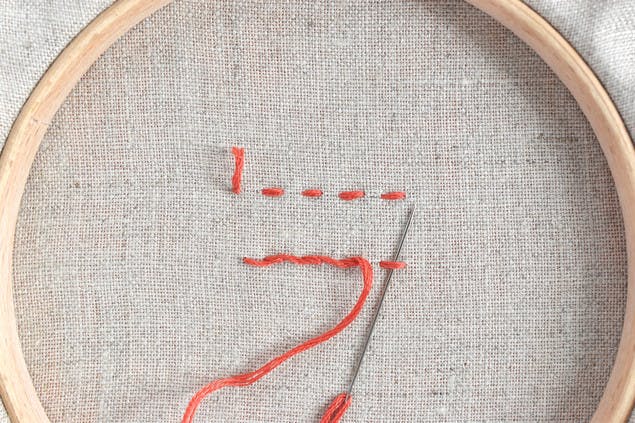 Basic embroidery stitch techniques
Starting and ending
One of the greatest debates in embroidery is whether or not you should start and end with a knot. And guess what...either is fine! There are times when it's better to avoid knots (they can make lumps in your embroidery and can even come undone with repeated washings), but it's okay to do what's easy for most projects.
With knots
When you knot your embroidery thread, be sure to use a knot that's large enough to prevent it from pulling through. Your end knot should be as close to the back of the fabric as possible so the stitches on the front don't loosen.
Without knots
As you make your first stitch, leave a tail of embroidery floss on the back of the fabric. As you stitch, position the tail so your stitches cover and secure the tail. If you'd rather, you can thread the tail onto a needle and weave it in the stitches. At the end of your embroidery, weave the end through the stitches, then trim the thread.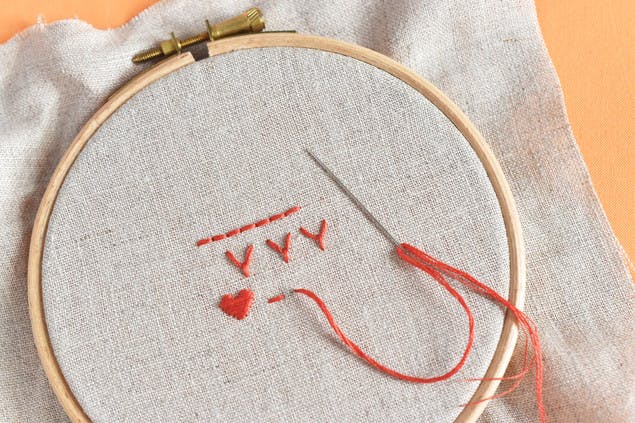 Learning embroidery stitches
Some embroidery books show you how to work dozens or even hundreds of embroidery stitches. That can be intimidating! But there's no need to learn so many stitches. In fact, many embroidery patterns rely on only back stitch and running stitch for outlines, french knots for details, and satin stitch for filling in an area.
Learn the top ten embroidery stitches to get started, and you'll be ready for most patterns. Work your way through them all, or practice them as you need them! As you do more embroidery, try out more advanced stitches like a woven wheel stitch, bullion knots, picot stitch, and more.
What are you waiting for? Now that you know what you need to begin your first embroidery project, pick out a pattern and start stitching!
Learn even more about the stitching world!