If you're new to knitting, learning how to knit a scarf is the best first project to start with - it's a gentle way to practise a stitch, and the soothing, repetitive motion of working back and forth will slowly encourage those movements to settle into your muscle memory. The simplest stitch can look awesome in your favorite color yarn, and it is soooo exciting to wear your first garment. So, follow our simple step-by-step beginners knitting pattern and you'll be learning to knit in no time!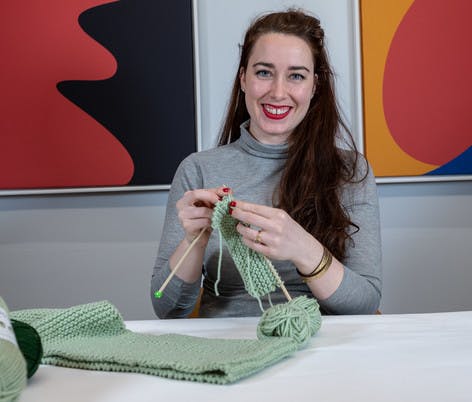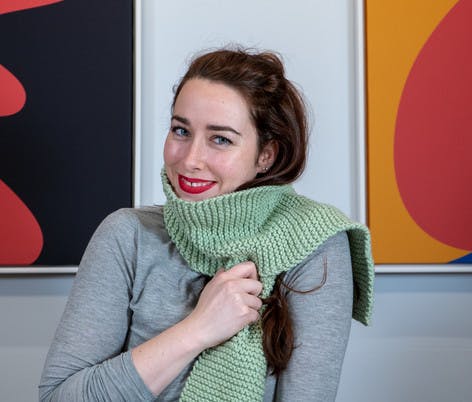 Choose your yarn
When you're learning to knit it's a good idea to choose a bulky yarn so you can more easily see the stitches you're creating (plus you can have a project knitted up in half the time!) Katie's scarf is knitted in Paintbox Yarns Simply Chunky yarn, a super soft premium acrylic yarn, with 55 shades to choose from, or Paintbox Yarns Wool Mix Chunky, which is 50% wool, 50% premium acrylic. Both are machine washable.
Explore the Paintbox Yarns range
The scarf pattern
1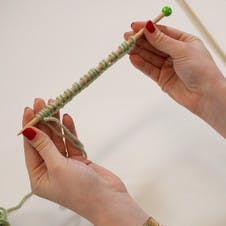 Cast on. Using the long tail cast on method, make a slip knot and cast on 25 stitches.
2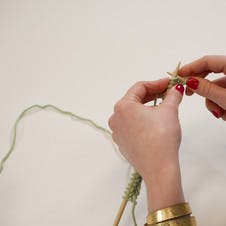 Begin garter stitch/knit stitch. Insert your right hand needle knitwise into the first stitch on the left needle. Wrap the yarn around the right hand needle, and pull the needle under the left hand needle and slide the stitch to the right hand needle. Repeat until you reach the end of the row, turn, and knit the next row. Work all stitches in garter stitch back and forth until you reach your desired length.
3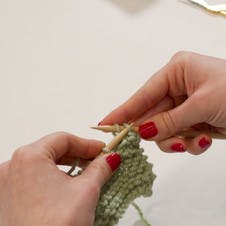 Bind off (cast off). Knit the first two stitches in the row, and then on the right hand needle, lift the first stitch over the second. Knit another stitch, and repeat - lift the furthest stitch over the stitch you have just knitted. Repeat to end and finish off.
Next steps
Your scarf is gorgeous just as it is, but there are lots of fun embellishments you can add to make it special. Add pompoms at the corners, with our fun pompom making video, embroider your initials - or add plain tassels or a fringe.