Learn C2C in the round with Emma Leith!
Published on

September 9, 2019
By

Merion
2

min read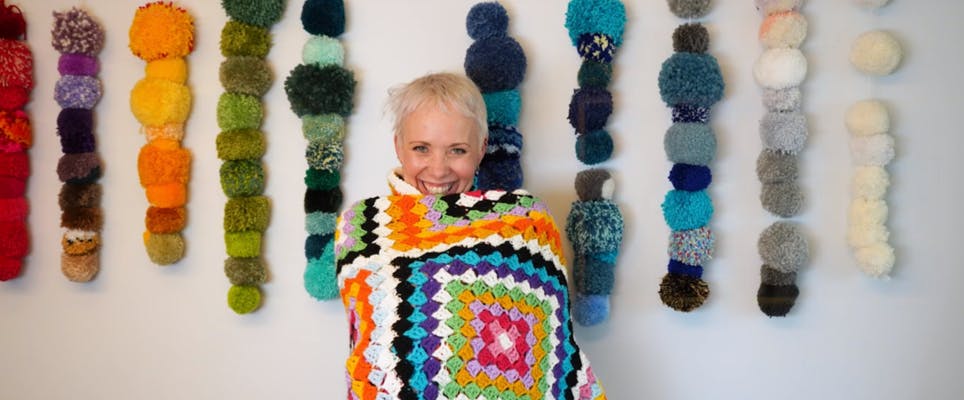 Learning how to work C2C (corner to corner) in the round has never been easier! Follow along with Emma Leith's easy tutorial video to learn how to start off, how to work C2C in the round and how to change color to crochet Emma's fabulous Colorful Carnaby blanket!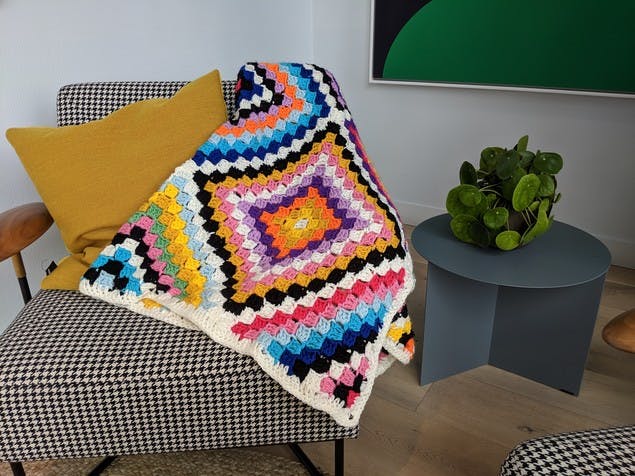 The C2C method (corner to corner) works by creating tiles that link to each other, like pixels. It is fantastic for colorwork and making pictures - and there are some amazing patterns that use corner-to-corner working diagonally. Emma's Colorful Carnaby blanket uses C2C in the round, creating giant tiles that are then stitched together! We love her fabulous color choices - you can follow Emma's bold color palette, or her alternative, softer palette - or you can choose your own from the Paintbox Yarns Simply Chunky range of 52 shades!
Watch Part One of C2C in the Round
Once learned how to create the centre of the block, you're ready to learn how to work the rest of the rounds in Emma's second tutorial video!
Watch Part Two of C2C in the Round
Download your FREE Colorful Carnaby Blanket pattern!
Emma's blanket uses UK terms, but the only stitches you need are US double crochet (UK treble), chain and slip stitch.
Materials
KnitPro Waves Crochet Hook

KnitPro Tapestry Needle Set
Choosing colors
Emma has used the following shades in Paintbox Yarns Simply Chunky for her Colorful Carnaby Blanket, using a 6mm hook:
3 x Pure Black, 4 x Champagne White, 1 ball each of Pansy Purple, Marine Blue, Bubblegum Pink, Buttercup Yellow, Mustard Yellow, Lipstick Pink, Dusty Lilac, Royal Blue, Blood Orange, Spearmint Green and Duck Egg Blue
If you prefer a softer, gentler palette, Emma has created a more muted blanket colorway that is illustrated below. You'll need: 3 x Pure Black, 4 x Champagne White, 1 ball each of Daffodil Yellow, Mustard Yellow, Peach Orange, Vintage Pink, Bubblegum, Pale Lilac, Tea Rose, Washed Teal, Dolphin Blue, Spearmint Green and Misty Grey.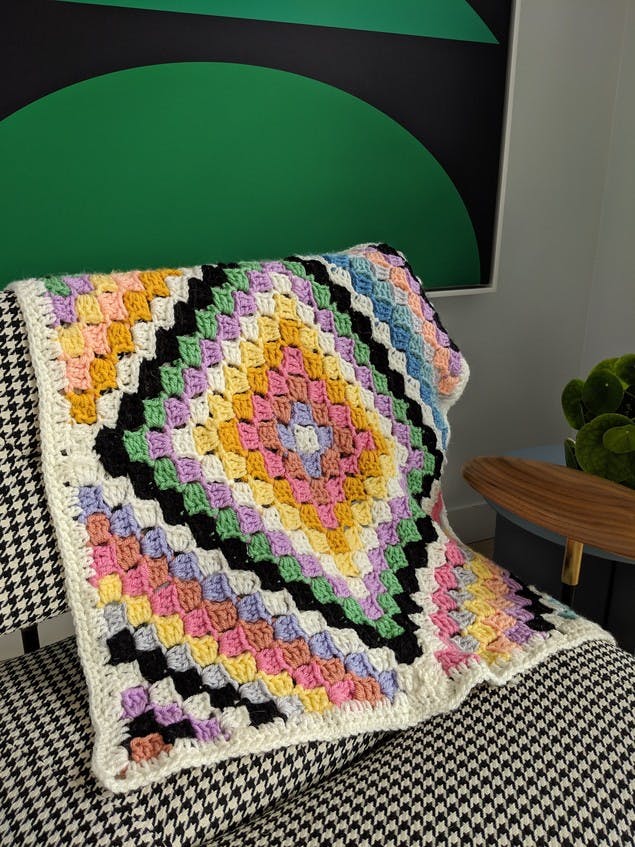 Choose from 52 shades of Paintbox Yarns Simply Chunky!