How to embrace the beauty of hygge
Published on

December 3, 2020
3

min read
In a world that is getting busier and more demanding every day, we have never needed hygge more. Pronounced 'hue-gah' it describes the Danish way of embracing the simple things in life and slowing down, it's safe to say we're a little bit obsessed with embracing the beauty of hygge! In this guide we'll show you what it means to live a more hygge life and how you can do it too!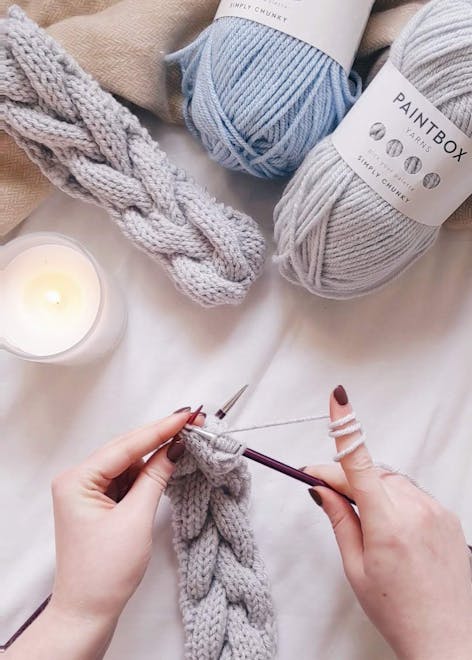 What is hygge?
Described as a defining characteristic of Danish life, hygge refers to that cozy warmth and contentment that comes with slowing down and taking the time to appreciate the world around you. Hygge is creating an intimacy with your space, yourself and your loved ones, finding joy and peace in the simple things - candlelight, a warm cup of coffee, a good book, and in our case - crafts!
Top tips for embracing the beauty of hygge
Embrace all the cozy vibes! That means candles, blankets, snuggly slouchy clothes and your favorite foods.
It's time for a little self-care, take some time to wind down and treat yourself to a luxurious bath and a steaming mug of soothing tea (or a glass of wine!).
Spend time with your loved ones, organize a movie night or bring out the board games for a night of silliness. Creating memories with your favorite people is one of the best ways to be more hygge. 
Do something you love, whether that's knitting a scarf to snuggle in, rereading a favorite book or watching a cozy film.
Start writing letters to friends and family you haven't spoken to in a while. Letter writing can be a super mindful activity and writing a letter full of warm fuzzy things to send to a loved one is a wonderful way to foster a deeper connection. 
Go for long solo walks. Sometimes you need to get away from the buzz and find some quiet time. A walk through nature, all bundled up in cozy clothes is the perfect chance to de-stress.
Essential yarns for your coziest makes
Before you can get cracking with making your handmade hygge homeware or closet, you're gonna need to stock your stash with the snuggliest yarns out there! Lucky for you we've got the softest, coziest yarns going.
How to make your home more hygge
To really create that coziness that encapsulates all things hygge, creating a space that inspires joy and brings you comfort and contentment is a must. And what better way to achieve your hygge home dreams than by embracing the handmade! You're already a maker, so creating snuggly homewares will give you the opportunity to really get cozy. Settle in with a mug of hot cocoa, light a few candles and snuggle down with your project and knit or crochet a big cuddly blanket!
Projects for a cozy night in
Snuggled beneath a blanket, with the fire roaring and the sound of rain against the window, it's time to cuddle down and work on quieting the buzz in our brains. These projects are perfect for a cozy night alone or with loved ones!