Calming coffee mug embroidery tutorial
Published on

April 2, 2020
By

Holly Butteriss
1

min read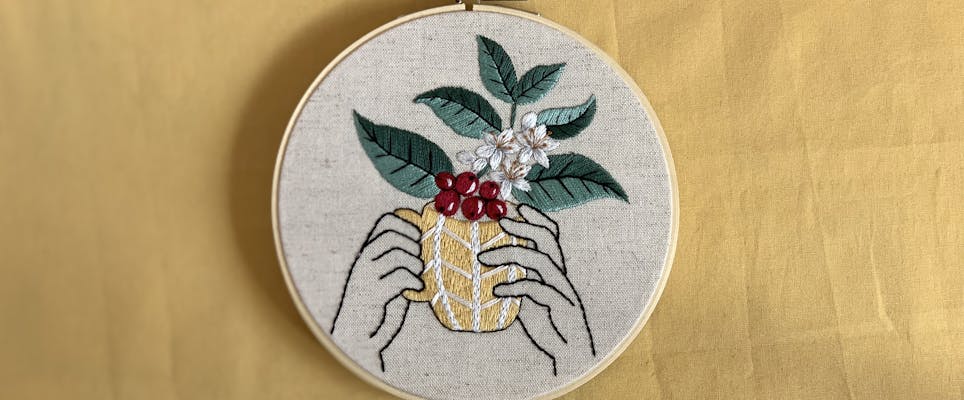 Ria is an Indonesian embroidery artist who creates truly gorgeous stitched masterpieces (we particularly love the pet portraits!). Ria's love for embroidery began as a way to spend her spare time and has since become so much more.
Check out her Instagram for even more amazing inspiration.
Materials
Canvas

15 cm diameter embroidery hoop

Scissors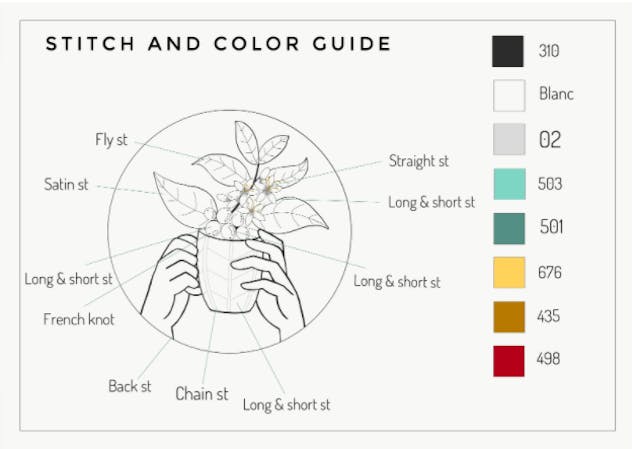 First working on hands, use 3 ply black embroidery threads (I used DMC 310) and cover the hands line pattern with back stitch.
Next working on the mug areas.
Take 3 ply white embroidery threads (DMC blanc) and fill the small vertical line with chain stitch. Then take 3 ply yellow embroidery threads (DMC 676) and fill the bigger area with long and short stitch.
For the chevron pattern, use 3 ply the white thread to do a straight stitch on top. Stitch them twice and then outline the mug pattern with a single black embroidery thread.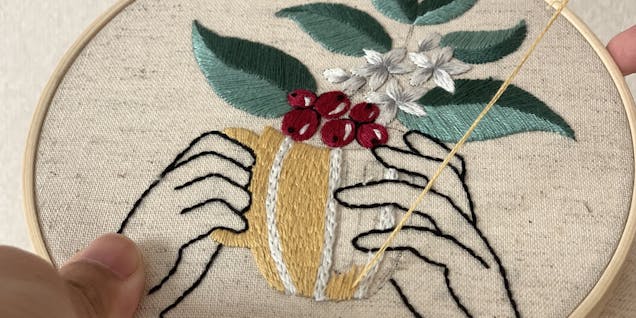 To fill in the leaves use satin stitch.
Use 3 ply green DMC 501 and 503. Use a single black thread to color the veins with fly stitch. For bigger leaves, use 2 ply of black thread.
For the stem, use 2 ply of 501 and do an outline stitch.
The flowers are filled with long and short stitch using 2 ply white and grey embroidery thread (blanc and 02), use lots of French knots!
For the filaments use 1 ply of DMC 435 embroidery thread, then stitch with a straight stitch, and for the anther make a tiny French knot, by wrapping thread over the needle 1-2 times.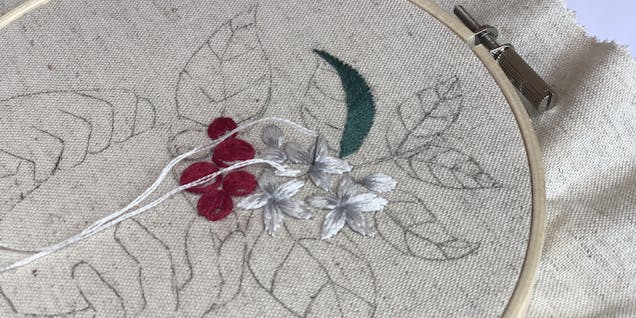 Fill the coffee cherry with long and short stitch and use 2 ply red  embroidery threads (DMC 498). Next, stitch the highlights using your white embroidery thread. Use can also use 2 ply of black thread, then make a French knot on each coffee cherry.
Finally, to get a shadow effect on coffee cherries use a single black thread.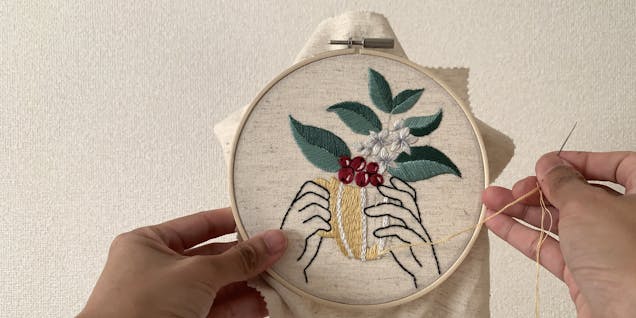 Stitch away stress with more embroidery projects