From sausage dogs to vintage photographs, fabulous London-based multidisciplinary illustrator Emma Block loves to take inspiration from the world around her. She shares her new-found passion for knitting, her top tips for expressing yourself through colour and what she's currently making at home.
Emma's stunning signature style has led her to work with beautiful brands including Anthropologie, Harper Collins and UNIQLO. In 2018 she published her first book, A Guide to Painting with Watercolours, on her quest to help others unlock their creative potential.
Want Emma's bright and zingy illustrations brightening your newsfeed? Find her Instagram and Twitter!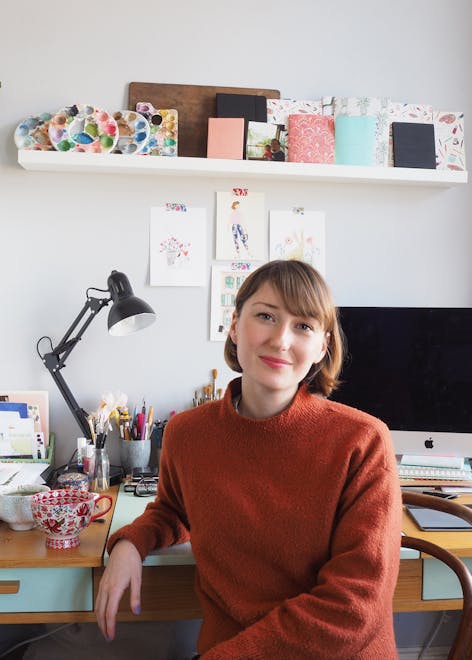 So share with us, what inspires you to you make?
I've been making ever since I was little. Growing up I had a making cupboard full of pom-poms, pipe cleaners and glitter. As an adult I'm lucky enough to be creative for a living as a full-time illustrator. I love being able to come up with an idea in my head and then make it a reality.
As a pro-artist, what does self-expression mean to you?
I think self expression is so important, people often say I look like my own illustrations, which I think makes sense as they are so connected to who I am. Even if I am following a pattern or a tutorial a little bit of my personality always comes out.
For someone new to knitting, what's your top tip to help them express themselves through their project?
A great way to make a knitting project unique to you is to really think about the colour combinations you choose. Colour blocking using two contrasting yarns is such an easy way to adapt a pattern and make it really modern and vibrant. You could go really bold with opposite colours, like pink and green or lilac and mustard, or you could go super subtle and monochrome with two different tones of the same colour.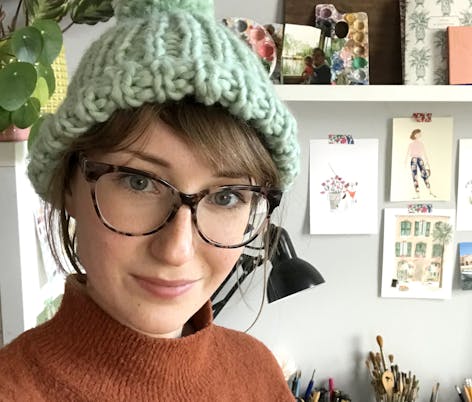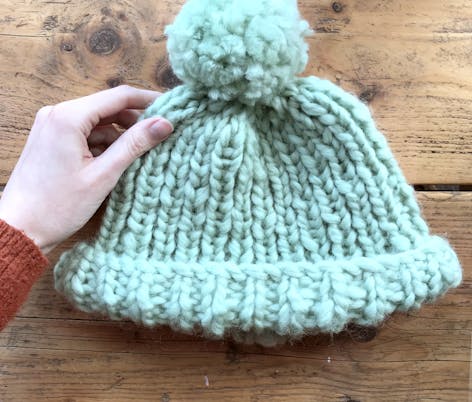 Even if I am following a pattern or a tutorial a little bit of my personality always comes out.
So, what are you making right now?
Right now I am making my first hat. I've only been knitting for a month and working on a hat has taught me some different stitches and how to decrease stitches.
And we're excited to know, what's next on your project bucket list?
For my next project I really want to push myself and try a jumper! I am so excited by the idea of being able to wear a jumper I've knitted myself next autumn.
What's inspiring you right now?
I've realised one of my favourite things about painting is also one of my favourite things about knitting; beautiful colours and textures! I am feeling so inspired by all of the beautiful yarns out there.
What's the one craft supply you can't live without?
Right now I'm loving using circular needles and lovely soft chunky merino wool.
3 projects I've been making at home
What I'm using to make the Martha hat
What I'm using to make The Annie Jumper
What I'm using to make The Reece Hat