Ancient textiles and a Greek love-affair: How Avlea Folk Embroidery is making history fashionable
Published on

May 19, 2020
By

Yaz
7

min read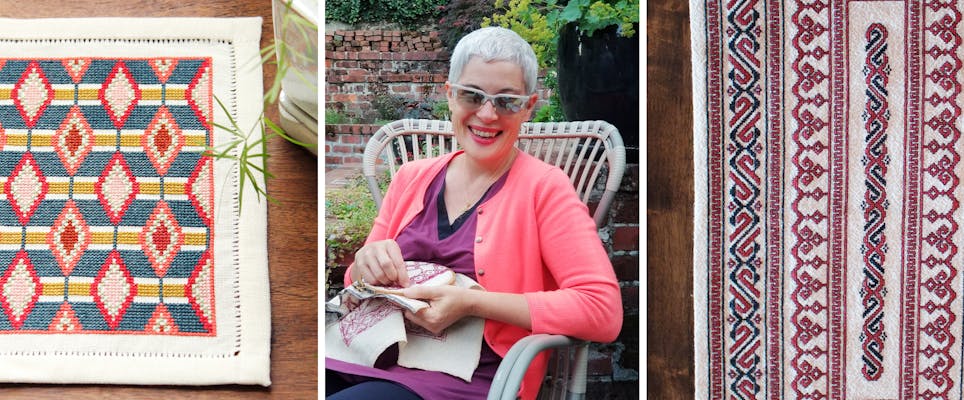 Designer Krista from Avlea Folk Embroidery Designs shares her story, how she fell in-love with traditional Greek embroidery and what inspires her gorgeous designs! Discover her beautiful collection of embroidery patterns, and find her on Instagram or Facebook.
After spending 25 years as a Greek Orthodox church tailor working with ancient textiles, Krista's beautiful vestments and paraments adorned Greek and Russian Orthodox churches throughout North America. But on a work trip to Greece, Krista unexpectedly found herself in a local Greek embroidery shop, and, needle-less to say, that marked the beginning of a whole new adventure - Avlea Folk Embroidery was born!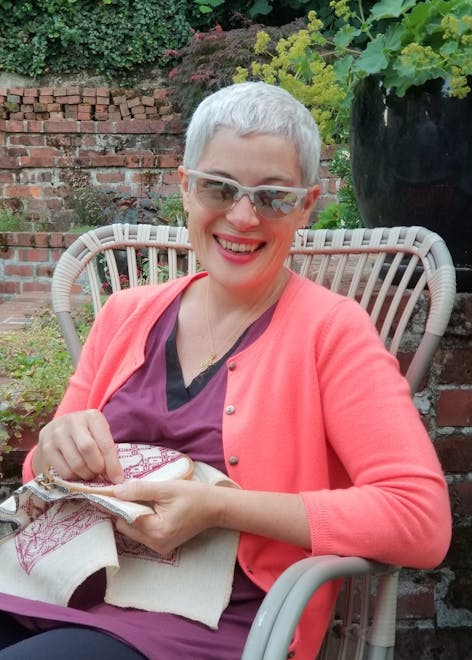 It all began with an unexpected trip to an embroidery shop in Greece
On a buying trip to Greece years ago, I was in the mill agent's office waiting my turn and I started working on some embroidery to pass the time. The mill agent was amazed that I knew how to embroider and asked if I wanted to visit the Greek embroidery shop nearby. It was there I discovered traditional Greek/Mediterranean embroidery. I fell in love with the designs for their historicity, geometric regularity, and their unique colorways. They were unlike anything I'd ever seen.
I began working pieces for my own home and friends asked for patterns, which led me to my starting Avlea Folk Embroidery.
"I fell in love with the designs for their historicity, geometric regularity, and their unique colorways. They were unlike anything I'd ever seen."
I thought Avlea would just be a little hobby business on the side, but then I attended the Nashville Needlework Market in 2019 and was surprised and delighted to have 2 US distributors take on my designs.
Our Avlea Folk Embroidery design picks
There's a renaissance happening 
I feel there is a wonderful renaissance in the cross stitch/embroidery market with new and younger stitchers coming to the craft. They seem to be very interested in working more folk and historic designs. I couldn't be more excited about this because I feel my designs have a real timelessness as well as practicality.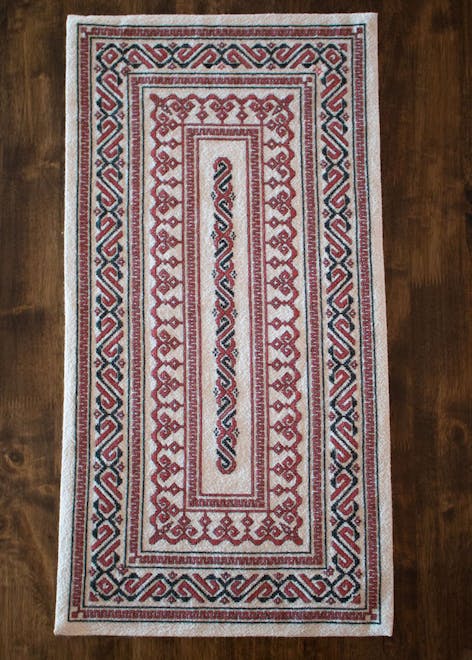 Some of my favorite patterns
Byzantine Meander and Scroll
This was the first really big Greek embroidery I attempted and I did from a grainy photograph I found in a shop in Athens so I had to figure out the corners and repeats, which was really challenging. I just love the way the backstitches throw the design into high relief.
Olivine 
This is one of my newer designs that totally charmed me while I was working on it! It was a little snippet of a design I found in an old embroidery booklet and I used a bright color palette that has a bit of a mid-century modern feel. I loved working this piece and plan to work a larger size of it and hang it in a bedroom as textile art.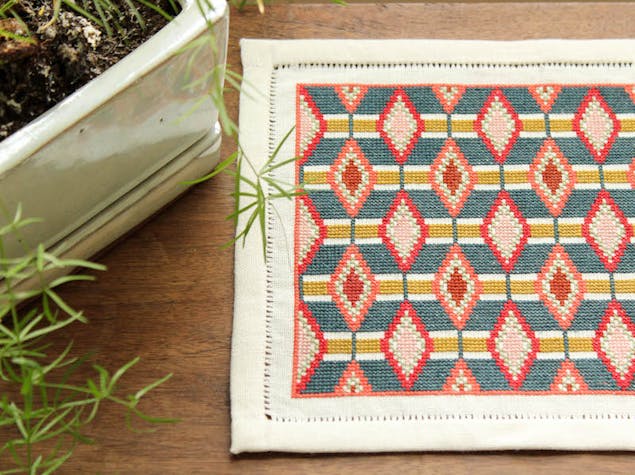 I cannot live without…
My 6 inch Hardwicke manor hoop! I'm super low tech when it comes to stitching because I like to take it everywhere with me and it all has to fit in my little Liberty of London project bag. I did finally buy a Lowery embroidery stand and I do love that when I want to work left handed (I embroider both right and left handed so I don't overuse either hand).
I love EVERYTHING about embroidery.
I love the feel of fabric, I love the sound the floss makes as it goes through the fabric, I love watching the design ever so slowly come to life, I love the endorphin rush I get 10 minutes into an embroidery session, I love seeing the finished embroidery sitting on a table as I walk by during the day! 
I love embroidery in books, museums, in other people's houses. I love all types and techniques of embroidery and am always fascinated to learn more.
A Greek love affair 
I'm totally inspired by how textiles are literally interwoven into daily life in Greece -they're laid out on tables, hung on walls, set on trays when serving food or coffee, and prized as family heirlooms. You can talk textiles with almost anyone in Greece and they'll have a story about their grandmother or aunt and I find that charming.
Every time I begin a new Avlea design, my first thought is "How is someone going to use this? Are they going to put their favorite photograph on it? Are they going to have it on their dining table when their family is gathered for a meal? Are they going to have a little textile sitting on their desk?"
Colors inspired by a cabin at the foothills of Mount St Helens
I'm also very inspired by nature: I spent a large portion of my childhood in a primitive cabin in the foothills of Mount St Helens in the Pacific Northwest and I find the colors of nature often give me ideas for new designs.
Even an Art Deco window grate can inspire a design
I'm very creatively energized by studying historical art - patterns, designs, furniture - you name it! My "Lunette" design came about after I saw an Art Deco window grate in San Francisco. For my vestment work, I've been in New York every year for the last decade and I make a point of visiting the Metropolitan Museum of Art for new inspiration. Two years ago, I found the Pennsylvania Redware pottery piece that eventually inspired "Pennsylvania Posy" and I have notes and photos to do a series of borders based upon early American furniture ornamentation.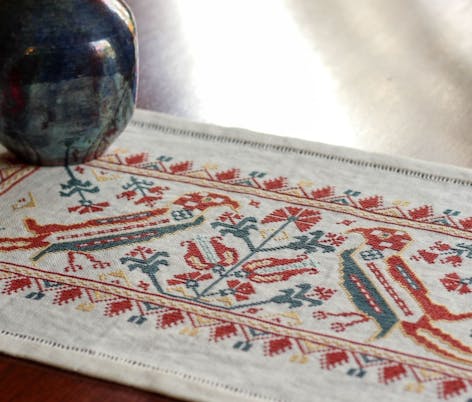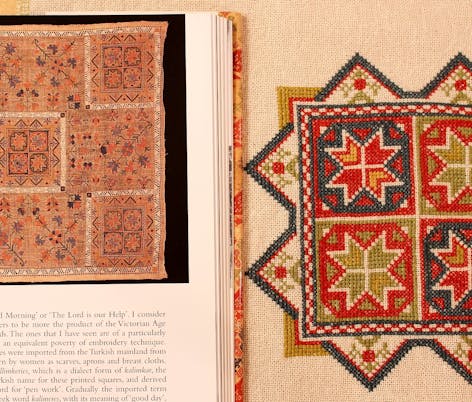 I'm an early bird 
I typically do my vestment work first and then devote my afternoons to Avlea sample stitching and design work. If it's rainy or cold, I love to work in the living room of the 1923 home we are restoring. If it's sunny, I work outside on our patio because I just love stitching with all the greenery around me. 
When I stitch, I have to have a cup of tea (herbal, because, alas, I am old and can no longer drink black tea in the afternoons) and a great audiobook. I love listening to books as I stitch. And, true confessions, I really love candy and will sometimes have a little dish of it -I especially love licorice.
"I think that is life-changing - the idea that you can beautify your environment and it will give you peace and joy."
My designs appeal to a younger crowd 
Wow, this has been a huge surprise as I've developed Avlea designs, but my designs seem to appeal to a younger crowd of crafters who like the geometric feel of the designs.  
My work also appeals to mindful stitchers. Those who want the benefit of a meditative practice, but find it hard to sit still, crafting can be a wonderful entry into the benefits of meditation. I always do at least one all-over/repeating design in each collection. For those who want to use stitching as their meditative practice, these designs are easily memorized so you can simply focus on the stitching itself.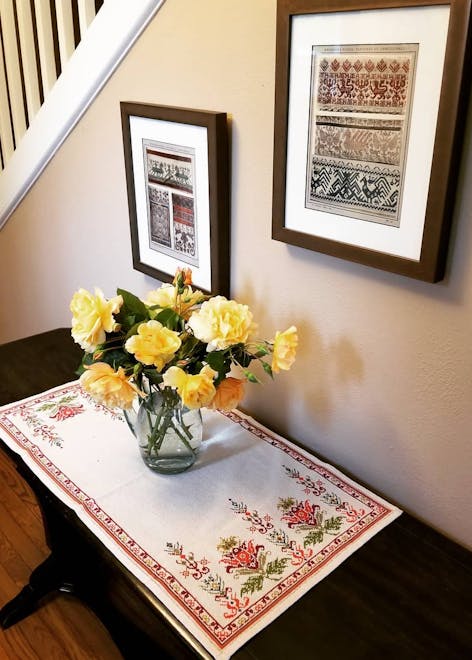 I am SO inspired by the younger generations who are picking up crafting and I truly feel they are leading us to a wonderful renaissance in crafting that will last for decades. I love seeing their enthusiasm for ornamenting their living spaces, choosing the meditative practice of stitching, and their commitment to historic/traditional/folk designs.
I also have a lot of people who love my designs because they are designed to be real objects used in real homes, not framed and hung on a wall. Laying beautiful embroideries out on tables, changing out different ones for different seasons, choosing just the right vase or candlestick to go with the embroidery, really engaging with textiles in their environment. It probably sounds kooky, but I think that is life-changing - the idea that you can beautify your environment and it will give you peace and joy. I love when those stitchers send me emails about how they used the design in their home or office!