Garments that work for you: fitting, feel-good, and wearable
Published on

7 June 2019
By

Kate Atherley
6

min read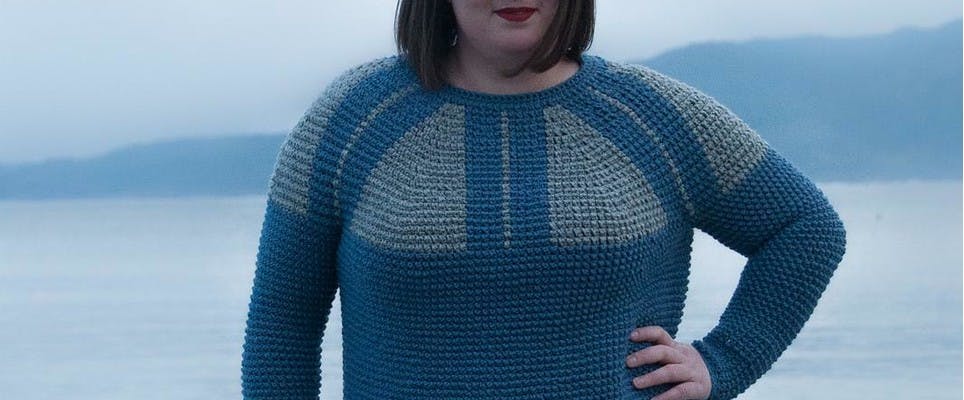 Kate Atherley is an author, teacher, and knitwear designer. She loves making garments nice enough to wear for a dinner out. Kate is here to share all her advice, tips, and tricks on getting a great fit with your clothing and makes.
Homemade means made just for you
As I've been reminded, by 'helpful' people on the bus, it is cheaper and easier to buy a jumper, rather than make one. The joy in making your own clothes is that you can make them exactly the way you want, in your favourite styles, and your favourite colours. And you can make sure they fit you properly, and look fantastic.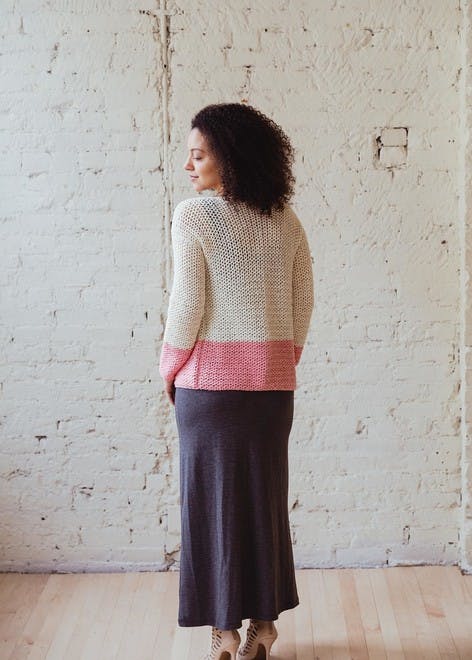 The joy in making your own clothes is that you can make them exactly the way you want, in your favourite styles, and your favourite colours. And you can make sure they fit you properly, and look fantastic."
A garment that works for you, isn't just about colour choice, it's about the garment shape and the size you choose. When browsing patterns, it's easy to get distracted by how great the model looks in the jumper. Of course the models look great in the garments they're wearing – the garment has been sized, adjusted, and styled to fit and suit them. The models likely have had make-up professionally applied, their hair done, and it's all beautifully lit and maybe even photoshopped. Enjoy the gorgeousness, revel in it! And then take a second look to see if that jumper is going to work for you personally.
All these jumpers are beautiful, and beautifully styled, but that doesn't mean that everyone will look the same way if they make them. You'll might look fantastic in one or all of them, depending on your body shape.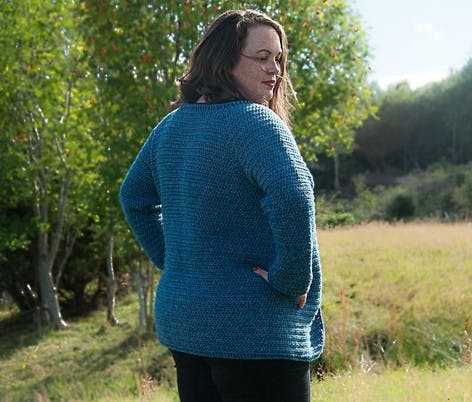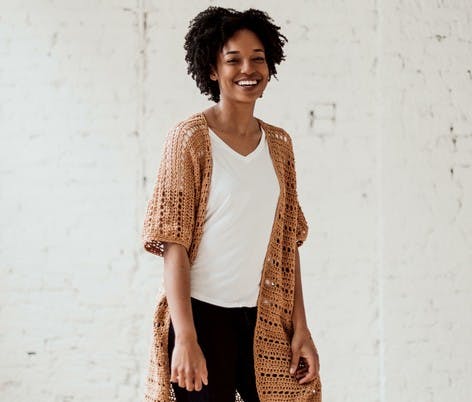 Women's knitting and crochet jumper patterns
Figure out what you like to wear
To know if a garment is going to work for you, you need to know what types of garments you like to wear.
We all have two categories of garments in our wardrobes. There's the casual, comfortable easy-to-wear clothes that we choose for walking the dog, or making a quick run to the shops. And then there's the clothes we wear for looking smart at work, or going for meal. You'll want to have a good look at your smartest clothes – the ones you feel best in, the ones you're most often complimented on.
Get a kind but honest friend to help you with this. An external view is best at this, as we don't see ourselves the same way as others do. Your friend needs to help you decide which things are truly fantastic. This isn't about what you can and can't wear, and this isn't about size or your measurements or what you used to wear as a teenager. We're all shaped differently than we were in our teenage years. This is about identifying the clothes that make you look and feel your best.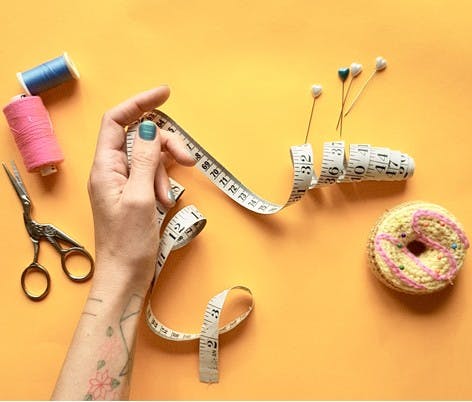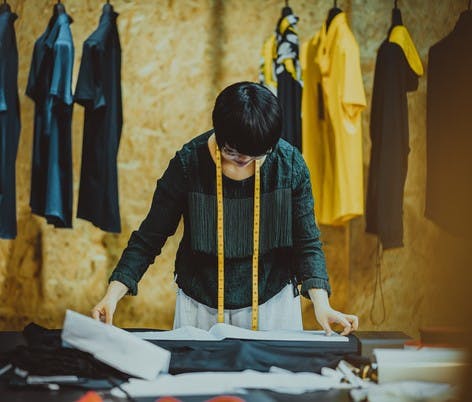 Examine the fit
Once you've found them, examine those garments. How do they fit you? Do you prefer a tailored fit, or a relaxed fix? And what styles are they? For jumpers, look at whether they are set-in sleeves, drop shoulder styles, raglan styles. Do you prefer a jumper that hangs straight from the underarms, or do you like an a-line or an hourglass shape? What length do you like wearing – waist, high hip, low hip, tunic length? What neckline works best: a crew neck, a high neck or a v-neck? Do you like pullovers or cardigans? For a cardi, do you prefer an open-front or to wear it closed? There are no wrong answers here, this is just about identifying what you like and what suits you best.
Find those clothes, look at the style and construction and shape, and measure them. In particular, measure the body circumference just under the arms and if there's shaping, at the lower hem and at the waist. You can use this information as a guide to what types of jumper you should make, and what size to choose. After all, if you're going to spend time and money making yourself a jumper, shouldn't it be a jumper that earns you compliments?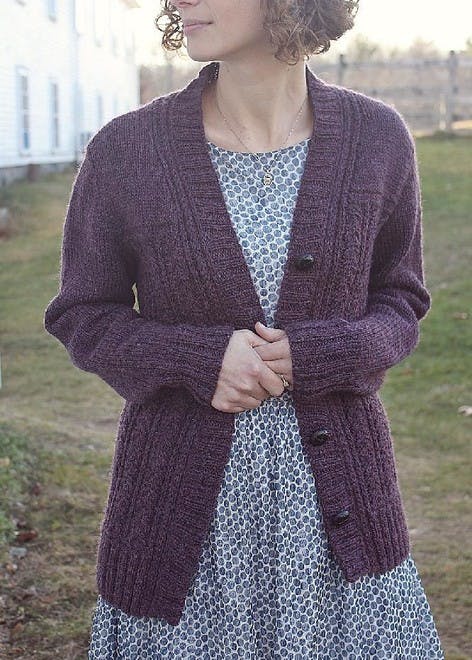 Look at how patterns fit on the model
Now you can use this knowledge to choose a pattern that is in the right for you. If you like set-in-sleeves, look for those! Note that it's not always easy to identify the shape and style of a garment; if the photos aren't clear, see if you can look at the garment schematic.
For example, I love the look of the Women's Cabled Cardigan in Novita Nalle knitting pattern, but I can't really tell much about this from the one photo supplied. As this pattern is free, I was able to download it to see if there was more information. Thankfully, there is a schematic and another photo that shows more detail.
Spend time examining all the photos of the jumper, to make sure it's what you want. The Plum Wine knitting pattern has a ton of great photos to allow me to really take a good look at it. At least one or two garment photos should be of the garment shown on a model – you really can't tell how it fits otherwise.
Colours, shaping, and length can be changed easily
Don't get seduced by the colour or how it's styled or smaller details: choose a good basic structure. After all, you can change colour very easily! And garment body length and shaping are pretty easy to change: if the jumper is longer than you want it, you can shorten it. Sleeve lengths are easy to change, too. Basic style and structure are much harder to change – reworking those is essentially creating a new garment from the ground up.
And then once you've found the right style, make sure the pattern offers the size you want. Creating a new size is a pretty big challenge, and I only recommend it if you're really good with numbers, and know a fair bit about garment construction.
Reading garment sizing information can be tricky, because patterns aren't always consistent about how it's presented. Look for measurements labelled "Finished" or "Actual"; look at the numbers on the schematic. These are the measurements of the garment itself. Compare those to your favourites in your wardrobe. (Or if you don't have a jumper like it, it's not a bad idea to go to the shops and see if you can find something like it and try it on. Always carry a tape measure!)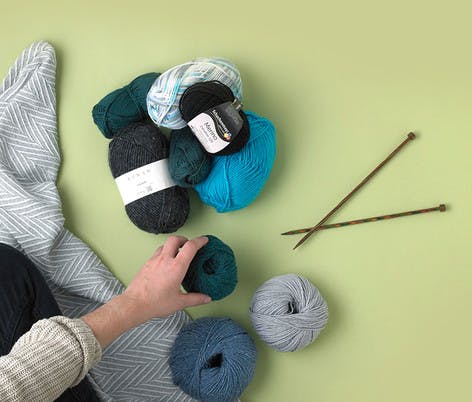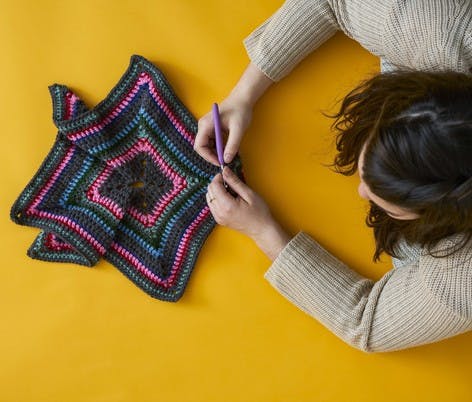 Women's cardigan patterns
Don't rush it!
Spend a little time before you commit to a pattern to make sure it is right for you. Find a pattern in a style that suits you, and offers the right size. Try to resist the temptation to knit something because the model or your friend looks good in it. And don't just knit something that everyone else in your knitting group is making! Making a garment is a big investment of yarn and time, and it's worth spending a little bit more time to make sure you're making something you love and feel great in!