Knitting up the Eria Vest
Published on

3 April 2019
By

Merion
2

min read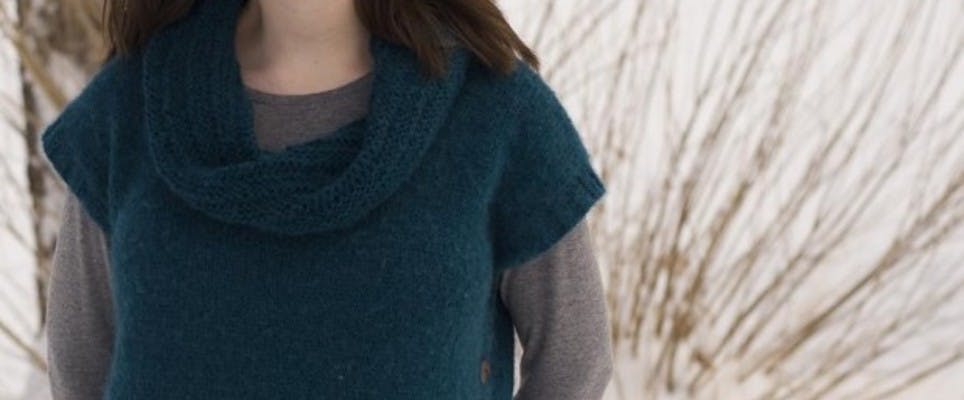 We're changing seasons and layering is just the thing to combat unpredictable weather! Merion's favourite this week is a vest knit that will become a staple in your wardrobe!
Materials
Aran or worsted weight yarn

4mm and 4.5mm circular needles

10-12 buttons size 25mm
A cardigan is a very handy thing in changeable weather, because you can pop it on or take it off, and it's an easy garment to wear, but so too is the vest, or tank – and it's a great staple to wear over long sleeved tees and other knitwear.
I fell in love with the Eria Vest at first sight! The neckline and the fabulous faux buttoned side seams are sweet design features, and I am a great fan of a cowl neckline – it's flattering, cosy and in this case, deliciously deep.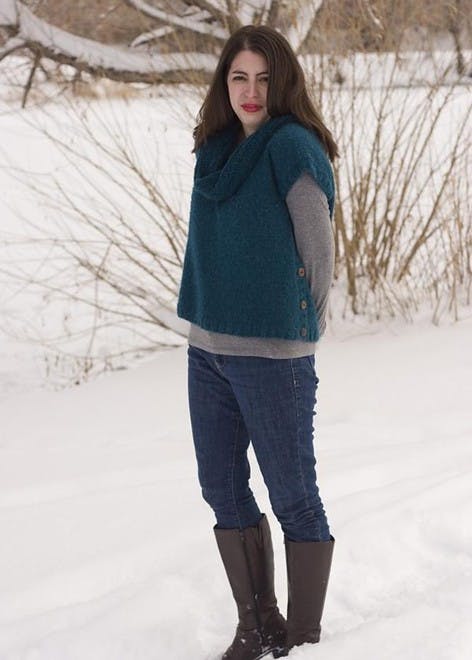 What you need to know
Eria is knitted flat, with the cowl neck added separately, and the pattern has clear schematic details and step by step instructions for how to make up and add buttons.
The pattern knits up in a worsted or aran weight yarn, and includes 11 sizes.
Bust measurements: 34, 36, 38, 40, 42, 44, 46, 48, 50, 52 and 54″
Yarn required for each size: 625, 675, 750, 800, 850, 925, 975, 1025, 1075, 1150, 1225 yards
Which yarn?
Eria is knitted in an alpaca and acrylic blend, but any worsted or aran weight yarn will work well. It is important to consider a yarn with some drape, to give that cowl some swish, but you could even knit this in a cotton yarn for warm weather! Here are a few of our yarn suggestions.
Lana Grossa Alpaca Peru 100
Alpaca knits into a beautiful fabric, and baby alpaca (the first shearing of the alpaca) is especially soft. Lana Grossa Alpaca Peru 100 is gorgeously soft and warm, and comes in 16 shades. It's a worsted weight yarn, and each 50g ball contains 100m (109 yards).
Berroco Vintage
I love Berroco Vintage – it comes in great value 100g skeins (190m/216 yards per 100g), in a dizzying 88 shades! There are lots of gorgeous blues and teals!
Phildar Partner 6
If you prefer an acrylic blend, Phildar Partner 6 is a fantastic value yarn! A blend of wool, acrylic and nylon, Partner 6 is available in 30 shades, and a great budget option that will wash well too.