Make do and make: 4 unmissable stashbusters!
Published on

19 April 2019
By

Kate Atherley
4

min read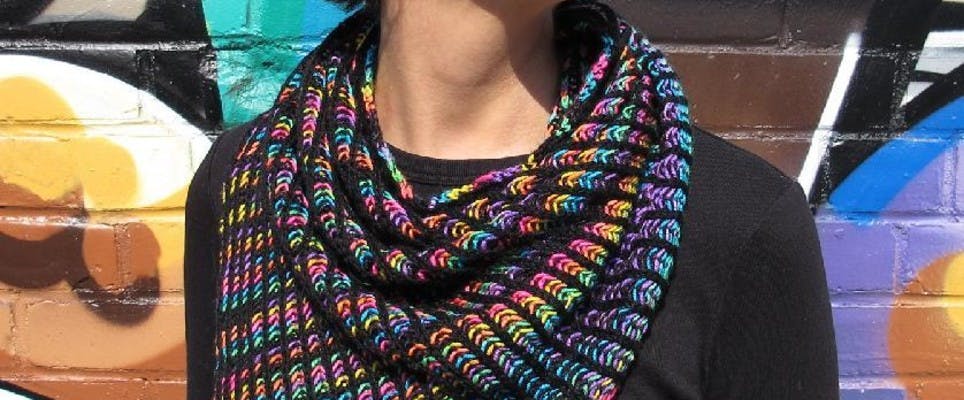 Do you have single skeins of lovely, hand-dyed yarn lying around? Designer Kate Atherley shares her top tips for turning them into beautiful stash-busting projects! 
Most crafters have at least a small collection of supplies at home – a stash. My own divides into three categories: yarn purchased with a particular project in mind, leftovers from previous projects, and the 'just because' yarn. You know - purchased "just because" I loved it, or it was a limited-edition colourway, or I was on holiday visiting an interesting shop, or…  
The leftovers and 'just because' yarns have a terrible tendency to languish in your stash. Here's some ideas for using them up!
1. Take stock of your stash
It's a good idea to review and sort your stash every so often. Yarn you'll never use can be donated to a school or a retirement home, given to a friend, or taken to a yarn swap. Sort the partial balls by yarn thickness and fiber type: one on its own might not be enough to make a hat or pair of socks, but you can have a lot of fun putting together different colours for stripes. I have a fondness for random, wild stripes, making an otherwise plain hat, mitten or sock a one-of-a-kind beauty. I don't personally feel the need to match the stripes on my mitts or socks, but that's personal preference!
If you've got lots of thicker weight yarns, stripe or colourblock blankets are lots of fun to make, and it's less of a worry if the yarns aren't all exactly the same thickness." - Kate Atherley
(Sharing a lesson I learned the hard way: If you're in the habit of buying wool or other hand-wash only yarns, and you find mystery yarn without labels – that is, without fiber content or washing instruction information – err on the side of caution and hand-wash whatever you make with it!)
2. Have fun with Fair Isle
Another great way to use up partial balls is as contrast colour for Fair Isle projects.
With accessories, there's a lot of leeway for making substitutions. If you don't have enough of one colour, just use another. Follow the chart for the basic patterning, but use the colours you have, changing them where you want. It might not turn out exactly as it looks in the original pattern, but it will be your own unique piece! And because it's a smaller item, there's less worry about the colour patterns being "perfect". Let yourself experiment and have fun. Look for colourwork patterns that have lots of small motifs and frequent colour changes, like the Fair Isle Tam pattern linked to below.
3. Stashbust with brioche
Two-colour brioche is a great way to use up variegated and hand-dyed yarns. I can't resist – I've included my own two-colour brioche shawl that I designed specifically to use up a lonely skein of far-too-bright sock yarn, one of my "just because" purchases. I adore brioche patterns like this worked with a solid and a variegated yarn, or use one solid as the main colour and use up bits and pieces to create a striped contrast colour.
4. Make a magic ball
If I've got lots of small quantities of the same yarn, for example leftovers from a colourwork project, I like to make a 'magic ball'. Create your own colour-changing ball of yarn by knotting together partial balls, mixing up the colours as you go. (Either use the magic knot method, or leave a decent tail on each end of the knot, about 7-10 cm, and then knit the ends in as you go.)
Make your own self-patterning sock yarn! Use these magic balls as the contrast colour in a two-colour project, for even more fun.
Imagine a design like Woolly Wormhead's amazing Labyrinth hat with colour changes in the one-round stripes. Think about how much fun it would to be work a pattern Karie Westermann's fabulous Gillean hat and mittens with a solid colour for the background, and a changing colour for the dots
Let your stash be an opportunity to have fun with colour, to experiment a little. I find it pretty gratifying to be able to find the yarn for a new project from what I already have.
To help future you, when you finish a project, gather up all the leftovers and pop them in a sealable plastic bag with the label. They'll be there waiting for you when you need them!
Kate is an author, teacher and designer. Her sock yarn collection is not *yet* out of control. You can find her at www.kateatherley.com, on Instagram as kateatherleyknits and on Twitter and Ravelry as kateatherley.