It's time to be confident in your own skin, and knit for your body! Libby Jonson from Truly Myrtle tells us how to embrace and love every curve and line by knitting garments that fit properly...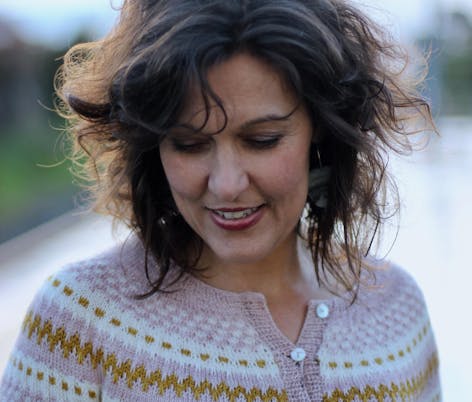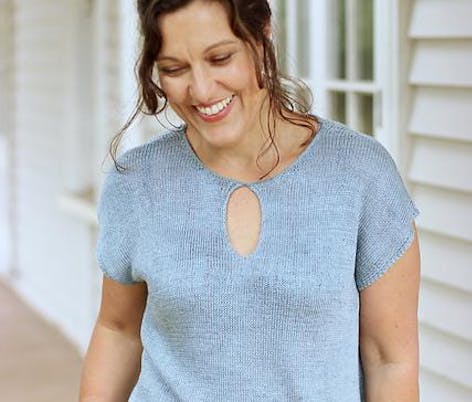 Have you ever told yourself that you'll knit something when you're a certain size? I have. But I've also learned that my body doesn't change that fast, especially as I get older, even when I'm trying to make it happen. If you decide to wait until you're smaller, or leaner or bigger/smaller in the tummy or bust, you might end up waiting forever and I don't know about you, but I don't want to put off knitting things for myself for any reason, especially for a day that might never come.
It's perfectly possible to knit clothes that make us feel and look amazing, no matter what size we are right now and there are 5 first steps to take before you start knitting so that your project fits and feels fantastic …
1
Find a dressmaker's tape measure!
If yours is old, replace it! They stretch over time. Inches or centimetres? Choose whichever you prefer. Don't be too panicky about being absolutely accurate. Being out by half an inch, or a centimetre is ok. Remember, knitting stretches!
2
Take some measurements!
Some body measurements are tricky to take yourself so if you can, team up with a friend to take each other's measurements. It's fun doing things with a cheerleader by your side. Try to remember that your measurements are just numbers. They say nothing about who you are, how valuable you are, or whether you're good enough. Take your measurements every six months or so - especially if life has been stressful!
3
Think how much 'ease' you like to wear
Ease is a funny concept to get our heads around. It's the difference in measurement between our bodies and our clothes. It took me a while to figure it all out. Mostly, I couldn't quite visualise what different amounts of ease looked like on my body, and wasn't sure how much ease I felt comfortable wearing. Basically, positive ease = your garment is looser than your body, zero ease = it's the same size as your body and negative ease = it's smaller than your body. Try measuring some of the clothes in your wardrobe to get a feel of how much ease you feel good in.
4
Check the schematic in the pattern
When you open a pattern, go straight to the schematic. Ignore references in a pattern to "small", "medium", and "large", and also ignore any suggestions to knit a particular size if you have a certain bust size. It's tempting to think that you'll choose a size that's right for you if you go by the designer's suggestions. But, if you are like virtually every other knitter, and have a body that doesn't fit exactly into any mythical "standard sizes", then there's no way of knowing if the designer's suggested size will actually feel great when it's on your body.
Rather than referring to your body, the numbers on a schematic tell us the finished size of the garment at various points. Remember, these numbers assume that your blocked gauge is exactly the same as the specified gauge in the pattern and that you've worked the number of stitches and rows as directed.
All those things being equal, if you follow a particular size in the pattern, once it is finished and blocked, the measurements of your sweater will be the same as those in the schematic and the finished measurements.
5
Knit a swatch!
When we're excited about a pattern and gorgeous yarn and itching to get started, knitting a swatch can feel like a chore that wastes precious yarn and knitting time. But really and truly, it's not. When a designer creates their knitting pattern the first thing they do is knit a swatch. Just like you, they knit up a square of yarn (often several squares of yarn) to work out exactly the type of fabric they want to create, to calculate how many stitches to cast on and use in the pattern and to experiment with stitches and ideas. And, every designer knits differently and most likely, differently to you.
Don't forget, the fabric you've knitted in your swatch will be the same as your sweater. How does it look? Are you happy with it? Does it suit the stitch pattern? Is it too tight? Too loose? If you're not happy, consider whether it's the needles that might be the problem or the combination of yarn and pattern.
Download our FREE My Measurements Printable
Designing garments to fit our bodies just right can be tricky, but with this handy printable you can note down all your measurements and brainstorm the shapes, colours and styles you're loving. Use the measurements printable to help you make garments that fit perfectly!
The journey of knitting fabulous clothes that fit the body you're in is a great way to help you feel like you're pretty jolly special. Take it one step at a time, and keep reminding yourself that you're worth it!