7 knitted home decor patterns to fall for this autumn
Published on

2 October 2018
By

Caroline
2

min read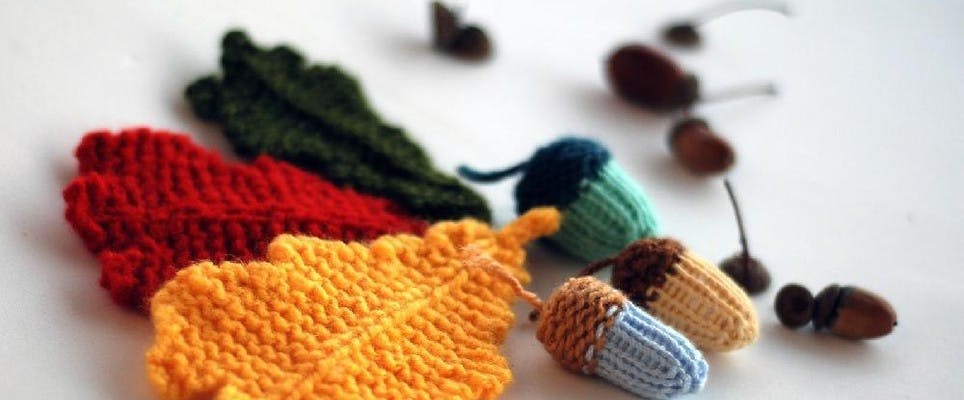 As the leaves change and the air gets crisp, it's time to throw on comfy jumpers and sip warm mugs of chai tea. Autumn is here, which means when it comes to knitting we're looking at earthy tones and all things cosy and oversized. One of the best parts of this transitional season is getting to spend more time inside, turning your home into a perfect hideaway. Here are some of our favourite knitting patterns you'll absolutely fall for this autumn.
Autumn leaves afghan
This super chunky throw is absolutely gorgeous and perfect for autumn. The burnt shade and leafy texture mimic the trees outdoors, bringing a beautiful touch of nature to your living room.
Leaf texture pillow
This lovely textural pillow is an impressively detailed knit that is perfect for autumn. With its leaf-like pattern, and DK weight yarn, this beauty is perfect for bringing a touch of autumn into your home.
Chic little pumpkins
Adorable and trendy, these chic little pumpkins are a versatile seasonal decor piece that will spice up any space. Place a pair on your coffee table, as a centrepiece in the dining room, or even on a window sill.
Arm knit seed stitch blanket
Autumn is the time for big, chunky knits to come out and we have the perfect one for you! This arm knitted seed stitch blanket adds a bold statement to your home and it can be knitted in any colour you like. This pattern is quick and fun to knit, as well as being amazingly squishy and fabulous.
Acorns and oak leaves
If you're looking for an autumn stashbuster, then look no further! These acorns and oak leaves are a cute, quick project that can be easily knitted in any colour.
Textured cushions
The best kind of seasonal decor is the kind you can use even when the season ends. These big cushions are a great autumn decor pieces in delectable muted shades, but would also look great at any time of year!
Falling leaves potholder
Bring your autumn home decor to the next level with these falling leaves potholders. They'll look great hanging in your kitchen, and add some autumnal charm as you serve up some classic comfort meals.