9 FREE crochet mandala patterns
Published on

9 March 2022
By

Angie
3

min read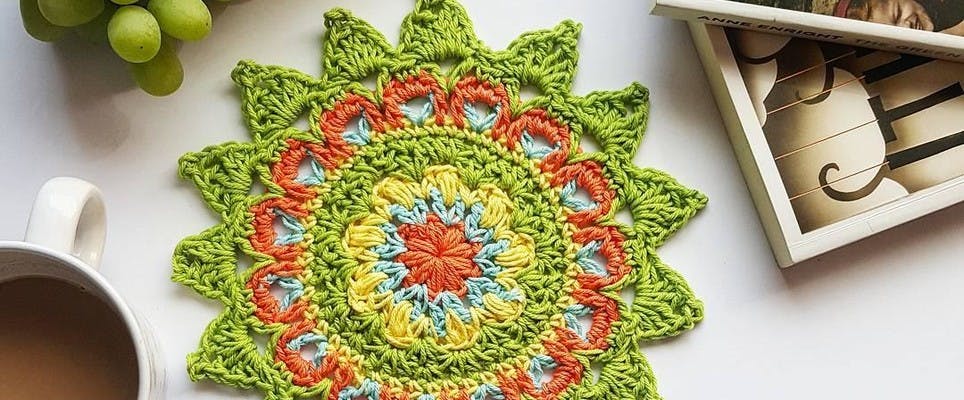 Mandalas have long been a symbol in religious and spiritual traditions, including Hinduism and Buddhism. Mandalas, meaning "circle" in Sanskrit, make a fabulous crochet pattern for festivals like Holi and Diwali. Grab your hook and a rainbow of colourful yarns, and you'll have a mandala made in a matter of hours!
Anab's Faagun Mandala for Holi!
The wonderful fibre artist Anab created a gorgeous Faagun Mandala pattern to celebrate the festival of Holi. This festival marks the start of spring and the last month of the Hindu calendar. Anab uses the popcorn stitch to crochet her multicoloured mandala which will hang proudly in any home. With Holi just around the corner, this is the perfect project to make in time!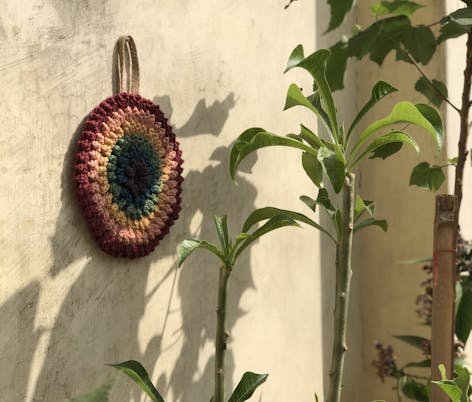 Mandy's Mandala
We love the zesty green edging on this bright mandala from Amanda of RedAgape. This beginner mandala is easy to follow, making it the perfect first mandala pattern to crochet. Perfect for brightening up a breakfast table or in the garden for some alfresco dining!
Mandala Crochet Doilies
The Mandala Crochet Doilies by Kate Veselunka is a pattern that includes 6 fabulous mandala doily patterns for intermediate level crocheters. Crochet these up in all the colours of the rainbow to add some fun to your home.
Happy Days Mandala
Who loves to feel happy? We know we do! And with the Happy Days Mandala, you'll be feeling the joy in no time. Designed by the lovely Knothing Usual and crocheted in Paintbox Yarns Cotton DK, this intermediate mandala will bring a little sunshine into your world.
Pretty Petals Mandala
Spring into spring with this bright floral mandala. It's easier and you think, and would make a stunning addition to a tired cushion cover. Crocheted in Paintbox Yarns Cotton DK, the Pretty Petals Mandala by Hattie Risdale will bring all the cheerful colours from springtime blooms into your home. Crochet this mandala for your home, or gift to a flower-loving friend! You could also hang it on the wall like a painting, and make one inspired by every season.
Sunnyside Up Mandala
Amanda from RedAgape is back with another mandala to love. The Sunnyside Up Mandala crocheted in Sunshine and White Lily Sugar 'n Cream Solids, is perfect to brighten up your mornings. Your favourite sunny side up breakfast would look adorable served with this mandala dressing your table, wouldn't it?
Circle of Magic Mandala
Evelin Karu is obsessed with crocheting mandalas and we know why. They're fabulous, that's why! The Circle of Magic Mandala is not exception. Designed to be crocheted using yarn scraps, this mandala is the perfect stash buster for beginners.
Flower Mandala
Atelier Sopra from the Netherlands is a crochet designer who loves to create unique, handcrafted pieces that people will love. The Flower Mandala is no exception. Crochet this intermediate level mandala in any colours you like - the designer encourages your creativity! Don't forget to share the final result in the community!
September Mandala
The September Mandala by Love and Loop is a classic design with a fun and vibrant update. Crocheted in Paintbox Yarns Cotton DK, this sweet mandala will bring the warmth, even on days when the weather isn't. Make a set of these to be trivets or potholders for a housewarming party and impress everyone.