Inspired by Ireland: Discover Pukapuka's patterns perfect for St Patrick's Day
Published on

16 March 2021
3

min read
Pukapuka fell head over heels for Ireland on their travels around the beautiful island, and felt so inspired by the gorgeous landscapes and rich history that they had to design some crochet patterns as a homage to their trip!
In Dublin's fair city where the girls are so pretty… that's where my Irish adventure began. I knew that the Irish love to sing (so do I!) and of course, we visited a pub with live music. Probably that was the first time I heard The Wild Rover, sang with force and passion and joy by so many voices. The next day somewhere in the Dublin streets we saw (and heard) a little boy, red-haired and freckled, singing out loud and collecting money in his flat cap. I wanted to sing too, so I knew that I needed a good Irish songbook!
And so, during the onward journey we found the names of all those green, wild and majestic places in the songs we sang. Rivers (You may ride on the tide o'er the broad majestic Shannon…), mountains (As I was going over the Cork and Kerry mountains…), and counties (Now in Kilkenny it is reported there are marble stones as black as ink…)
My adventure in Ireland inspired some of my latest patterns, where I included lots of green and shamrocks! Did you know that St Patrick used shamrocks, this tiny plant with three leaves on one stem, to teach people about the Holy Trinity?
The smallest design is the Shamrock Potholder: a good last minute project. It is small and uses scraps of yarn, which you can transform into something pretty and practical and isn't it what we love the most about crafting? On one side there's a shamrock, on the other side there are orange, white and green stripes, which are the colours of the Irish flag. It's made entirely with single crochet stitches, so even if you're new to colourwork, it shouldn't overwhelm you!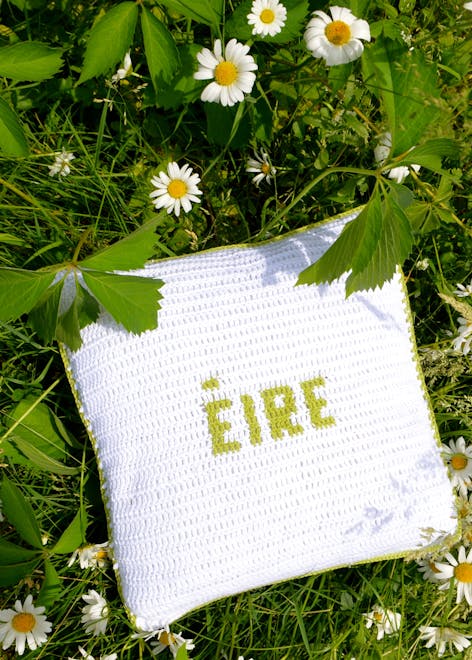 The other one is a decorative pillow with map of the island in green (of course!) on a white background. On the back of the pillow there's the island's celtic name: Éire. And there, on the western shores you'll find the majestic Cliffs of Moher! This is what I love about crocheting maps, with each row you travel through another place.
Ireland, together with Great Britain, are the two biggest islands of the British Isles (did you know that there are over six thousand islands in the whole group?) With the British Isles Rug you not only add a spirit of travel to your interior, but you (or your children!) can play and learn with it in many ways! And again, crocheting a map means you want to refer to your long forgotten geographical atlas, to check where you are, while working on row!
And last but not least, the Horse Jumping C2C Blanket. For some it might be the most challenging, but extremely rewarding too. If you love horses and horse racing as much as the Irish do - this is something for you. Apart from the graphics of the blanket (that shows a jumping horse with a rider on his back), notice the detail of the shamrock border. And while crocheting, you can sing:
"As I went down to Galway Town to seek for recreation
on the seventeenth of August, me mind was elevated.
There were multitudes assembled with their tickets at the station. 
And my eyes began to dazzle and they're going to see the races.
With me whack fol the do, fol the diddely idleay."
More patterns inspired by Ireland!