How to be a happier maker - your ultimate guide!
Published on

March 11, 2020
By

Holly Butteriss
2

min read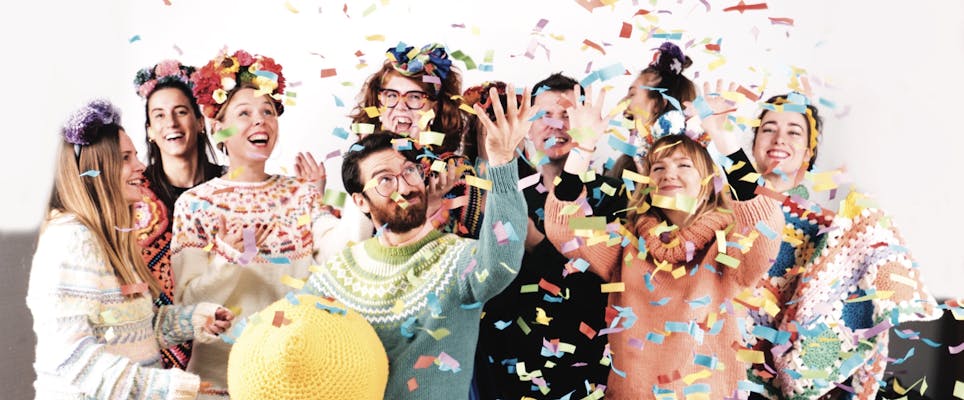 Joy is part of our DNA, at LoveCrafts we understand the serotonin surge we get when we're making - that all important moment when it all comes together and you feel proud of your masterpiece. Making comes with its frustrations (dropped stitches, wonky patterns and not enough time), but in the end, the process, the finished handmade item, the giving of gifts; it's what brings our souls joy.
But how do you get there? This guide will help you along your way to finding a little slice of happiness, whether it's a pattern that sparks joy, a colour that you need to make something in, or taking pleasure in organising your never ending stash - we've got five steps to be a happier maker.
1. Create your happy space
Creating a positive environment to make in is a vital part of your journey towards more joy! Whether that means finally finding a home for your stash, sprucing up your craft space with inspiration, or making homewares to keep everything tidy - there's lots of ways to create your happy space!
2. Reflect and rejoice
The making journal is your place to write down your making intentions, your inspirations and discover what being a maker means to you. We need to nurture our souls, and feed our creativity, this journal will help you connect more mindfully with the process of making and rejoice in every step of the journey, from that first spark of inspiration - to the finished piece. 
3. Introduce colour into your projects
As makers we all feel that intrinsic desire to express our true selves through our makes. Whether it's in our colour palette, pattern choice or how we choose to style it, part of being a happy maker is revelling in the joy of being able to express yourself creatively.
4. Get your craft juice
If you're not tuning into The LoveCrafts show podcast, you're missing out! It's where we chat everything crafts related, share news from the making community, and discuss the joy of making. Hosted by Merion, LoveCrafts' super star maker (who can forget the Merion outtakes video!?) and Jamie, cross-stitch extraordinaire making waves in the crafts community, aka Mr X Stitch! Take some time out to listen to The LoveCrafts Show and bask in the joy of making, or why not host a craft party and make with friends while you listen?
5. Seek mindful makes
Part of finding joy in making, is being mindful about the process, letting go of the mistakes and getting lost in the dreamy headspace of making something. Soothing repetitive stitches that create adorable and inspiring designs are just the thing to put you in the best mood! Follow Emma Leith's 5 simple steps for more mindful crafting.