The 11 biggest fashion trends for 2022 (and how to knit & crochet them)
Published on

February 15, 2022
3

min read
When Anne Marie puts 'knitting' in her list of favorite things alongside 'seeing someone smile' and 'aubergine', you know you're on to a good thing. Call me Loraine Kelly, but knitting really has helped me mildly cope with the craziness of our world over the past couple of years. And if seeing Tom Daley in a pair of hand-crocheted trunks didn't make you smile, then are you even human?!
It might come as no surprise, then, that 2022's catwalks served as a love letter to slow fashion (yes, we see the irony). A crocheted rainbow maxi dress, a knitted mini skirt, tassels like you mean it; the catwalks were speaking our language. So, if you want to ride into 2022, like Grace Kelly's granddaughter at Paris fashion week, then listen up makers, here are 11 of the biggest fashion trends you can actually knit and crochet.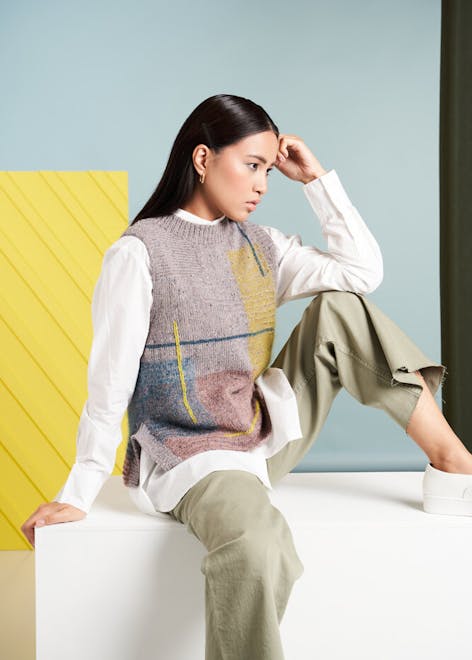 1. Living our vest life
Knitted and crocheted sweater vests aren't going anywhere. This wardrobe essential looks equally good over a floaty maxi as it does paired with a tee and jeans. Whatever your style, this cozy little number will see you through from crisp spring days to fall nights huddled around the bonfire.
From preppy to classic, statement or minimalist, sleeveless silhouettes are back. Which one is your favorite?"
2. Loud stripes
Wear your stripes on your sleeve with big, bold, and chunky patterns this year. If you need to brush up on your skills, look no further than our knitting tutorials for how to knit stripes and changing colors in knitting.
3. Regencycore
Bridgerton's got us taking Regency-era styling inspiration straight to our handmade wardrobe. Embellished and embroidered accents, empire waistlines, pastel shades; anything that helps us manifest riding into the sunset with the Duke…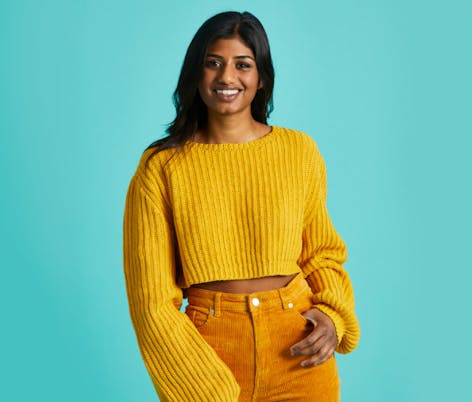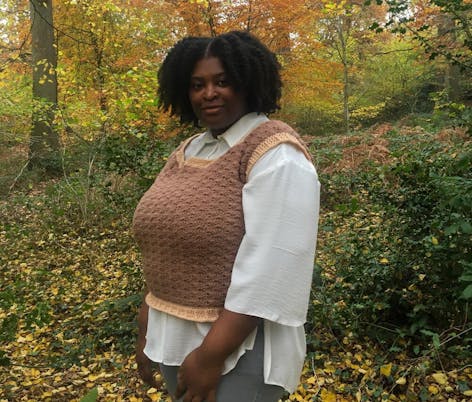 From sweaters to vest tops, we're channeling the 90s again and reclaiming our love for the midriff. If that has you recoiling in horror, don't fear, all queen of the crops know that these cropped patterns look just as cute over long dresses and tees too!
5. Power to the patchwork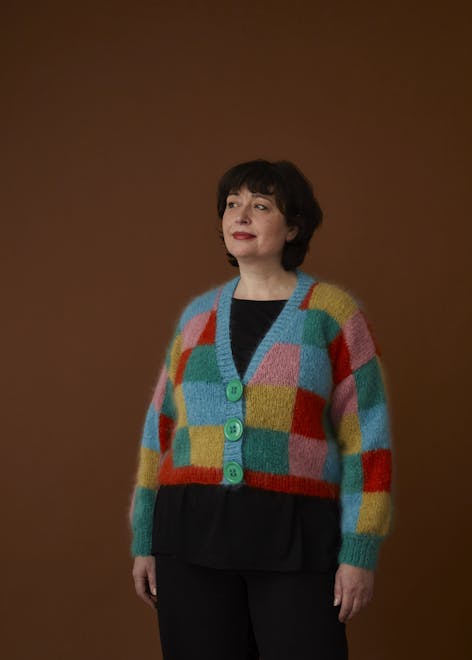 We love this fabulous Checkerboard Cardigan, a striking statement piece for everyone! It's easier to knit than you think, using a simple intarsia method - knit all the colors in one single row, twisting the yarn to avoid holes between colors."
6. Lilac love
If we had to describe 2022's color palette in one word, it would be FABULOUS. Yep, in capitals. As we emerge from an unsettling 2 years, we need brightness, color, and joy in our lives. This year's Pantone color might be very peri, but let the rainbow be your inspiration when choosing your next make.
7. Sleeves with flair
Bell sleeves, flared sleeves, puff sleeves, ripple sleeves, sexy sleeves. If your sleeves aren't making a statement, we don't want to see it (please refer to the first trend)!
8. Nice necks
If you can't take on a whole collared knit sweater, then turn your attention to these detachable collar beauties. A fashion must-have that makes a super cute pressie for a friend too.
9. Fringe additions
Fringes are in! Incorporate them into your sweater, make a fringed bag or wrap yourself in a colorful tasseled shawl. Whatever your fringe style, these patterns will give you that feel-good festival vibe all year long.
10. Mohair moments
"I shall call him squishy, and he shall be mine and he shall be my squishy…" Does anyone else find themselves channeling Dory when squishing a ball of Nell yarn? Feast your eyes on some of this year's hottest mohair patterns!
11. Big bad granny squares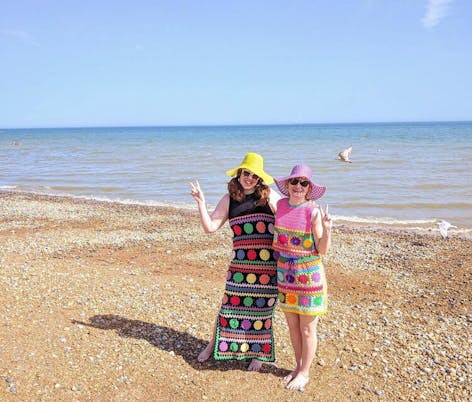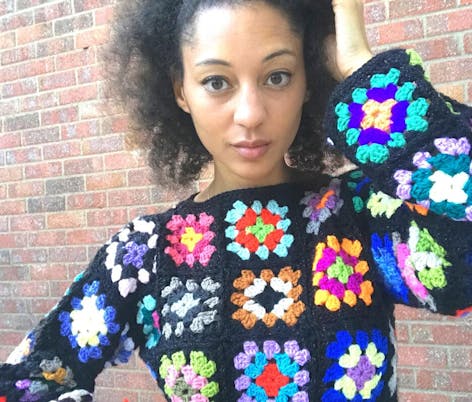 Discover more handmade fashion trends