This year we might not be celebrating Halloween in the way we normally would with haunted house scares or traditional trick-or-treating. But before you succumb to a scare-free October, we have some promising insight to share - the American public are still planning on getting creative this Halloween!
In fact, a recent Statista report shows that more than half (58%) of Americans still plan on celebrating the spooky holiday in 2020 despite the pandemic, with handing out candy (63%) the most popular celebration, followed by decorating their home (53%). Furthermore, almost two fifths (38%) of parents will allow their children to trick or treat this year.
Whether you're hosting a virtual scarefest with friends or family, or simply want to have a stay at home party with your loved ones, Americans are still searching for costume inspiration for this year's spooky celebration.
We polled 1,500 Americans and discovered that the majority (65%) of you would rather create your own costume than buy one (music to our ears!) and more than half (53%) will spend 1-3 hours creating it* - now that's dedication.
To find out which costumes people would be donning for All Hallows Eve this year, we analyzed Google Trends data across the United States to find out the top 10 most searched for costumes in the country and in which states each costume will be most popular.
Halloween is always an exciting time for crafters! It's an opportunity for makers to show off their creativity and incorporate new trends and pop culture references into their designs.
Following her starring role in the Birds of Prey movie earlier in the year, comic book antihero Harley Quinn is set to be the inspiration for the most popular costume for Halloween this year. A timeless classic cat costume is the second most popular, while Harley's former love interest, The Joker, is the third most popular costume, who was most recently played by Joaquin Phoenix in an Oscar winning performance in last year's Joker.
There are two surprising additions to this top 10 list, which at the beginning of 2020 nobody would have had any idea what you were talking about. Thousands of people from Montana to Massachusetts will be donning mullets and tiger print to dress up as Carole Baskin and Joe Exotic, the two stars of the Netflix docuseries phenomenon Tiger King.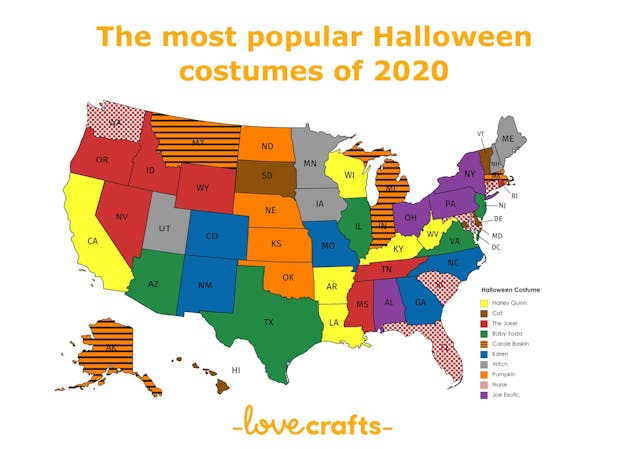 The top 10 homemade Halloween costumes of 2020:
1. Harley Quinn
California, Louisiana, Arkansas, Kentucky, West Virginia, Wisconsin
2. Cat
South Dakota, Vermont, Delaware, DC, Hawaii
3. The Joker
Oregon, Idaho, Nevada, Wyoming, Mississippi, Tennessee, Rhode Island
4. Baby Yoda
Arizona, Texas, Illinois, Virginia, New Jersey
5. Carole Baskin
Montana, Michigan, Indiana, Massachusetts, Alaska
6. Karen
Colorado, New Mexico, North Carolina, Missouri, Georgia
7. Witch
Utah, Minnesota, Iowa, New Hampshire, Maine
8. Pumpkin
Nebraska, Oklahoma, Kansas, North Dakota
9. Nurse
Washington, Maryland, South Carolina, Connecticut, Florida
10. Joe Exotic
Ohio, Pennsylvania, New York, Alabama
Couples Halloween costumes are set to be super popular this year and after analysing Google Trend data we discovered the top combinations people will be pairing up with this year, with the Joker and Harley Quinn set to retake the couples crown for the first time since 2017.
The top five couples costumes:
1. The Joker and Harley Quinn
2. Joe Exotic and Carole Baskin
3. Gomez and Morticia Addams
4. Trump and Biden
5. Ross and Rachel
We also discovered that searches for Halloween face masks this year are already double to what they were in 2019, which would make sense considering face masks are mandatory in most places anyway!
With Trick or Treating and Halloween gatherings affected by the coronavirus pandemic, we've collated decorations and patterns for creating a stay at home Halloween this year. Click here to view our selection of knitted Halloween patterns or Halloween crochet patterns.
Although we might not be able to celebrate the holiday as normal this year, it is great to see so many people are making costumes for virtual parties! And it's the perfect excuse to make some DIY decorations for a stay at home Halloween with family or housemates.
Holiday inspired tutorials
Halloween inspired patterns