20+ Creative DIY Christmas gift ideas
Published on

March 1, 2021
By

Sarah J
6

min read
There's nothing more heartwarming than the look on someone's face as they unwrap a lovely piece of homemade joy - for us makers, that's what Christmas is all about! We've rounded up some fantastic DIY Christmas gift inspiration for you to make for your nearest and dearest this holiday season. Last-minute makes and budget friendly ideas, you'll feel super inspired by all these Christmas craft ideas for gifts to sew, crochet, knit as well as easy Christmas gift ideas for kids to give a go!
Easy crafts for Christmas gifts
The festive season should be fun for the whole family, so why not get your little ones involved in some Christmas arts and crafts for kids?
Buzzing about these beeswax wraps
Everyone is looking for ways to be more eco-friendly, and these DIY beeswax wraps make a fantastic gift that is super cute and practical too! The perfect DIY Christmas gift for co-workers or beloved teachers who are always leaving their lunch in the fridge.
Festive fabric covered tree ornaments
These super sweet tree ornaments from Alice and Lois are not only perfect for your own tree, but a secret Santa present for your friends - a fabulous festive way to use up any fabric scraps from the past year, too.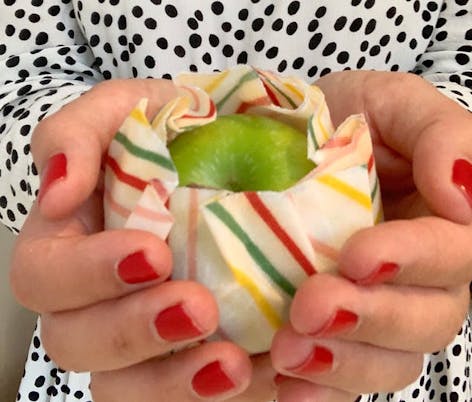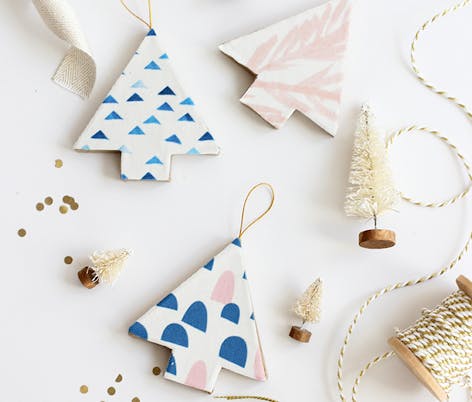 Christmas tea trees
For the tea drinker in your life, this super sweet DIY Christmas gift idea by Bonnie is the perfect homemade gift. Grab sachets of their favorite tea, and you're good to go.
Snazzy snow globes
We love this little DIY snow globe! Fantastically festive and customisable too, it doesn't have to be holiday themed, choose a theme perfect for the recipient and they'll treasure this forever.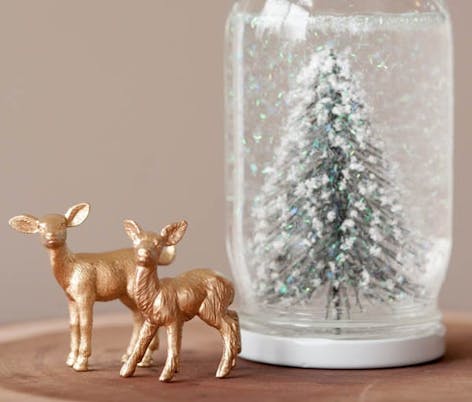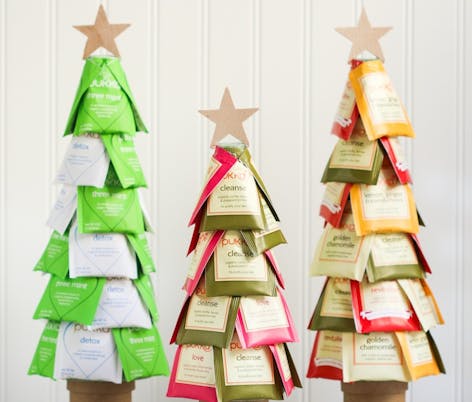 Last minute DIY Rudolph
Need a last minute gift to stuff in a stocking? This DIY Rudolph gift cardholder by Vanessa is the perfect project to add a personal touch to a last minute present! This is definitely one  your kids will enjoy making as well.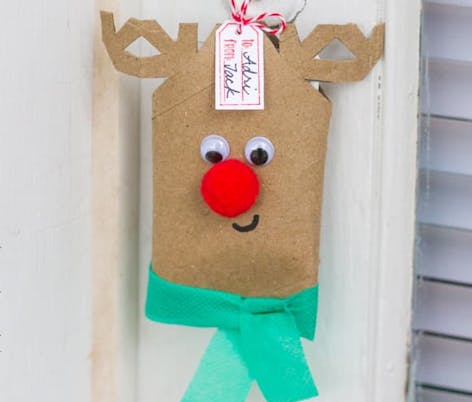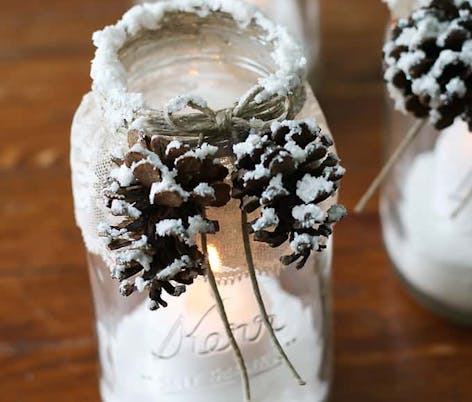 A winter wonderland in a mason jar
We adore this mason jar craft from Amanda, using pine cones, twine and lace trimmings to create a snowy tea light holder. A perfect project for you and the kids to make and give to your nearest and dearest.
Make your own jewellery
A festive favor they can wear all year round! There's something special about gifting jewellery, even more so when it's handmade. Why not make these tassel earrings and necklace? They're the perfect accessory for any Christmas party outfit.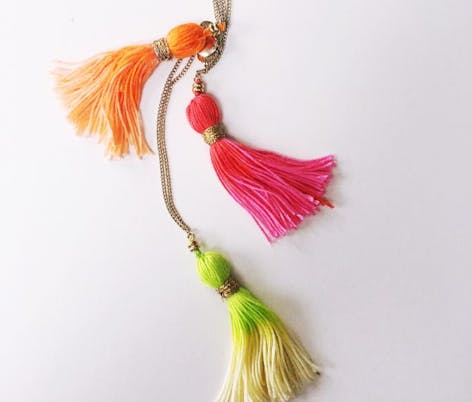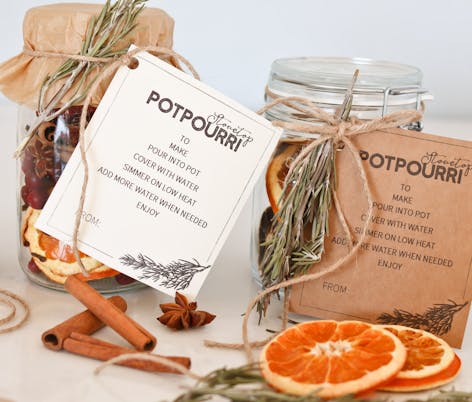 Homemade holiday potpourri
Decorate mason jars with twine and ribbons, and fill with your very own homemade potpourri, made from dried, seasonal fruits. This tutorial from Cami and Marci at Tid Bits will show you exactly how to make this gorgeous gift, plus it would make a scentsational secret Santa present!
Simple sewing Christmas gifts
Spread the festive cheer with a Christmas sewing project!  From simple tote bags, to sustainable stocking stuffers and simple scrunchies, dust off your sewing machine and let's get going!
Stocking stuffer scrunchies
This super cute scrunchie makes the perfect stocking stuffer, easy to make and customisable with different colors and patterns!
Embroidered keepsake hearts
These little fabric hearts are a super sweet homemade Christmas gift you can make with some leftover fabric and a bit of sewing. Stitch your loved ones' names onto the heart and pop it in their stocking for Christmas day.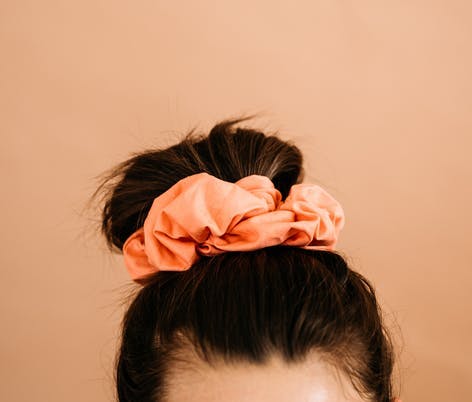 Funky face cloths 
For your skincare obsessed friend, these handy reusable face cloths are eco-friendly and super cute! Choose from loads of different colors and patterns for an extra personal touch.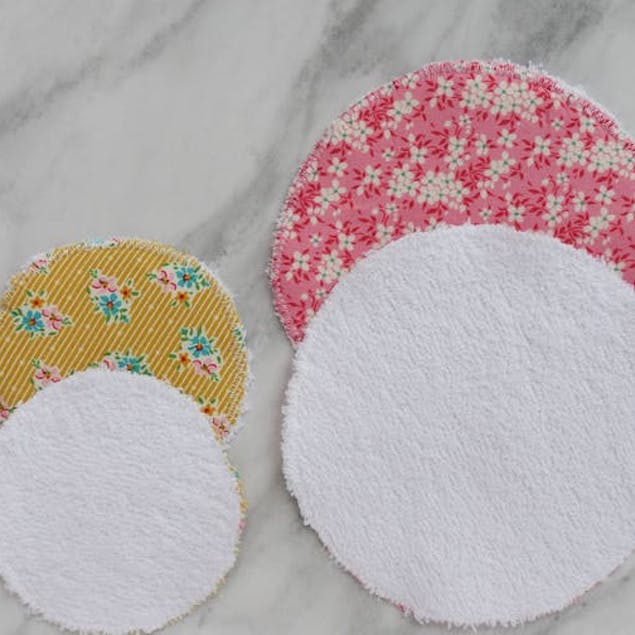 Knitted Christmas gifts 
Knit up the perfect winter warmers and keep your friends from catching a chill while still looking stylish in these handmade knits! 
Knit a simple bobble hat
This simple hat knitted in the round is a fab project to whip up at the last-minute. A simple stockinette knit in the round, there's no sewing involved for quicker, seamless results - yay! Follow along with our video tutorial, and you'll soon have a whole collection ready to give to your loved ones.
Chunky knit cardigan
For a real Christmas treat, why not knit this beautiful chunky knit cardigan - such a stylish pattern that it's worth taking the time to plan your makes ahead of the season, and have this ready to give to an extra special someone this year. They'll be wearing it all year round! 
A knitted toy
Celebrate their first Christmas with an extra special knitting present. This beautiful knitted deer by Julie Williams makes a precious gift for any little one to receive - a gift they can treasure forever.
Cable knit headbands
If you love knitted cables, this one's for you! Knit up cute and cosy knitted headbands with a beautiful plaited cable. Once you've started, you won't be able to stop and with chunky yarn, it will take a lot less time than it looks.
A jolly jumper! 
Get ahead on your DIY Christmas gifts and knit a holiday jumper. Gift to holiday fanatics and change up the motif for each of your family members with this Paintbox pattern - so much festive fun to have with this one! 
Adorable mittens for little hands
Such a sweet staple that you can knit for any little one in no time at all. Keep their hands cosy with these teeny tiny mitts on a string - so cute! 
Crochet Christmas gifts
Christmas crochet projects for all your friends and family - quick treats to make in a few hours, perfect for if you're still crafting on Christmas Eve! For more ideas, check out crochet gift ideas for all year round.
Merry and Bright crochet cushion
A merry and modern make for festive fanatics and homeware lovers. This Merry & Bright cushion pattern from Bhooked is a double-sided cushion using beautiful bright yarns to bring some festive cheer to anyone's home.
Tidy up storage baskets
For those who love homeware and organisation, crochet up this storage basket with the free pattern from Paintbox Yarns. Or, why not make this and gift it with a new plant? It will look great in any space!
Amigurumi Santa 
This sweet Santa pattern is a perfect handmade stocking stuffer to bring a little handmade magic to your presents this year. Crochet up in cuddly yarns and hide it under the treat, or why not add some string and make it an ornament for your Christmas tree? 
Snuggly slipper socks
There's nothing better than cosy makes in time for Christmas, just like these snuggly socks. Crocheted in chunky yarns, you'll definitely have these ready for the big day! 
Nordic Christmas bags
Filled with chocolate coins, festive sweets or maybe a handmade make, these crochet Christmas bags are a sweet gift wrap option and a gift within itself! For festive party favors, hung on or under the tree, these are a real treat! 
Simply crocheted mittens
Follow along with this wonderful winter project by Kate Eastwood to show you how to crochet simple mittens, the perfect Christmas project to make for all your friends and family.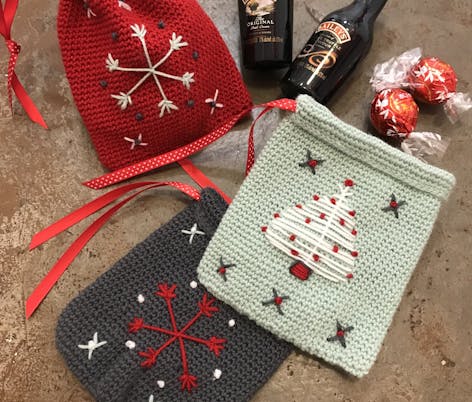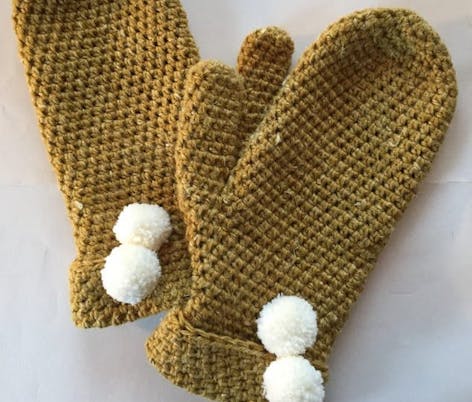 More festive inspiration for you to discover