Christine Leech, blogger at Sew Yeah and PomPomMania queen, joins us to show you how to make the latest accessory craze to hit the high-street, a tassel necklace with an ombre twist…
Materials
1 ball each in shades Jaune Indien (89), Safran (47) and Geranium (52)
Necklace chain
Cardboard
Scissors
Pliers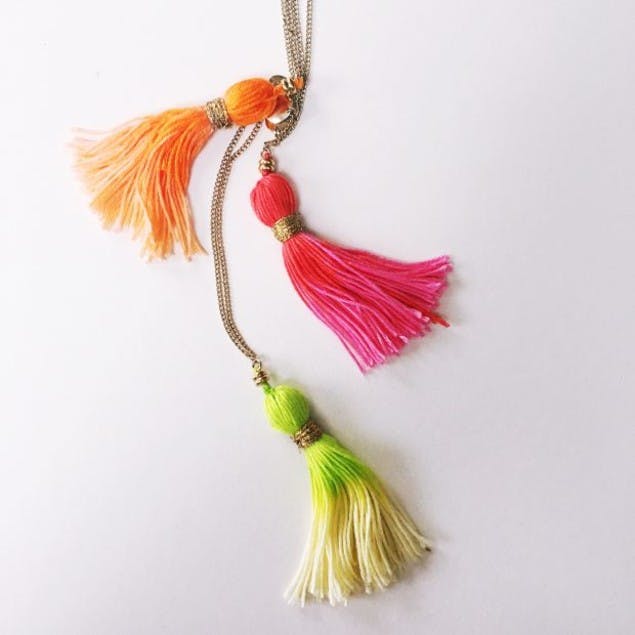 Tassels are huge this summer. From decorating bags, shoes, earrings, key rings, jackets, dresses – nothing has escaped the tassel and pompom adornment. They're also really easy to make, you don't need any specialist tools and one ball of yarn goes a long way! I have given these tassels a little extra twist by dipping the ends in bleach to create a beautiful ombré effect.
How to make the tassels
1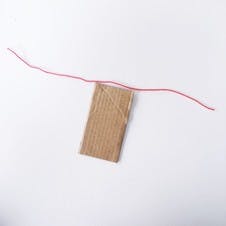 Cut a piece of cardboard 8cm (3inch) by 5cm (2inch).
Then cut a length of yarn approximately 12cm (4.7inch) long and place it along the top edge of the piece of card.
2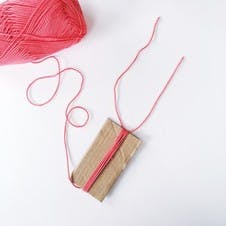 Start winding one of the yarns around the card – making sure you catch and hold the shorter piece of yarn on the card.
Wind around 40 winds (for fatter tassels wind more and less for thinner ones).
3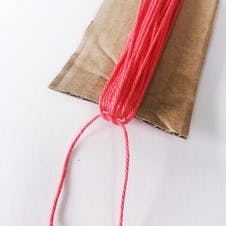 Tie a knot with the short piece of yarn to hold the bundle together.
4
Feed one end of the yarn under the bundle, pull tight and then tie a double knot.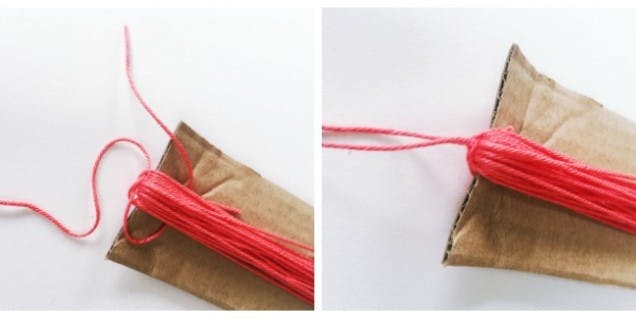 5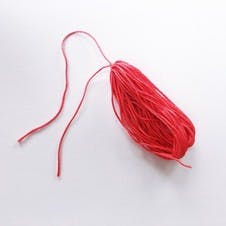 Slide the yarn bundle from the cardboard.
6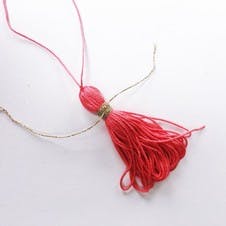 About 1cm down from the top of the yarn bundle start winding some gold yarn pulling tight as you go.
Wind about 30 times.
Finish with a double knot.
7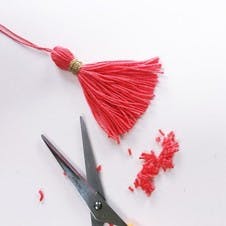 Cut the bottom of the bundle to release the tassel. Trim any wonky ends.
8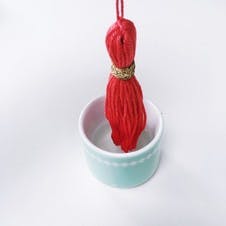 Carefully fill a small egg cup with bleach (remember to work somewhere where you won't be bleaching anything accidentally – wear an apron and plastic gloves if necessary) then dip the end of the tassel in about 1-2cm (0.3-0.7 inches) for a couple of seconds.
9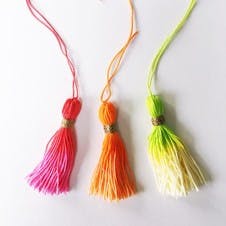 Remove from the bleach and hang it somewhere whilst the bleach takes effect (over a sink is ideal).
The bleach affects different colored yarn in different ways – the lime green changed color almost instantly but the pink and orange took much longer.
10
When you are happy with the color change rinse your tassel with soap and warm water and leave to dry.
Repeat the previous steps and make as many tassels as you need.
How to attach the tassel to the necklace
How you fix the tassel to the necklace depends on your particular necklace but you should be able to do something similar with the instructions below. You may want to buy a couple of jump rings from a jewelry suppliers and then you will be able to fix the tassels to any necklace.
1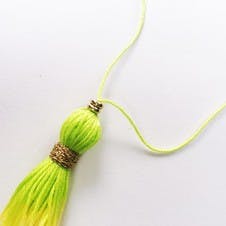 Thread two small gold beads onto the two short ends of the yarn.
2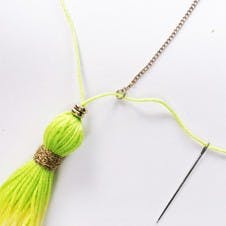 Thread one end of yarn through a small jump ring or loop on the necklace.
3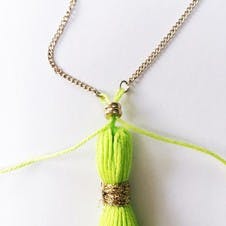 Then thread it back through the two small beads.
Repeat with the other piece of yarn and tie a double knot and trim away excess yarn.
And that's it, you've got a cute new accessory for the season.