There's no better way to say "I love you" this Valentine's Day than with a handmade gift. Save yourself from rummaging through your stash for anything red, pink and heart-shaped on the evening of 13th February and instead make some of our fabulous Valentine's Day crafts, guaranteed to leave your loved one swooning!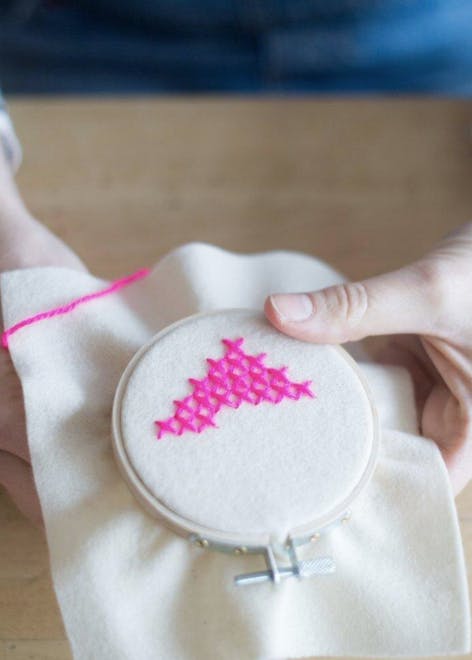 Crafts for Valentine's Day don't have to be extravagant, there are loads of easy Valentine's Day crafts you can make in hours, or even minutes. From tiny crocheted hearts to hide all over the house to sweet gifts for a special someone, we've got all the inspiration you need for a romantic makes this Valentine's Day.
First up, we've got an incredible selection of projects for all the needlecrafters out there! Grab your stash and get stuck into our gorgeous patterns and valentine's decorations – there are loads to choose from.
Stitch some love into a Valentine's Day card - cross stitch an easy love heart, an adorable quote or a simple motif from a larger pattern. An easy way to make your own embroidered Valentine's Day card is to cut out an aperture from the front of a card blank and place the embroidery in it like a frame. Then, secure with masking tape before covering the inside of the card with a piece of card – easy peasy!
Embroidery and cross stitch for Valentine's Day
Next up, we're sharing our favourite knitting patterns for Valentine's Day. From small and sweet home accessories to gifts that go the extra mile, here are our favourite romantic knits. If you're on the last minute, learn how to knit up the fastest heart - the perfect little keepsake!
Knitted Valentine's Day crafts
More Valentine's Day Knitting Patterns
If you're more of a crochet fan, grab your hook for these romantic patterns that are guaranteed to win over your Valentine come February 14th! We can't get enough of the love heart gift bag which makes a perfect present in itself. We even have some free crochet heart patterns that are a real treat!
Crochet Valentine's Day crafts
Shop sumptuous yarns for Valentine's Day makes
How could we do a round-up without paper craft inspiration? Nothing says you care like a homemade Valentine's Day card, and we've got some stunning supplies to help you create a card that'll get the message across!
Valentine's Day paper craft inspiration
More Valentine's Day inspiration