2020 - the year of the 'hobby-hustle' with Americans earning $30 per make on average
Published on

November 23, 2020
3

min read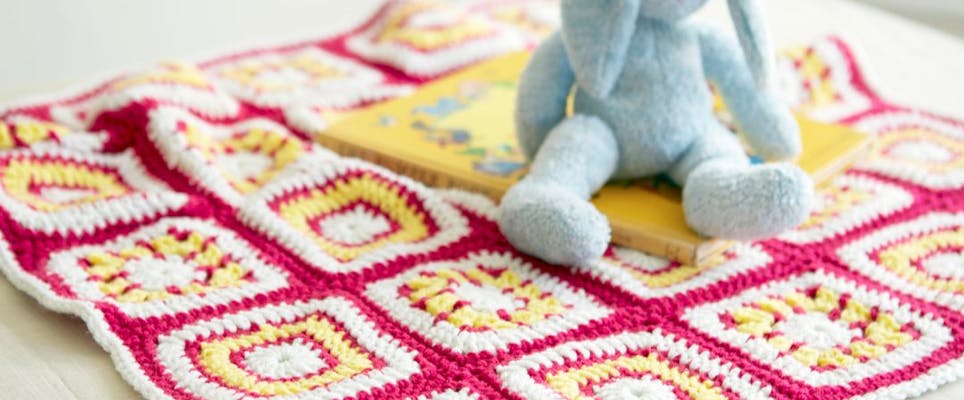 At LoveCrafts we're always trying to inspire and spread the joy of making. Whether you're a newbie knitter or a cross stitching connoisseur, a sewing superstar or picking up a crochet hook for the first time, we want to help you get inspired and turn your crafting dreams into a reality!
Throughout this difficult year, lots of you have been turning to crafts as a way to learn something new, practice a bit of much needed self care, or to turn your makes into money! There's been a huge trend of makers monetising their crafty hobbies and we wanted to find out just how much money American makers are making , and how much more potential there is to grow your hobby hustle! 
We sifted through thousands of the top craft listings, which equated to more than 10,000 price points, so we could create a definitive list of the fifteen most lucrative 'hobby-hustles' in the United States. Hopefully this list will help give you an idea of what sort of dollar you could make in your chosen craft, should you decide to start selling your makes!  
Our research revealed that people selling handmade cushions are commanding the highest prices, at $62.35 per item on average, while hobby hustlers selling printed clothing and pet products finished second and third on the list, respectively, with average prices of $52.79, and $43.55.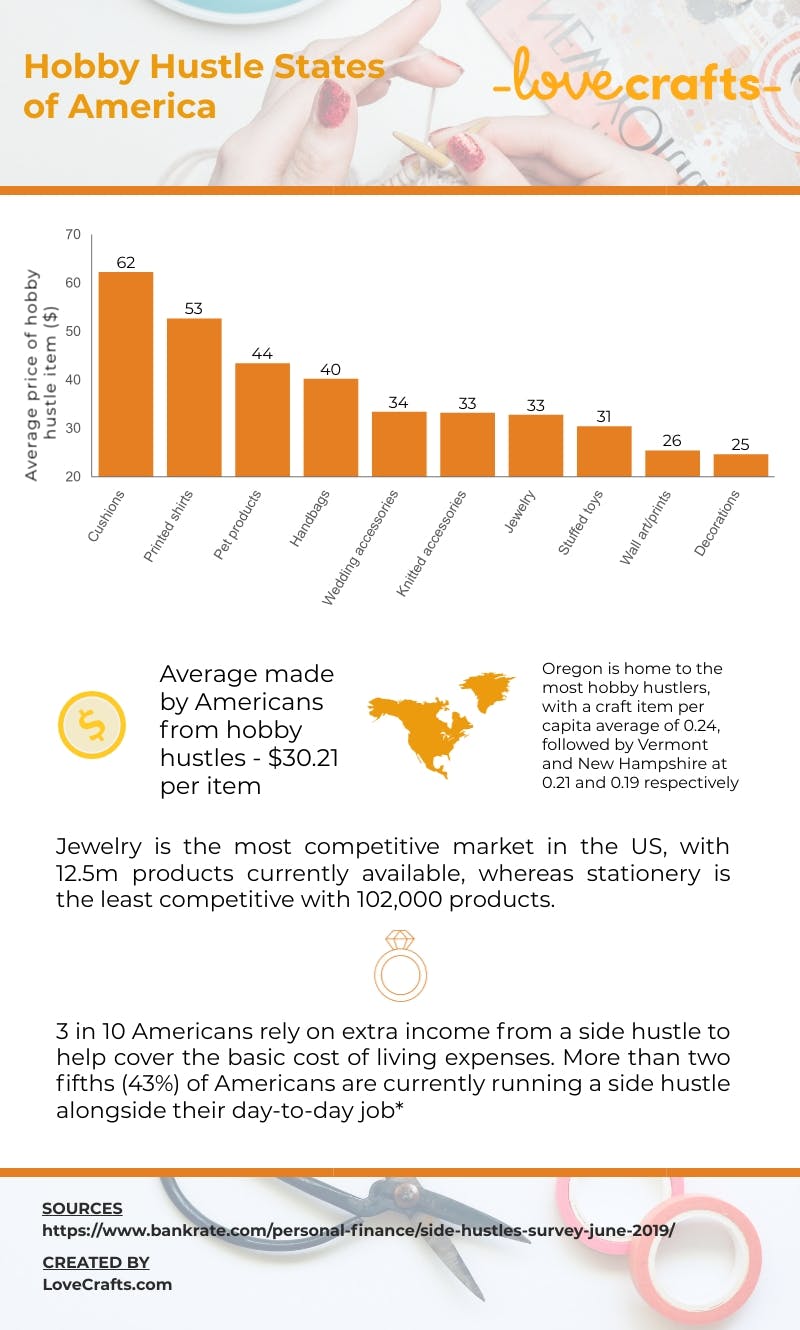 The fifteen most lucrative 'hobby-hustles
These are fifteen 'hobby-hustles' that are great for money making! Check out the average sale price for a product in each category: 
Cushions - $62.35
Printed T-shirts/Jumpers - $52.79
Pet Products - $43.55
Handbags - $40.35
Wedding Accessories - $33.53
Knitted Accessories (hats/scarves/gloves) - $33.34
Jewelry - $32.89
Stuffed Bears/Toys - $30.54
Wall Art/Prints - $25.53
Decorations - $24.75
Candles - $20.54
Stationary - $17.54
Cards/Invitations - $13.16
Soap/Bath toiletries - $12.59
Fragrance Oils - $9.79
To get these figures, we tracked more than 500 recently featured products listed on the Etsy site within the 15 most popular categories, to find the average price people were selling each item for. Across the differing craft types, the average amount made by vendors per item sold was $30.21.
We supply thousands of products, materials and patterns to crafters all over the globe, and although lots of our members craft solely for the fun of it, this research goes to show just how much handmade items can fetch. I think it's interesting to see just how much people are making through their DIY goods - but as any crafter knows, the time and care that goes into these products are what makes them so valuable, and in some ways priceless.
We also looked into crafting trends on a state level, and discovered that Oregon is home to the most 'hobby-hustlers', with a craft item per capita average of 0.24, followed by Vermont and New Hampshire at 0.21 and 0.19 respectively. We also discovered that any hobby crafters looking to make the jump to being a hobby-hustler should consider that jewelry is the most competitive market in the US, with 12.5m products currently available, whereas stationary is the least competitive with 102,000 products.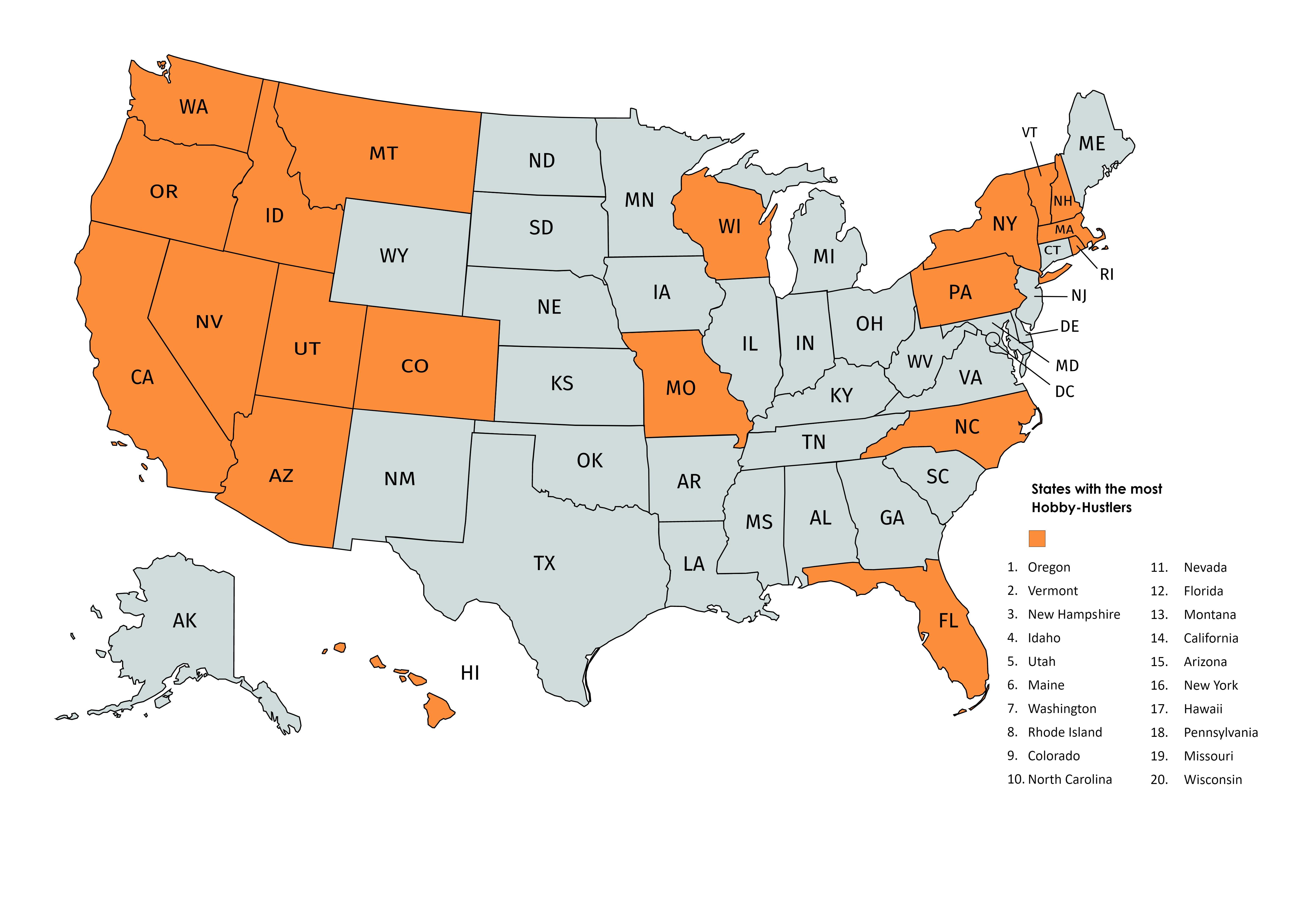 It's no secret that selling homemade goods has been a growing trend in the United States with the number of vendors selling on Etsy increasing by 20% from 2018 to 2019*. A recent study from Bankrate revealed that 3 in 10 Americans rely on extra income from a side hustle to help cover basic cost of living expenses. The study also discovered that more than two fifths (43%) of Americans are currently running a side hustle alongside their day-to-day job**.
*https://www.statista.com/statistics/409374/etsy-active-sellers/
**https://www.bankrate.com/personal-finance/side-hustles-survey-june-2019/ 
Etsy is a global e-commerce platform, allowing merchants to sell handcrafted or vintage goods to customers around the world. As of June 2020 Etsy had 1.7m active vendors and 28.6m active buyers using the site.