Crafts like knitting, crochet and stitching might not be synonymous with jewelry making, but that doesn't mean that they can't be used to make some fabulous DIY jewelry! From crochet necklaces to stitched earrings, there's a whole world of wearable accessories ready to make with your stash.
Cool crochet necklaces
We can't get enough of these beautiful crochet necklaces with their intricate detailing and clever design. If you're a keen crocheter, you could easily make one of these in a hurry before a night out to jazz up any outfit in your wardrobe!
Totally gorgeous tassel accessories
Christine Leech, blogger at Sew Yeah, is the queen of tassel accessories and she's shared her top tassel-making tutorials with us! This super simple tassel necklace tutorial with a fun ombre twist is so simple, plus the finished product makes the perfect present (if you can bear to part with it!)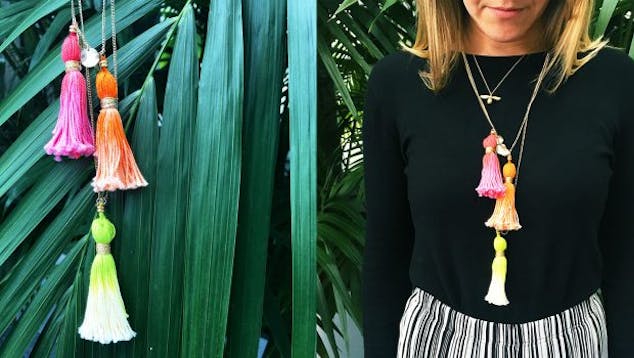 If you're more of a statement earring type of person, Christine's chunky DIY tassel earrings are guaranteed to please! Make them in your favourite colours to match your outfit; and be prepared for lots of 'where did you get those?' questions!
Colourful crochet accessories
Crochet fans – carry a piece of your craft everywhere you go! These understated accessories will provide the finishing touch to any outfit. If you need a little more guidance, we have a beaded crochet bracelet tutorial for you to follow!
Fun friendship bracelets
If you've got lots of loose threads lying around, this is the tutorial for you! Friendship bracelets are the ideal, quick make to use up any scraps of yarn you have in your stash. Follow the step-by-step friendship bracelet tutorial to create this lovely little gift for a special friend!
Glamorous knitted necklaces
Grab your glittery or colourful yarn and get knitting one of these spellbinding necklaces!
Pooch perfect earrings
We were lucky enough to have the extraordinarily talented embroidery artist Ria share this fab dog earring tutorial with us. Watch the video to see how to stitch a portrait of your pet, tiny enough to wear as earrings! Don't forget to check out the full step-by-step for DIY pet earrings.