Yarn buying guide
Published on

22 August 2019
15

min read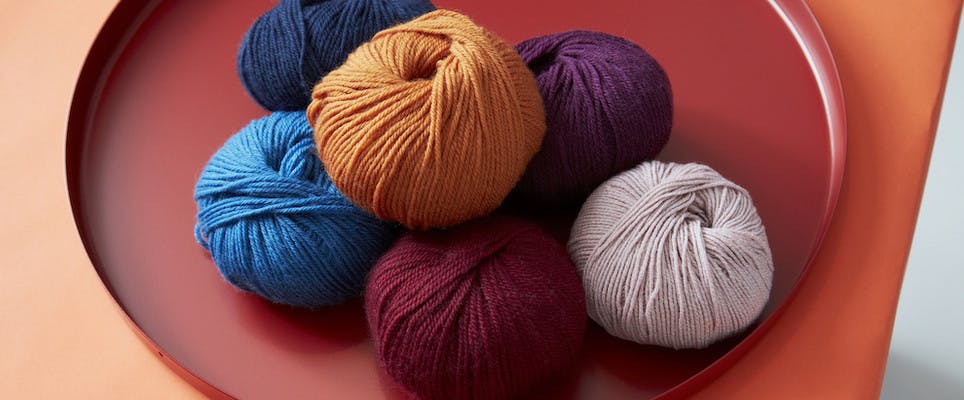 Can you tell a merino from an acrylic? Know the difference between a 4 ply and sport? Space dying what-now? With so many beautiful and varied yarns on the market it can be challenging choosing the perfect skein or ball for your beginner knitting or first crochet project. Our yarn buying guide is here to help! Learn about the different fibres, yarn weights, dying techniques and how to read a ball band.
Types of yarn fibres for knitting and crochet
Textile fibres can be made from an amazing range of natural and synthetic materials. Natural sources for yarn include your oh-so-familiar wool and cotton, alongside some unlikely suspects like metal or even seaweed extract! Many yarns are made from a mix of fibres which combine the best properties of each fibre into one. For example, sock yarn is often a mix of wool and nylon. The wool is soft, breathable, and warm, while the nylon adds durability - no-one wants a big toe poking out! So, let's dive into the cuddly, cosy world of yarn fibres!
Awesome animal fibres for yarn
Wool is the soft coat of hair from a sheep, goat or similar hairy mammal. When it comes to yarn crafts, sheep's wool tops the list as the most popular and widely available animal fibre,  Knitters and crocheters have been flocking to wool for centuries! It is warm and breathable, stretchy and it has thermoregulating and absorption properties, as well as being naturally fire retardant - a great choice for garment knitting. When it comes to types and textures of wool - there are endless sheep and sizes to choose from! 
Wool is also a natural renewable fibre and the animals who produce wool that is spun into yarn are part of the natural carbon cycle, which makes it extra planet-friendly! The jumpers and cardigans you make from wool also have longer lifespans (no fast fashion here!) and even when it is time to let go of a beloved woolly jumper, the yarn biodegrades readily.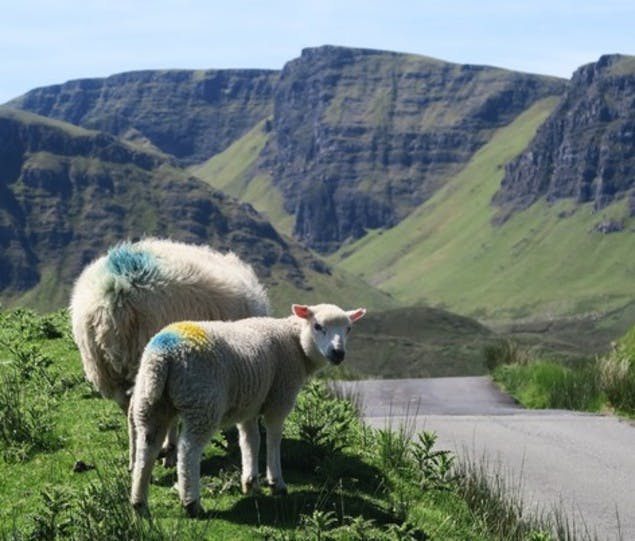 Merino: Merino wool is valued for its smoothness and luxurious softness. Well-established, large-scale production in Australia, New Zealand and Italy makes it affordable for both luxury knitting and crochet projects, as well as commercial garment production.
Blue-Faced Leicester: The Bluefaced Leicester sheep is a unique British breed, producing fine lustrous wool for making fabrics with a satiny finish and plenty of drape.
Peruvian Highland: Peruvian Highland fleece makes durable yarn that absorbs dye particularly well. It is especially valued for felting, and for gorgeous garments and accessories, such as bags and slippers.
Animal fibres for crochet and knitting yarns
From the camel family, alpacas look like a small llama, or a camel with no humps.They produce a seriously soft and smooth fibre. Alpaca wool was highly valued by the Incan people, and reserved for making textiles exclusively for royalty. Alpaca is lanolin free and hypoallergenic, so it is suitable for even the most sensitive skin. It's a heavier wool so perfect for winter wears and accessories. Baby alpaca is an even softer yarn, taken from the first shearing of the alpaca cria (baby). Time for some seriously snuggly crochet projects!
Mohair also known as the "diamond fibre" is a luxurious yarn, made from the coat of the Angora goat. It is a glossy, silky fibre, notable for its distinctive fuzzy halo. Mohair brings a stretch and sheen and has superb dye absorption properties - think, all the colours of a splendid rainbow when it comes to mohair shades! Or elegant softly blended ombrés!
Produced from the cocoon of the silkworm, silk is truly the ultimate luxury fibre. For ambitious crafters making those precious heirloom projects, silk is smooth and delicate to the touch, but also surprisingly strong and hardwearing. It is often combined with other fibres such as wool, alpaca or cotton to bring its drape and sheen to a yarn blend.
Cashmere comes from the undercoat of cashmere goats to create unbelievably soft wool. Just like wool, it brings a good stretch but is up to three times warmer than other sheep's wool. Great for super warm knits to cosy up through the winter months.
Yak
Soft yak hair is very similar to cashmere (soft, soft, soft!). With a downy, velvety feel, it is often blended with other fibres to add a touch of sumptuous luxury.
Shop amazing animal yarns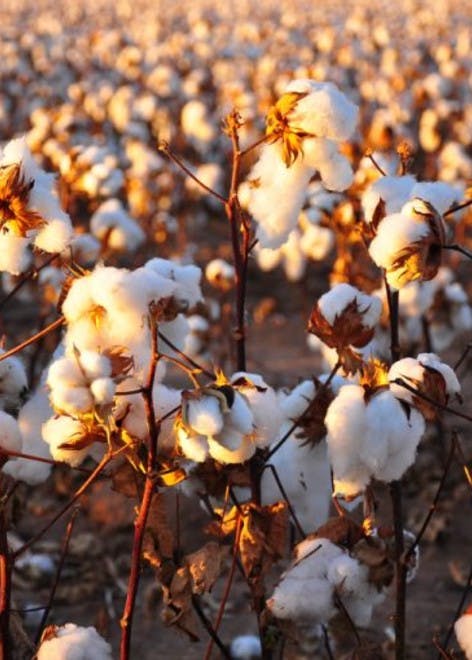 Plant fibres for crochet and knitting yarns
Produced all over the world, cotton is a strong, non-stretch, breathable fibre that can be turned into cool crochet and knitting projects. It is used to make light, smooth fabrics for airy summer garments, and is perfect for amigurumi and homewares too!
The fibrous flax plant is processed to make linen (sounds fancy doesn't it!). Like cotton, linen lacks elasticity, but is very cool, crisp, and hardwearing. It is great for casual summer wear, and has a wonderful quality of softening and relaxing with repeated washing.
Similar to cotton in its cool feel, crocheted or knitted bamboo fabric is soft and light. It is gentle even on very delicate skin, is easy to wash, and has antibacterial qualities, making it particularly suitable for babywear. It's not a yarn that likes to stretch so is usually found as a blend of bamboo and another fibre to bring some stretch to the yarn.
Hemp
Hemp is climbing up in the yarn popularity contest! Similar to linen, hemp is firm, durable, non-elastic and smooth, it also dyes very well and can be found in many mixed fibre blends.
Paper
Paper has a long tradition in Japan as a textile fibre, as well as for many other crafts. Rolling, twisting, and folding techniques are used to create unusual and innovative yarns that you can use for homeware and storage projects.
Explore perfect plant yarns
Synthetic fibres for crochet and knitting yarns
When it comes to acrylic yarn, the possibilities are endless! Often made to mimic natural fibres, acrylic yarn has some winning qualities: it's a wearable solution for anyone with allergies, it is very hard-wearing, economical to produce, easy to care for, machine washable and highly versatile. It is often combined with other fibres to stabilise a blend, for example with wool or cotton. However, acrylic yarns are not biodegradable.
Nylon is a durable little superhero of the yarn world. Combining resilience and elasticity nylon yarn is great for garments such as socks or fitted gloves, that need to withstand the test of daily stretching and bendy toes! A nylon blend increases durability and 'washability' of the finished garments.
Polyester
When it comes to synthetic yarn, don't forget about the versatile polyester fibre! With stain-resistant and anti-wrinkle qualities, polyester yarn is a great choice when you need a structural yarn for your fibre craft projects.
Fashion yarns
Fashion yarns are mainly used to make fun, on-trend accessories, or to add interest and variety with contrasting textures or bold splashes of colour. They are usually a blend of different fibres in multiple and endlessly variable combinations. They can be made from other fabrics such as sari silks, or synthetic fleece, or include things such as metallic thread, ribbon or faux fur.
Shop seriously versatile synthetic yarns
The Oeko-Tex Certificate
Some of our yarns are extra special, planet friendly and have an internationally recognised certificate to show that the yarn meets the Oeko-Tex standard 11 criteria! This means that the yarn has been tested for harmful substances and has been found to be free of those nasties and are harmless in human ecological terms. You can check out Oeko-Tex's website for more information.
Some of your favourite Oeko-Tex certified yarns!
Sensitive skin and allergies
Crocheters and knitters with sensitive skin know only too well the torture of an itchy jumper or scratchy scarf! The multiple overlapping scales that are present in animal fibres often irritate sensitive skin and for those with an allergy to lanolin, the waxy natural grease produced from the wool producing animal, the symptoms alone can be enough to put you off crocheting and knitting all together. Thankfully, gone are the days where you must suffer for your style. Thanks to snazzy modern processing methods there are plenty of alternative fibres to craft with, from lanolin-free animal fibres such as alpaca, llama and camel, to plant based yarns, synthetics and silk.
Yarn weights
Yarn weight is the size of the strand, which falls into one of eight categories. A yarn's weight helps guide you on which yarn is right for your project, not to mention and the right size of hook or needle needed to make the correct sized stitches. Explore our guide on how to translate yarn weights.
Yarn weight conversions for crochet 
Different countries use different terms to refer to a particular yarn weight. So how to choose the right hook and yarn for your next crochet project? Our handy yarn weights table, gives you an overall guide to yarn weights and hook sizes. Plus it shows you the most common equivalent terms so you can achieve the standard gauge with each yarn weight. You'll have your hook into your next crochet project in no time.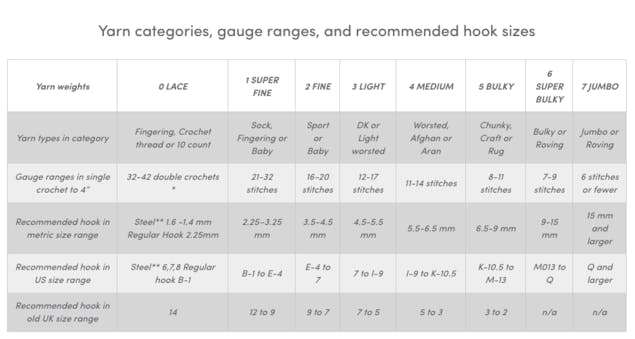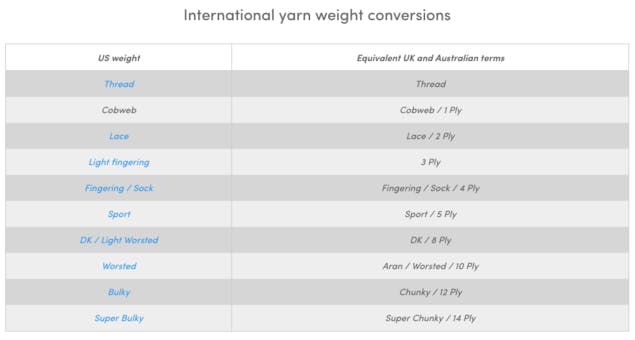 *Lace weight thread or yarn is often worked on larger hook sizes, to create very light and open lacework. This makes it difficult to determine a standard gauge. Always refer to the pattern first.
How to read the ball band
Usually, if you're using a pattern, the designer or brand will suggest a particular yarn and advise how much of it you'll need to make your project. But sometimes when you're improvising, adapting sizes or simply wanting to substitute yarn, reading a ball band comes in very handy! 
You'll find lots of useful information on the ball band about the product, which tells you exactly what you're getting for your money and how much you need to buy. These are the metrics you'll usually find on your ball or skein and what they mean:

Yardage / Meterage: How long the yarn is in yards or metres.
Fibre content: The fibre the yarn is composed of, or the percentage of each different fibre in a blend.
Dye lot: All yarns are dyed in batches called lots, and each lot is assigned a number, to ensure you can purchase a perfect colour match from the same dye lot.
Tension or Gauge and crochet hook sizes: This is a just a recommendation for how to achieve a standard gauge when working with the yarn. This may not match the hook size or gauge required for your pattern or project. Not all ball bands carry crochet gauge and hook information, but don't panic, just stick to your pattern instructions and you'll be fine!
Dye lots and colours
Choosing which colours to use in your project can be just as important as picking your fibre. With colour theory becoming more popular (the blending of science and art, hello!) and colour psychology, all this nifty research is supporting what crocheters have known all along - colour matters! Whether you're opting for calming demure tones, vibrant contrasts, ombré or block shades, there are thousands of tones to choose from. There's never been a better time to become a colour connoisseur.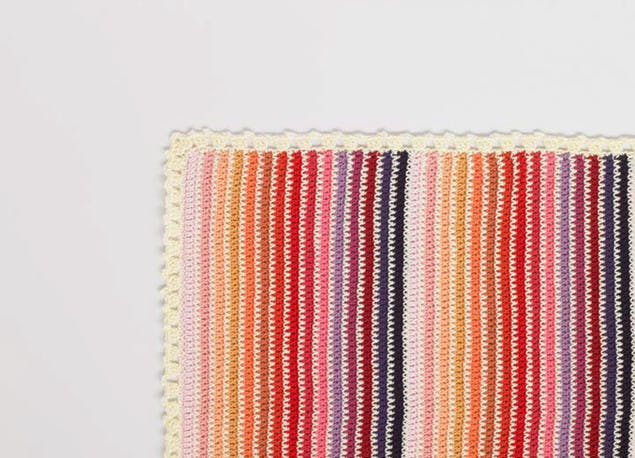 Love colour. Love crafts. 
Knitters and crocheters love colour. It's a fact. The vast assortment of stunning stitches, and techniques offer the perfect basis to get playful and explore the ocean of shades at your finger tips! Whether you're into your neutral, soft hues, or your eye-popping brights, there's yarn for every style.
But where to start? Handcrafted crochet and knitwear can take a lot of time and effort to produce. Sumptuous good-quality yarns can break the bank so it's worth planning ahead what tones, style or palette you want to use in advance. Many brands pull together handy colour packs assembling their pick of complementary colours, saving you the hassle.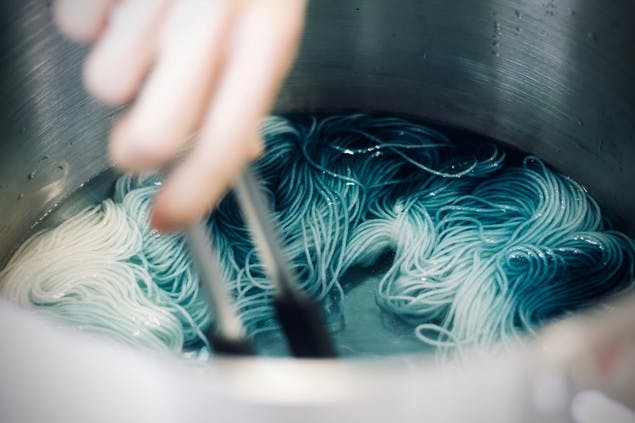 Dye lots explained
Dying is a complicated process, and there are many different factors that might impact the end result. No dye cycle is ever a carbon copy of the last one! Yarns and fibres are dyed in batches or lots, and each lot is given a unique reference number, which is printed on the ball band. But fear not, lot numbering means you can make exact colour matches by purchasing yarn from the same dye lot.
Hand dying is the artisan yarn producers dream! Dyed in exclusive lots, or even hand-painted skein by skein for that extra personal touch (drool). Hand dyed yarns are one of a kind in colour and have heaps of character, perfect for those unforgettable handmade heirlooms that will be treasured forever.
Space dying
Discover space dyed yarns. These can be dip-dyed, or hand-painted, either way this glorious technique usually involves two or more contrasting colours that repeat along its length with beautiful results. Space-dyed yarns are lovingly created to produce a stripe or collage effect in your fabric. 
Self patterning, self striping and ombré prints
Thanks to the clever folks from the world of yarn manufacturing, it's never been easier to craft with colour! Opt for self patterning and self striping yarns and watch marvellous colourwork magically emerge from your fabric. 
Self-striping yarn produces contrasting bands of colour (a fancy way of saying stripes), meaning you don't need to change the yarn every time you change colour. (Say goodbye to sewing in those pesky ends!) Some colour-change yarn is designed to produce more subtle, blended ombré effects for those unforgettable waterfalls of colour. 
Self-patterning yarn creates impressive advanced colourwork with one ball. Self-patterned yarns can be prone to pooling, where the colour-changes end up making unintended 'pools' of colour. This can be avoided by using two skeins of the same yarn and swapping each skein every two or three rows. Some designers use 'pooling' deliberately allowing self-patterning yarns to work their magic to bring their creations to life.
Skeins, hanks and balls: So what's the difference?
Skeins and hanks
A skein (or hank, as it's sometimes known in the US and other territories) is a loop of yarn, neatly and firmly twisted on itself to make a secure unit. Many artisan and luxury yarns come in skeins to preserve the integrity of the loft and make it easy to handle and package. The only thing to be aware of is that skeins need to be wound into a ball before use, which can be fiddly when you're a beginner but well worth the trouble. 
A ball of yarn might come in the shape of a doughnut or oval shape. Yarn is usually fed from the outside of a round ball, just like balls wound by hand at home, or you might find balls are wound with centre-pull ends.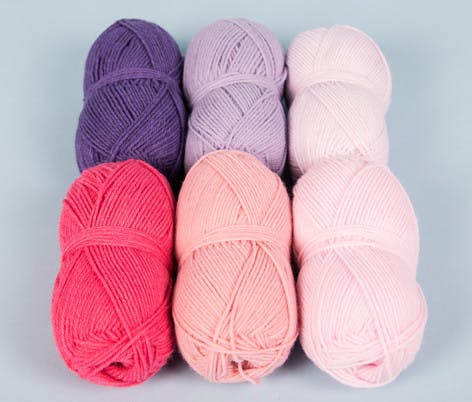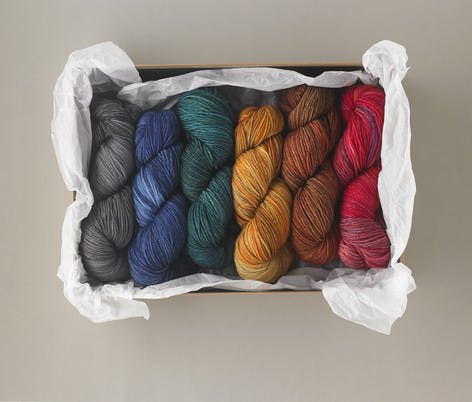 How much yarn should I use?
If you are using a pattern, it should tell you how much yarn to buy. Usually this is stated as a number of balls or skeins, and how much in grams or ounces each ball should weigh as well as the amount of yarn as a length in yards or metres. Most ball bands state the length per ball, so you can figure out how many balls are required.
Converting weight and length
Sometimes the information on a ball band doesn't match the pattern requirements, especially if you're making a yarn substitution. If this happens, all you need to do is convert equivalent weights and measures to what you need.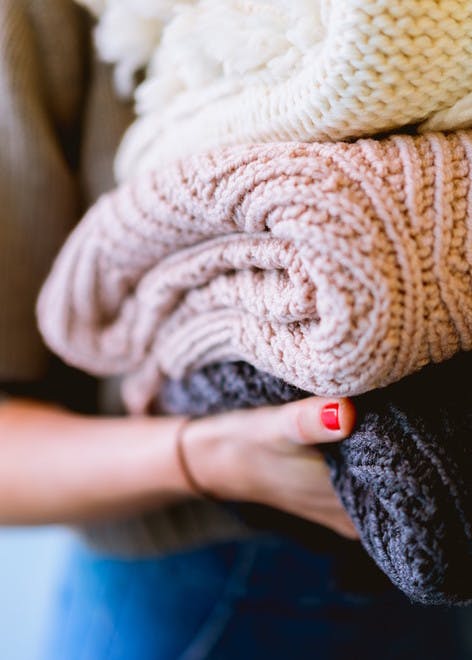 Care instructions and washing
Washing
There's nothing worse than discovering the jumper you spent 6 months lovingly crafting has shrunk 2 sizes in the wash! After you've finished your project make sure you give it the love and care it deserves by following the wash and care instructions on the ball band. 
Handcrafted garments are more likely to stretch, shrink, or be pulled out of shape when machine washed, but it's entirely dependent on the yarn you use. Many modern yarns are designed to be machine-washable (yay!), for hassle-free care, which is a dream for baby and kids clothes. But beware, projects made from pure wool can become felted if they're not treated with care. Ball bands always carry washing advice and information, so it's helpful to keep one stowed away for each project to remind yourself of the washing instructions later on. 
If you're worried about the best way to wash your finished garments, hand-washing is the most reliable method to preserve those precious projects in all their glory. Handwashing means you're less likely to agitate the material, shrink, over-heat or damage the fibres because of the strong detergents usually found in machine washing.
To give your crochet and knitting a little extra TLC, specialist washing detergents for delicate yarns such as Eucalan and Soak work a treat! 
Get your colour on! What yarns are best for making blankets?
Nothing beats a handmade crocheted or knitted blanket, whether it's draped on your sofa or slumped on your bed, packed for a picnic or nestled in a crib. They're long term projects which stand the test of time and often are the envy of all your houseguests. Opt for thick chunky or super chunky yarns to produce the snuggliest fabric imaginable.
Our favourite blanket yarns
Yarns for baby blankets
Baby blankets are a great place to start if you're a beginner, as they're a quicker project that a full size blanket, and the soft yarns made especially for babies is lovely to craft with. 
Free baby blanket patterns
Browse beautiful baby blanket yarns