Debbie Bliss shares the story behind her new yarn, British Wool Aran + free hat pattern!
Published on

26 January 2023
By

Sarah Jones
3

min read
Crafted against the serene backdrop of the Yorkshire Dales, Debbie Bliss brings you an exciting new yarn - British Wool Aran. From its heritage and story, to the rich quality of the fibres, British Wool Aran is a timeless yarn to add to your wish list. The launch comes with a brand-new range of classic patterns to celebrate the traditions of yarn making, combined with the finest British wool from Masham and Bluefaced Leicester sheep.
I had a real passion to add to my range a yarn that celebrates the true nature of wool and the amazing work that goes into producing the fibre we makers love. - Debbie Bliss, Founder & Creative Director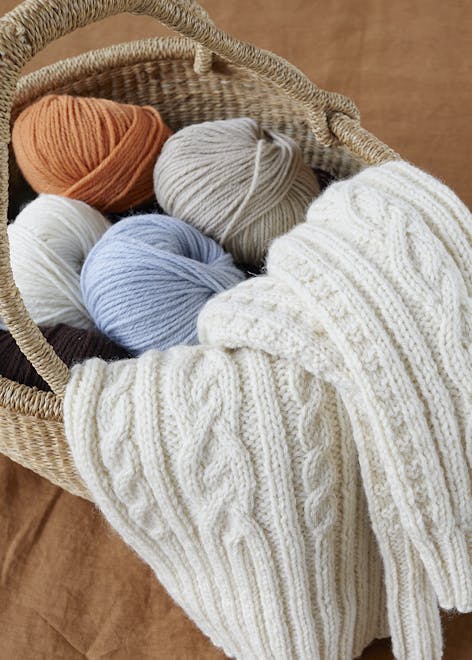 British Wool Aran is an unbeatable 100% wool yarn that is the product of the richness of tradition combined with new technology. From lovingly tended sheep to the family-owned mill nestled in the Dales of West Yorkshire, maintaining the heritage feel is at the heart of the process. From the fleece to yarn, production takes place within just 50 miles; a journey that is fully traceable to bring you high quality wool with minimal impact on the environment. 
What is so amazing about this yarn is the short journey, the whole manufacturing process takes place in Yorkshire; from fleece to yarn in just 50 miles! - Fran Theobalds, Yarn Buyer for Debbie Bliss
By combining the fleeces of Bluefaced Leicester and Masham wool, British Wool Aran brings you the great benefits of both these sheep fibres. Bluefaced Leicester, known for its long fibres, is scoured and spun to maintain its lustrous, smooth texture. Meanwhile, the Masham wool offers the yarn a hard-wearing quality to increase the lifespan of your handmade garments.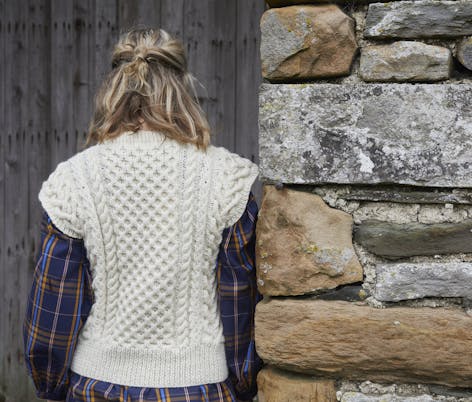 When it came to the collection I was in my happiest of places, sharing my love of traditional cables and texture - Debbie Bliss
For the collection, Debbie worked with seasoned designers Sarah Hatton and Lynne Watterson to create designs that emphasise the true quality of British Wool Aran. Its durability and heritage feel are perfect for textured stitches and cabling, really showing off the qualities of both fleeces. 
To show the yarn off at its most beautiful, the team created the garments in the shade Cream, letting the yarn take centre stage. The patterns are truly timeless, and will inspire you to pick up your needles and cast on straight away.  
Discover the new pattern collection using British Wool Aran plus a gift for you!
For a cosy day essential, the Cabled Bobble Hat is the essential! With a cable repeat, this is a wonderful mindful project to cast on and keep your needles busy and great for ambitious beginners looking to give cables a go. If you need a hand with cables, learn the cabling basics with our guide.
Discover all the new patterns made in British Wool Aran