Our favourite yarns for snuggly scarves this winter!
Published on

10 November 2021
By

Sarah J
3

min read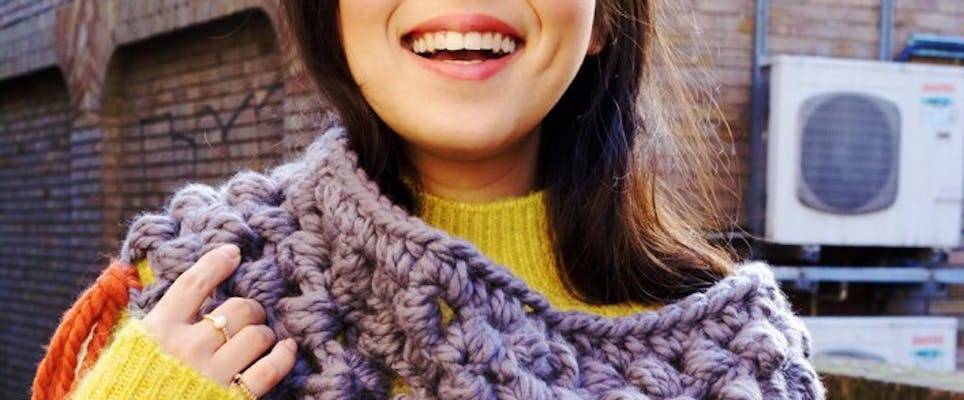 For a simple gift or super speedy make, a scarf is always a perfect project to have on your hook or needles. But, what yarn is best for scarves? We're sharing our favourite yarns of all weights and fibres, to knit and crochet the most sumptuous scarves, cowls and shawls. These yarns are sure to keep you warm all winter long!
There are no limits when it comes to scarves! You can create them in whatever shade, style and yarn weight you desire. Looking for a fast-finish scarf? Pick up a bulkier yarn like aran, chunky and super chunky. When it comes to the fibre, wools like merino and alpaca will make the softest scarves and keep you super snug all season long. There's no right or wrong choice for a scarf - try out different yarns, find what you love and works for you!
1. MillaMia Naturally Soft Super Chunky
This sumptuously soft, 100% merino yarn is a dream to knit and crochet. A super chunky yarn that is spun with a twist, boasts beautiful stitch definition to show off the luscious, on-trend shades you can grab in this yarn. For a yarn this soft, it's definitely worth spending a few extra pennies!
The perfect patterns to pair with this super chunky yarn
2. Lion Brand Wool Ease Thick & Quick
For an amazing, affordable chunky yarn for your scarf, Lion Brand is the way to go. The name says all you need to know - a thick, snug yarn that is quick to work up into your scarf pattern of choice! This acrylic, wool and rayon blend is perfect for adding cables to your scarves, keeping you toasty warm all year round, and it's even machine washable!
Simple and quick scarves to make
3. Debbie Bliss Paloma
To level up your yarn choice, this luscious merino and baby alpaca blend is sure to make a special scarf for a loved one. These fibres are ideal for keeping in the heat so you can hibernate in your handmade scarf. What's unique about this wool is the chainette construction of the fibre, so your yarn will never split when you're making one-of-a-kind makes with Paloma!
Gorgeous Debbie Bliss patterns in Paloma
4. Paintbox Yarns Simple Aran
For the transitional months of autumn and spring, a chunky yarn might be a bit too warm. Instead, an aran weight, acrylic yarn is a great choice - a lighter weight but still super quick to work with! Paintbox Yarns Simply Aran is an 100% acrylic yarn and the perfect pick if you're on a budget. With a whole rainbow of shades, the colour palette possibilities are infinite! If you're looking for the same selection of shades but with some added woolly goodness, check out Paintbox Yarns Wool Mix Aran!
Fun and colourful scarf patterns
5. Rowan Tweed Haze
If you're looking for a marvellous mohair with added character, this one is for you! To keep you wrapped up on countryside walks, this winter-warming yarn combines stylish shades of mohair wool and beautiful textured tweed. Rowan Tweed Haze is a fabulous choice for scarves you can wear year after year. 
6. Caron Yarn Cakes
Inject some colour into your scarves with Caron Yarn Cakes. For fun-loving, self-striping designs, this is the perfect choice! Create a simple garter stitch scarf for a last-minute make the kids will love, or play around with textures and cables that really pop in your yarn cake colour of choice!
Delicious designs for your yarn cakes!