How to knit in the round
Published on

11 September 2019
By

Elizabeth Bagwell
5

min read
Join us as we dive into a world of no seaming, a land where stocking stitch becomes much less dull - come and knit in the round!
Knitting in the round lets you create a seamless tube from your knitting. It's ideal for socks, great for hats and gloves, and makes sweater knitting a breeze!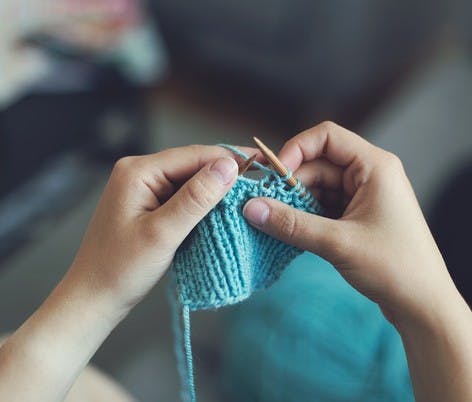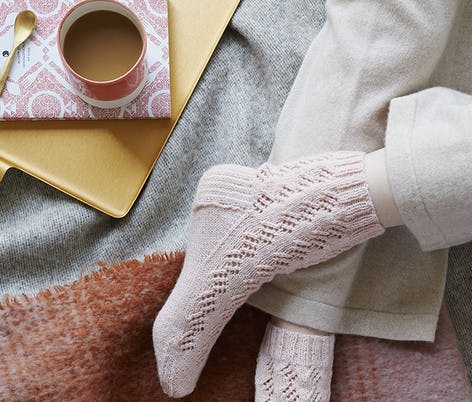 How does knitting in the round work?
When knitting back and forth, you reach the end of the row, turn, and start the next. Knitting in the round, you join the two ends of the cast on together, to make a circle, and then knit in a spiral without ever turning your work.
Do I have to use DPNs or other special needles?
Yes. To knit in the round, you need to be able to keep going once you get to the end of the row so standard straight needles don't work. The two most common options are DPNs (double-pointed needles) and circular needles.
It is possible to knit a tube on straight needles. For very narrow tubes, you can use the i-cord technique and for wider tubes (like a hat) you can use a technique that's similar to double knitting or mosaic knitting. Shaping and stitch patterns are very different in this technique, so we think it's worth separating it from standard knitting in the round.
How many DPNs do I need?
DPNs come in sets of 4 or 5. You need at least 4 to work comfortably. Needles 1, 2, and 3 hold the work in a triangle shape. You pick up the fourth and start knitting with it, using it as your right-hand needle with needle #1 as your left-hand needle. After a few dozen stitches, you've freed your left-hand needle, which you can now use to work the next batch of stitches held by needle #2. Sound confusing? Don't worry, we've got hints and tips in our guide for 5 ways to make using DPNs easier!
How long should a circular needle cable be?
A circular needle cable should be shorter than the project you're working on, ideally by about 4-8 inches (10-20cm). If the needle is longer (a 28in cable in a hat for a 24in head) the stitches will be stretched far apart and hard to work and if the needle is too much smaller (a 16in cable for a 40in sweater, for example) the stitches may get too crowded and start to fall off every time you let go. There's a fair amount of wiggle room though, so you can knit a 32in sweater and a 40in sweater on the same needle.
The exception to this is magic loop. If you're using this technique, you want a really long cable – the longest you can get. It should be at least 100cm (38in) even for socks or a hat.
What's magic loop?
Magic loop is a neat way to use a long circular to make a small project. It lets you knit projects of all sizes, from a baby sock to a sweater on the same cable. It looks like nothing on earth, and the first time you see it you'll probably swear it's impossible to learn, but once you've knit a round, you'll find it's easy. Find out how to knit using the magic loop technique in our awesome sock knitting tutorial videos!
Casting on in the round
You can use any cast on you like. For many tubular projects, like socks and hats, a stretchy cast on is a good choice. Have a read of our beginner's guide to circular needles to get you going on your journey, and follow our video to learn how to join your knitting in the round!
Rib, garter and stocking stitch are different in the round – you need to know this!
One quirk of knitting in the round is that knitting every single stitch in every single round will give you stocking stitch not garter stitch, as it would knitting back and forth. This is fabulous for knitting sweaters with acres of stocking stitch, but to knit garter stitch, you need to alternate rounds of knit and purl.
Knitting a rib is also slightly different as you need to have an even number of ribs (i.e. knit-purl-knit-purl not knit-purl-knit). This is because the last stitch is joined to the first stitch, so the knit-purl-knit combination will, from a different angle, look like purl-knit-knit. On the plus side, every single round is the same: if the first round started K2, P3, K2, P3… then every following rib round will be identical.
Once you get started with knitting in the round, you won't stop - it's a fast, easy way to knit sweaters with very little sewing to do at the end!
Everyday sweaters to knit in the round
Kids' sweaters to knit in the round
Super chunky sweaters to knit in the round
Socks to knit in the round
Hats to knit in the round