Crochet vs knitting: what's the difference?
Published on

16 January 2020
By

Sophie
4

min read
What's the difference between crochet and knitting? Which is easier to learn? Is it better to knit or crochet a blanket? If you're a newbie to the world of craft, you're likely to have a lot of questions that need answers! 
While crochet and knitting share a lot of similarities, they're completely different crafts and have a different set of tools and techniques. Whichever craft you choose, the end result is always made up of yarn looped together (even if there are a few dropped stitches when you get started!). 
To get to grips with the differences between knitting and crochet, you need to know the basics...
What is knitting?
Put simply, knitting is creating a series of loops using two pointed needles and yarn. Stitches are passed from one needle to the other to create a row of joined-together stitches, then back again to create another row underneath.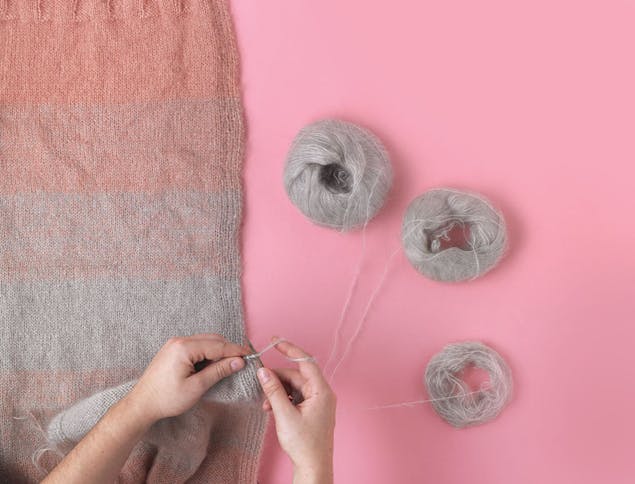 What is crochet? 
In crochet, stitches are created using a crochet hook and yarn. Crochet starts with a slip knot on the hook and crafters work outwards, inserting the hook into different areas of the crochet to create more stitches.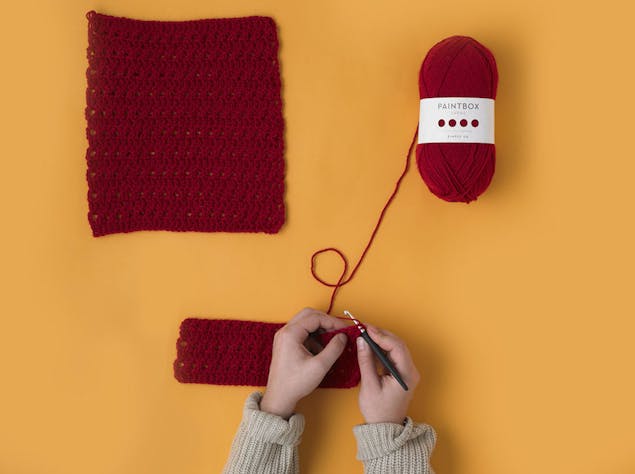 What is the difference between knitting and crochet?
The main difference between knitting and crochet are the tools used to create your crafty projects. While knitting is done using two pointed needles (one held in each hand); crochet is created using a singular hook, held in your right (or dominant) hand. In both crochet and knitting, you can use different weight yarns and different sized needles/hooks to create unique designs.
Another key difference is that knitting can be done by hand, loom or machine, whereas crochet is always done by hand.
Do knitting and crochet have any similarities? 
Yes – lots! For starters, they're both yarn crafts and you can create the same sorts of projects whether you're a knitter or crocheter – from socks and scarves to sweaters and shawls. 
Knitting and crochet are also great for relaxation and improving both physical and mental health. From easing chronic pain to taking the edge off anxiety, the health benefits of crafting are endless. The repetition of stitches is said to stimulate the production of serotonin, the brain's feel-good chemical, boosting your mood and making you feel a little brighter.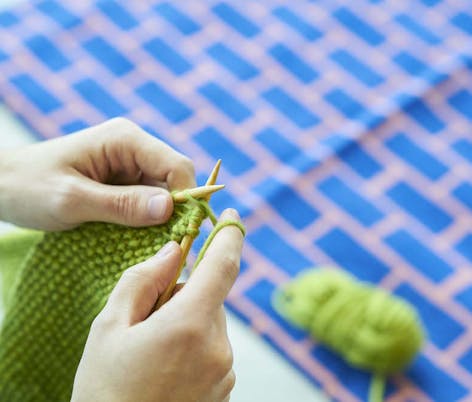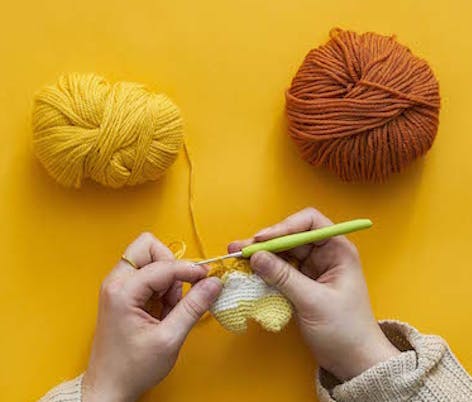 Is it easier to learn to crochet or learn to knit? 
There's no right or wrong answer to this question, and it really does depend on you. Some crafters find knitting super easy but struggle to get to grips with crochet and vice versa, so the best way to find out is to have a go at both!
We've got loads of super simple, step-by-step tutorials to get you started. If you want to have a go at knitting, grab your needles and yarn and check out our guides for holding your knitting needles, casting on and knitting your first stitch. 
Master the knitting basics
If you think crochet might be up your street, take your crochet hook and yarn and work your way through our how to crochet guide for absolute beginners. Most wannabe crafters start by crocheting a simple granny square. Once you've mastered the basics, the crochet world will be your oyster!
Take your first crochet steps
What materials do I need to start knitting? 
The best thing about knitting is that you don't need any fancy tools or equipment to get started – just a bit of determination, a good tutorial, a ball of yarn and a pair of knitting needles - we recommend a chunky weight yarn and 6mm needles to start!.
What materials do I need to start crocheting?
Similarly to knitting, all you need to get started with crochet is a crochet hook and a ball of yarn. You can use our handy videos to teach you the basics. We think it's easier to start with a chunky yarn and 6mm hook, and once you're familiar with the stitches, you can work with any weight yarn.
Feeling inspired to pick up your knitting needles or crochet hook? We've got loads of free beginner patterns to get you started. 
Top free crochet patterns for beginners
Top free knitting patterns for beginners