Five designers share their favourites
Published on

29 April 2019
By

Mara
2

min read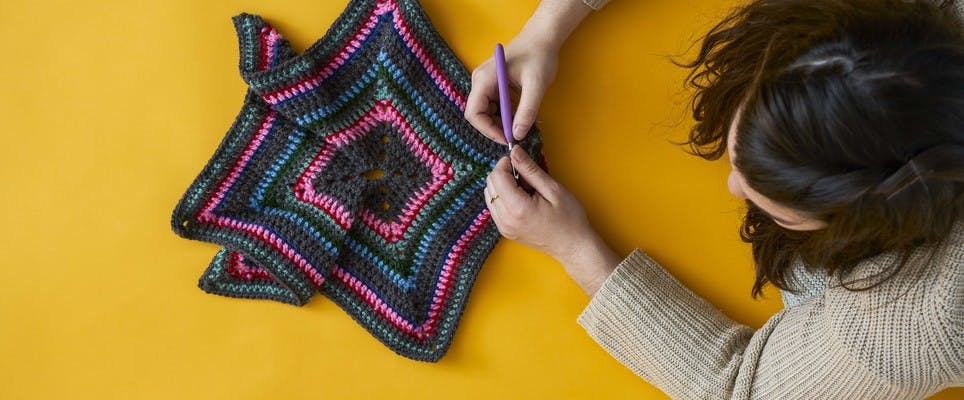 You know that feeling when you develop a new yarn obsession? Or there's a pattern in your library that you just can't wait to make? We call it LOVE. There's nothing better than falling in love, so we asked five fabulous designers from our designer community to share all of their making faves at the moment, so you can fall in love with them too! From delightful yarn and colourful patterns to tutorials and essential tools, these designers have given us the skinny on everything they're obsessed with right now.
1. Crochet designer, Nicole Riley from Nicki's Homemade Crafts
Nicole from Nicki's Homemade Crafts loves to make projects that challenge and inspire her to expand her skills. Learn how to do Tunisian crochet? Don't mind if we do!
2. Knitwear designer, Emma of Emmaknitty
For Emma of Emmaknitty it's all about getting her next project on the needles! She especially loves Paintbox Yarns Simply Chunky, "I ADORE this yarn! It's so useful for so many projects. It really is the best premium acrylic on the market, and let's not even start on that huge palette of colours."
3. Knitwear designer, Stephanie Lau from All About Ami
Adorable amigurumi and sweet makes, we love the patterns by Stephanie Lau, from All About Ami. So what are Stephanie's own top picks? Get excited.
Designer Wilma Westenberg loves choosing patterns which show off a variety of techniques. But above all, she loves nothing more than sharing her new projects with fellow makers.
5. Crochet designer, Sam Hermes of Little Bud Creations
When it comes designs, Sam Hermes of Little Bud Creations is not one to shy away from colour! Her love of all things eye-catching shines through in her favourite picks. She especially loves Katie Jones' phenomenal colour choices and always encouraging attitude. Sam calls Katie an inspiration and we couldn't agree more!
What are your favourite things right now? Share on Instagram using #superknitter or #crochetcrew and tag us at @loveknittingcom or @lovecrochetcom and we'll share our faves! Time to get into making mode!
LoveCrafts favourites
We simply couldn't resist adding in some of our own favourites into the mix!