Crochet your own DIY crochet festival outfits!
Published on

17 May 2022
3

min read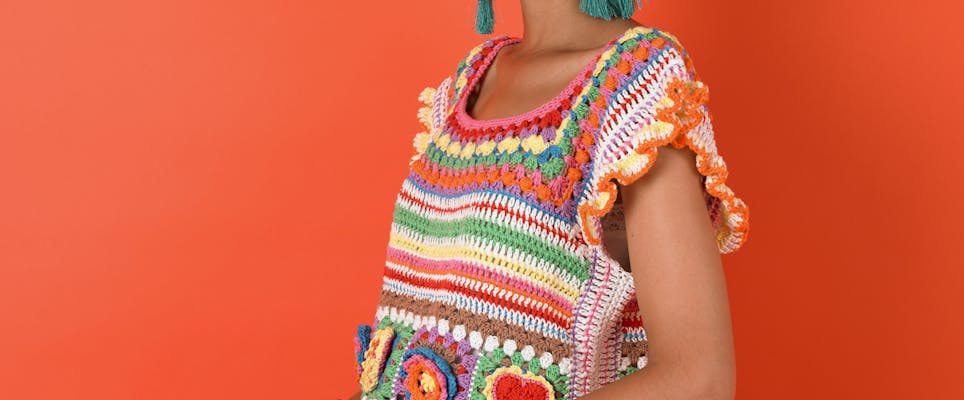 Festival season is fast approaching and this year it's all about the handmade outfits! From cool crocheted crop tops and amazing mini dresses to snuggly cover-ups and cute accessories – we've got all the festival crochet patterns you need!
1. Granny square crochet crop top
This has to be one of our favourite DIY crochet festival patterns! Maker Joanne Johncey designed this for her festival-loving daughter in brilliantly bright colours. You can easily switch out the shades to suit your own personal style – rainbow crop top, anyone?
2. Trendy mini festival dress
It might look impressive, but this crochet mini dress is super simple to make! The pattern includes detailed step-by-step instructions with photos, ideal for a beginner crocheter who likes a challenge. It also comes with a collection of colourful diagrams with instructions to walk you through every stitch!
3. Kahlo crop top
This Frida Kahlo inspired crop top is destined to be a festival favourite! This ultra cool combination for granny squares and stripes comes together with gorgeously textured stitches and 3D flowers. With ruffled sleeves and a square neckline, this colourful top is guaranteed to be the talk of the town!
4. Crochet bucket hat
Bucket hats are making a comeback! This colourful crochet bucket hat gives off serious festival vibes! You can change up the colours to match it to your outfit, and it's so quick to crochet that you can make multiple! If you need some more guidance, check out our fab bucket hat step-by-step tutorial.
5. Blooming bomber jacket
If you're a crochet connoisseur, this is the ideal pattern to show off your skills! This intricate bomber jacket is perfect for summer. Throw it on in the evening at a festival to keep you toasty in style! 
6. Fuji bralette bikini top
We can't get enough of this dainty design! This festival top has an intricate lacy design that's beautiful to crochet and wear. The pattern includes detailed instructions and photos, making it a great choice for eager beginners!
7. Tube festival crochet top 
Bring some flower power into your festival outfit with this blooming lovely tube top! This crochet top is made from granny squares and finished with a tie back and frilly sleeves.
8. Fun in the sun shorts
Finish off your festival outfit with a pair of crochet shorts! We love this pattern with an ultra high waist and tassel tie. Team it with a crochet crop top in matching colours and you'll be set to dance the night away in crochet head to toe!
9. Shoulders in the sun top
If you're looking for a more understated festival look, this is the pattern for you! This free festival crochet pattern features a tie-up front for a tighter fit, and the pattern has options to extend the length if you're not a fan of the cropped look. We love the tonal blue colourway, but this would look incredible in a rainbow of colours! 
Shop colourful crochet yarn
Explore inspiration for summer makes