6 adorable toy dog knitting patterns
Published on

19 December 2015
By

Angie
2

min read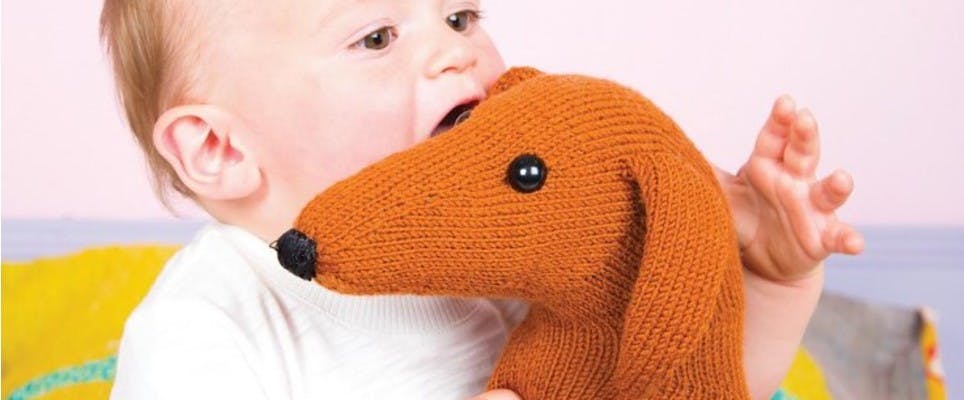 Dive into a roundup of lovable children's toys in the shape of our favourite fluffy friends: dogs!
1. Editor's pick: Daniel the Spaniel by Penny Connor
Daniel is a wonderful, well-trained pup and with over 30 images to guide you through Penny's pattern, he'll also be an easy project for you! Knit him up in Berroco Vintage DK.
2. Dave the stash busting dachshund by Penny Connor
Do you have loads of yarny odds and ends in your stash? Never fear! Dave is here to help you use them up in this bright and barking pattern by Penny Connor. She uses a DK yarn, but Dave can be made in any yarn weight; just choose needles a few sizes smaller than the recommended size.
3. Pug by Knitting by Post
What a cheeky little chappy this pup is! Knit up the perfect playmate and it will be bound to become a loyal companion to another little cheeky child.
4. Pug dog by Amanda Berry
This dapper hound would also be a brilliant companion. Knit up the pieces flat with Hayfield Bonus DK, then give it a big hug!
5. Dog (knit a teddy) by Knitables
Not only has Knitables written up a wonderful pattern, but she also has patterns for outfits you can make for your teddies! Maybe this pup would look good in a onesie?
6. Dougie the sausage dog by Browneyedbabs
Could dachshunds be the cutest dogs? They're certainly the best to knit up if you want to use up some stash yarns. Dougie is knitted up flat then seamed at the end - why not familiarise yourself with mattress stitch?
Plus, some bonus FREE patterns!