The cuddlers of furry friends
Published on

15 February 2022
2

min read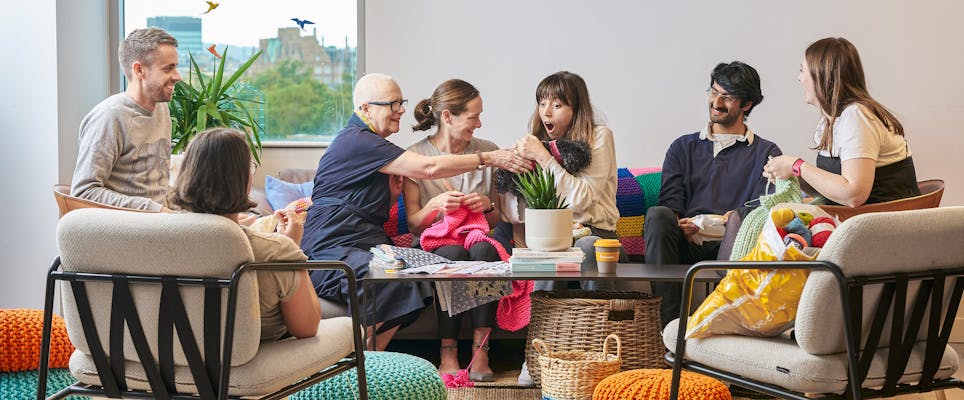 As makers we show our love through our handmade makes, and it's no exception when it comes to our furry friends! Our pets are part of the family, so we raid our stash, make jumpers to keep them warm, and cute accessories to compliment their personalities. For some of you, they've been your companions in the hardest of times, curling up by your side as you craft away the hours. For others, they can be little terrors who nibble at your WIPs and see your perfectly wound ball of yarn as their brand new plaything! But we wouldn't have them any other way.
Top furry friend pattern roundups
Need some animal pattern inspiration? Whether you're making for your fuzzy pal or creating an adorable toy inspired by the animal kingdom? We've got you covered! (Fun fact: our dog sweater knitting pattern roundup is one of your favourites of all time - who can resist an adorable little pooch pattern!)
Delightful Debbie Bliss knitting patterns for pets
These gorgeous knits for pups are absolutely pooch perfect! Whether you're knitting for a dainty little Dachshund, a bouncing Bichon Frise or a cute 'n' cuddly Cocker Spaniel, these brilliant patterns from Debbie Bliss are ideal.
Cute crochet patterns for pets
Calling all keen crocheters and animal lovers! Combine the two and create the most fabulous little crochet makes for your furry friends.
Go wild for animal print patterns!
It doesn't stop there, we love all things warm and fuzzy, so why not join in on the furry fun! These patterns bring a little animal magic to your wardrobe.
Amazing animal cross stitch and embroidery patterns
Animal lovers will delight in these beautiful animal cross stitch and embroidery patterns. From the exotic to the everyday, we've got some brilliant designs for you to stitch up.
Amazing maker projects dedicated to our four-legged friends!
We love seeing what cute crocheted and knitted masterpieces you make for those little furry friends. Upload a project to our community and share your own furry make!