12 Weeks of Crafting - free gifting ideas every week!
Published on

16 December 2022
5

min read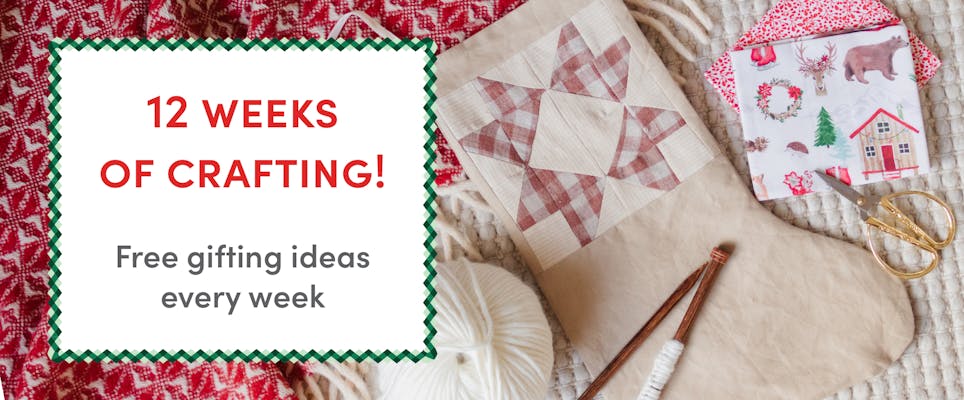 The handmade gifting season has begun! Each week in the run-up to Christmas, make with us as we guide you through 12 handpicked gift ideas. Every week, you can access our favourite FREE pattern and create wonderful handmade gifts to delight your friends and family. If you're not crafting for Christmas, these gift ideas make perfect presents for birthdays, celebrations, or just because! Check back every week for your free gift idea!
Week One: FREE Fallen Leaves Afghan crochet pattern
Fall in love with this afghan project as we step into the most snug time of the year. Hook up now to have it ready to keep you snug all winter round. In Paintbox Yarns Wool Mix Super Chunky, this sure to be one cosy project!
Week Two: Be Bold Bubble Stitch Jumper knitting pattern
Cast on this bright bubble stitch jumper from Paintbox Yarns to warm up your day! Knitted in their new Wool Blend DK, this breathable weight offers extra woolly warmth that's ideal for autumn weather. Adventurous knitters, this one's for you.
Week Three: Sew your own advent calendar! 
With the countdown to Christmas on, get the preparations in early! This year, why not make your own reusable advent calendar? Fill it with festive treats each day for something the whole family can enjoy. This wonderful, free tutorial from Anna Alicia shows you how to sew your own in just a few hours. Using our very own Christmas Village fabric, this will be one joyful project!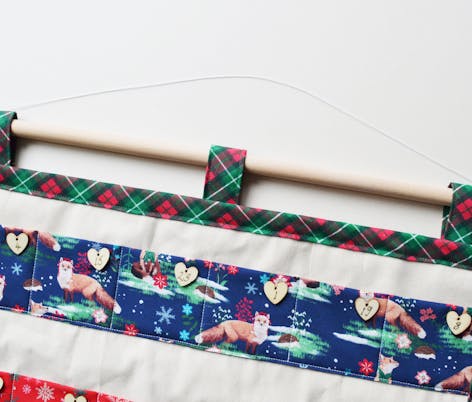 Some of the supplies you'll need in your basket!
Week Four: craft a cosy cushion with punch needle!
If you're looking for a project to hunker down with and bring your different crafting skills together, this super cosy project is the one for you! Whether you're a punch needle pro or a beginner, Saphia takes you through all the steps to make this cushion - from pom pom making to punch needle letters and sewing the cushion together.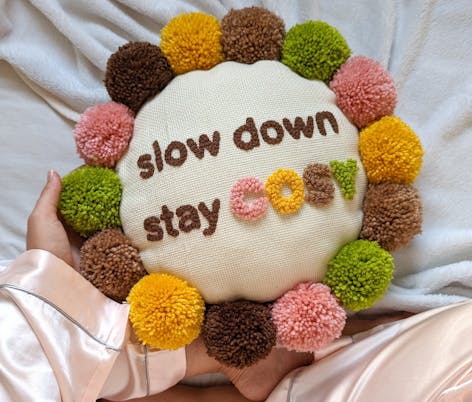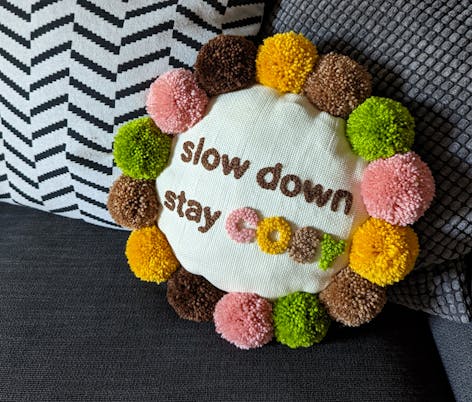 Get started with these supplies
Week Five: crochet your own Rudolph with Paintbox Yarns
I don't know about you, but we're definitely starting to hear the faint sound of sleigh bells. As the festive season draws closer, this free plushy pattern from Paintbox Yarns is one to hook up and make for the little one, or even as Christmas decor. Minimal materials necessary - a great stash buster and quick gift idea!
Week Six: knit a Christmas stocking in a matter of hours!
Starting to feel festive? This free stocking knitting pattern from Paintbox Yarns is the perfect project to get you in the spirit! All you need is one ball of Paintbox Yarns Christmas Project Yarn to knit this sweet stocking in a candy cane-inspired palette. Super quick to make with minimal materials, knit a whole bunch of stockings for your family to hang in their homes for Santa's arrival. You could even embroider or duplicate stitch their initial onto the stocking for an extra personal touch!
Need a helping hand? Follow along with Merion's video to show you how to make this stocking step by step!
Week Seven: crochet a giant candy cane!
Super chunky projects are always great for this time of year - super to quick work up so you can move on to the next festive make you have on your list! Kate Eastwood shows you how quick crochet can be with these super sweet, super chunky candy canes! Whether you have a Christmas-loving kid who'd love to unwrap this on Christmas or you're looking to deck your own halls, these crochet candy canes are plush perfection! Follow along with Kate to complete this project.
It's 34 days until Christmas! If you speak maker, that's enough time to make 113 of these Anya hats, plenty of time to still make for all your loved ones this year! This free pattern from Debbie Bliss is a stockinette bobble hat, worked in the round. With repetitive stitches, and knitted in Debbie Bliss Merion, this is a mindful project with instantly fabulous results.
Week Nine: FREE crochet granny square bag
A quick project they'll tote-ally love, this granny square bag pattern is super simple and 100% free! Designed by the wonderful Realm Designs, this pattern uses a selection of colourful yarns from Paintbox Yarns. This is also a great project if you have bits of leftover yarn from a year of makes - use whatever colours you have on hand!
Week Ten: FREE cosy slipper sock knitting pattern from Debbie Bliss
This is a luxury treat and a speedy knit! Knitted in Debbie Bliss Cashmerino Chunky, these slipper socks are the perfect gift for a loved one this winter. They're knitted in garter stitch and flat to make this a simple sock to try. Download the pattern for free and follow along with Merion over on YouTube as she shows you exactly how to knit these!
Week Eleven: FREE chunky mittens pattern to knit in no time!
A must-have for the winter months, mittens are a fantastic handmade gift for Christmas. These adult size mitts use Paintbox Yarns Simply Chunky and Paintbox Yarns Chunky Pots for a quick and colourful project. What are you waiting for? Cast on today!
Grab the yarn you need and let's go!
Looking for more last-minute gifts in the final weeks before Christmas? Merion rounds up her top quick knits for gifts over on YouTube!
Week 12: Crochet a super chunky, beginner scarf!
Quick! There's still time to craft a last minute gift, and this super chunky scarf is the one. Merion's video talks you through all the steps, so you can crochet along in just a few hours. With repetitive stitches perfect for beginners and using a super chunky yarn, this is the ideal project to round off your gift making for 2022.
Check back next week for more gifting and festive ideas...
Discover more gifting ideas