Learn how to knit intarsia
Published on

December 3, 2019
Skill level

advanced

Project time

3

hours
Make your knitwear picture perfect! Learn how to knit intarsia in this beginners step-by-step guide with Merion. Plus we have some fab free intarsia knitting patterns for you to try out!
So what's intarsia?
Intarsia is a colorwork technique that enables you to make cool shapes and images in your knitwear! Think jazzy jumpers, snazzy socks, dazzling decor - not to mention epic festive sweaters! It isn't a hard skill to pick up but it can take a lot of patience and practice with all the difference colors and strands that you will have to use.
What's the difference between intarsia and Fair Isle knitting?
Unlike other colorwork techniques like Fair Isle stranded knitting, intarsia uses separate bobbins so you don't need to carry the yarn along the back of your project. Instead, every time you switch colours you use bobbins to reintroduce the color, or pick up from where you left the working yarn.
Beginnner's step-by-step to intarsia - knitting the test swatch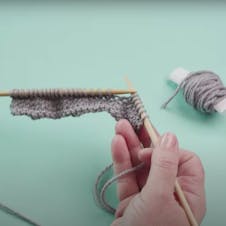 Start by knitting a couple of rows in a standard stocking stitch in color A, and then start a new row, knitting up to where you will be changing color. 
Knit in your first colour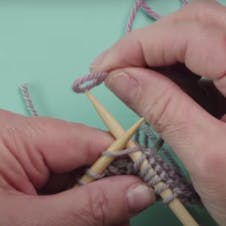 Take your bobbin of color B and make a simple loop. Knit into the next stitch and then use color B to pull through. Make sure your color change yarn is always sitting underneath your working yarn, as this will trap the yarn and avoid holes.  Knit with color B for desired length.
Change back to your original color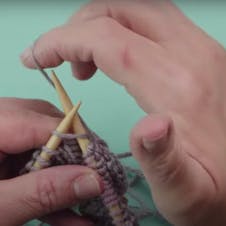 When you are ready to change back to color A, take the bobbin with color A, change color by looping it around and under color B and knit to the end of the row.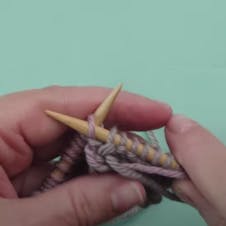 Purl the next row. Purl back to the point where you change color and repeat the process as above. Once you've reached the end of your row, carefully turn your work around. Continue on next rows to complete your swatch.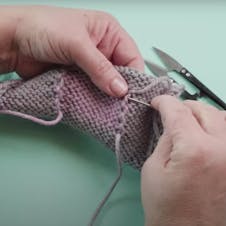 Sew in the ends. Go back through each of the loops created by the intarsia so the colorwork does not come underdone. This will keep the picture all together and avoid any holes in your work. 
Top tips for perfect pictures!
Keep your bobbins tidy! Stop after each color change and make sure you untangle the bobbins. If you leave them more than a row, you'll get tangled!
When you change color, don't forget to take the new color under the old color to secure the yarn and stop any holes forming.
Don't pull too tight! If you pull all the yarns too tight your picture will pucker. It may look bumpy and uneven but blocking will help to settle the fibres down and make it even.
Don't panic! If you end up with holes, you can sew them closed from the back after you've finished!
6 more intarsia knitting patterns you'll love!