You might think being the daughter of legendary knitting designer, Debbie Bliss, would be a tough act to follow. Yet Nell Bliss, armed with a shed load of charisma and a bag full of yarn is making her own waves in the knitting world. Nell's collection for Paintbox Yarns, features 8 striking patterns in the splendidly sparkly Metallics DK yarn. We sat down with Nell to talk about her new collection, where her knitting journey began, and everything that makes Nell the fabulous person she is.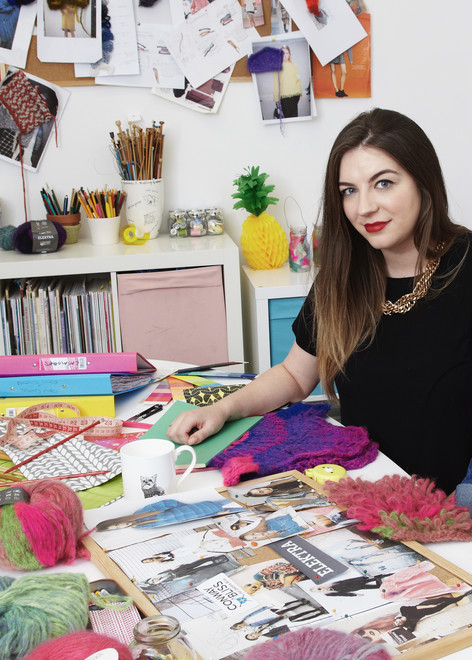 How long have you been knitting for?
I've been knitting on and off ever since I can remember. But it took me a while to get my technique right, every time I made a mistake it was just too tempting to get my mom to fix it!
What inspired you to start designing?
I was always fascinated by watching my mom's creative process and how she came up with the ideas and put them to paper. I started making little suggestions and I think my mom said 'why don't you just do it yourself' – so I did!
How do you fuel your creativity?
I'm obsessed with Pinterest and I always use blogs and social media to gather inspiration. I love seeing other people's personal styles, the best way to be motivated is to be inspired by others.
Who are you trying to appeal to with your patterns?
I know the designs and yarns tend to appeal to the younger knitter, but I would never put an age limit on them – I think you should wear whatever you like at any age!
Are you a morning bird or a night owl?
Neither! I'm terrible in the morning but also love an early night. My late night partying days are well and truly over and now my perfect evening consists of watching a film with a bottle of wine, a takeaway, my husband, and dog. 10pm is the new 3am!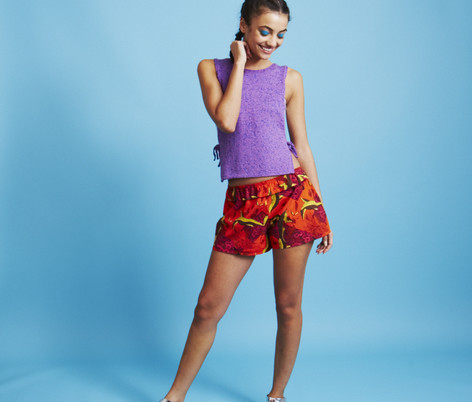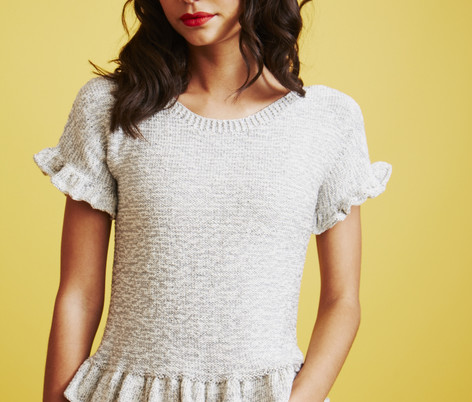 We love the new collection! What's the inspiration behind it?
I was definitely inspired by the summer party vibe that seems to be everywhere on my Instagram feed! The yarn used in the collection is the newest release from Paintbox: Metallics DK. It's a collection of 12 shades, all brightly colored and all with a hint of shimmer. The bright colors combined with the shiny texture made me think of warm, summer nights drinking cocktails and dancing on the beach!
How would you describe your personal style?
I hate to say it, but my day-to-day style is very lazy! Probably best described as streetwear with a feminine twist. I live in Monki jumpsuits and LBD's in the summer and big oversized jumpers in the winter.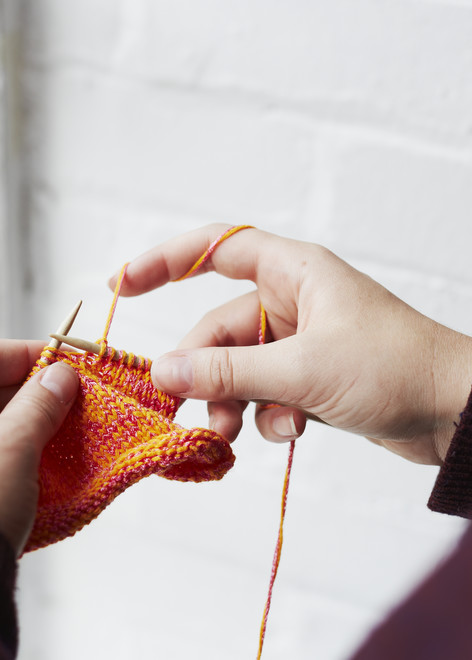 I would say that my designs are influenced by current trends but with a timeless twist. I try to keep the majority of my patterns quite simple to knit, which makes them perfect for newer knitters."
Coffee or tea?
Coffee in the morning and tea and chocolate digestives in the evening.
Do you have a favorite piece in the collection?
I think my favorite design would be the open backed crop top. It is quite sweet and demure from the front but the open back gives it a slight hint of sexiness.
Any advice for wannabe knitters?
Find someone who can teach you, there are so many fun classes you can attend these days! I always learn best from being shown (thanks mom!) so if you don't know other knitters, or you can't adopt a grandmother to teach you, then go on youtube - you'll find some great teaching videos there.
Learning to knit isn't just a great skill but can also be a very sociable exercise. Join a knitting group or chat to other knitters online, there's a whole community out there waiting to hear from you!
Knit yourself something amazing with the help of Nell Bliss' hip collection and Paintbox Yarns. Life could always stand to be a little more sparkly!