The LoveCrafts Show episode 2: Galentine's Day with Debbie Bliss
Published on

February 3, 2020
By

Holly Butteriss
3

min read
The LoveCrafts Show is back, bigger and better than before! This time with a super special guest who we're just dying for you to meet. Sit back, relax, grab your WIP and settle in for a good old catch up with Uncle X and Merino!
You can find The LoveCrafts Show on Spotify, Google Podcasts and Apple Podcasts.
This month we introduce you to the delightful Debbie Bliss, in all her fabulous glory! Merion and Jamie look back on Debbie's 40+ years in the industry and everything she's learnt about being a maker!
The LoveCrafts Show also chatted about sharing the love not just one day a year, but every day of the year (Oh Jamie you old romantic!) and with those you love romantically and platonically, hello Galentine's day! Find out how we're celebrating, and what's coming up next in the beautiful world of Debbie Bliss. With plenty of #BlissBantz thrown in! 
Tips, tricks, advice and a fair amount of silliness, this is The LoveCrafts Show!
Don't forget to send us lots of lovely messages, responses and questions to show@lovecrafts.com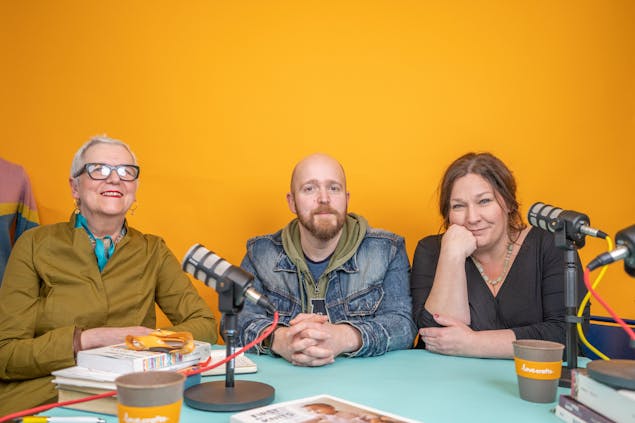 Lots of lovely things we mentioned and extra nuggets!
Get to know the delightful Debbie!
Trends are always changing, find out our predictions for 2020 and get ahead of the crowd! (1:23)
Start where Debbie did a try knitting this adorable little cactus with our free tutorial. (2:40)
Not sure where to start with making with body diversity in mind? Read more about how to make garments works for you (4:50)
Discover Debbie Bliss baby patterns (5:30)
Want to try your hand at a bit of embroidery on your knitted garments? Explore Debbie's folklore collection! (7:12)
Inspired by the discussion around picture knits? Well you're in luck! Our very own Merino sorry *ahem* Merion, will show you how in this video tutorial! (11:05)
Make Debbie's Iceland inspired landscape jumper for yourself! (11:20)
Why not get your friends making and start your very own knitting group or encourage a new generation of knitters! (11:55)
Catch up with BBC Two's documentary Handmade Revolution. (12:31)
Give macrame a go and make this bottle tote with your pals! (12:53)
Give your stash a seriously sustainable upgrade with PaintBox recycled yarns! (14:00)
Meet the LoveCrafts team over on our Instagram! (14:54)
Suffering with imposter syndrome? We love this article with 10 steps to overcoming it. (15:35)
Find out more about International Women's Day and how you can get involved! (16:07)
Explore the Craftivist Collective and share your projects! (16:30)
Meet the inspiring Dame Hilary Blume, founder of Knit for Peace in this video. (17:34)
Feeling the warm fuzzies after hearing Debbie talk about the kindness of friends? Find out more about the charity, Woolly Hugs.(18:48)
Discover our favorite mindful makes to soothe the soul. (19:35)
Share the love and gift someone you care about something extra special. (20:38)
Give back to your community with one of our charity makes. (28:50)
Did Merion's story make your heart skip a stitch? Make your own crochet or knitted heart to give to someone you love. (31:40)
That lovely little box Meiron mentioned? They were called Valenkinds! (32:10)
We're definitely going to be making Nigella Lawson's mouth watering Nutella cheesecake after Jamie's recommendation! (35:10)
Tempted by Debbie's Tweens collection? Look no further! (36:54)
Get ready for the Olympics with Debbie's inspired collection (37:41)