Is your stash overflowing with yarns, knitting needles and notions? Whether you're decluttering your craft room, looking for some yarn storage ideas or sorting out your crochet and knitting projects, explore our round up of knitting and crochet storage bags and boxes. The best thing about organizing your knitting stash? You'll make room for even more!
If your craft corner could do with a clean out we've got oodles of crafty containers for all your organizing needs. Whether you're swimming in a sea of buttons or snow deep in yarns, getting organized is a great way to reset your creativity, make space for new projects and you might even discover treasures you forgot you had!
From zip up storage bags, to handy totes, hessian baskets and vintage organizers, explore our top knitting bags, crochet storage and yarn organizers.
1. The zip up storage bag: Perfect for holding your bobbins, stitch markers and more

A zip up project storage bag is a great way to keep all your knitting supplies or crochet accessories in one neat and tidy place. We all know how smaller items like to make a quick escape if they're not stowed somewhere safe.
Keep your stitch markers, tapestry needles, hooks and more all together with our LoveCrafts Project bag. And why not make it your own? Check out the fun ways you can jazz up your knitting or crochet storage bag and personalize it!
2. The tote: The ideal way to store your WIP
Whether it's a WIP bag, yarn bag, market bag or storage bag, you can never have too many totes to hand! Tote bags are ideal for carrying your knitting around, so you can craft on the go. Keep your knitting or crochet organized with these pre-made bags or if you want to make it your own why not pick out some snazzy material and sew together a tote-elly brilliant craft bag!
3. Kit bag: For holding all your needles, hooks and making accessories

A kit bag means business! Perfect for keeping all your knitting or crochet projects stored in one place out of the way. Opt for one with handy zipped compartments - perfect for keeping your stitch markers and other accessories neatly stored!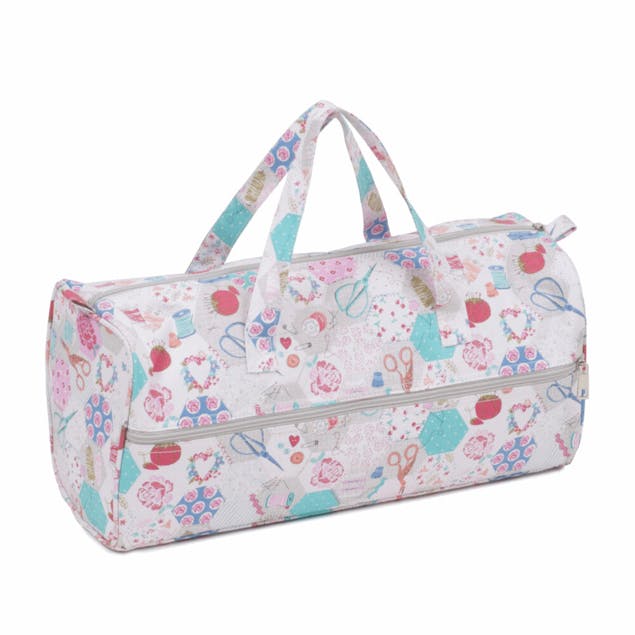 4. Drawstring project bag: For tidying up all your loose ends!

Drawstring bags are so versatile they can be used to store anything from yarn balls to small projects and WIPs on the go - the ideal knitting project bag (depending on the size of the bag, of course!). Whether it's pre-made or handmade, a drawstring bag will keep all your yarn craft projects and accessories organized.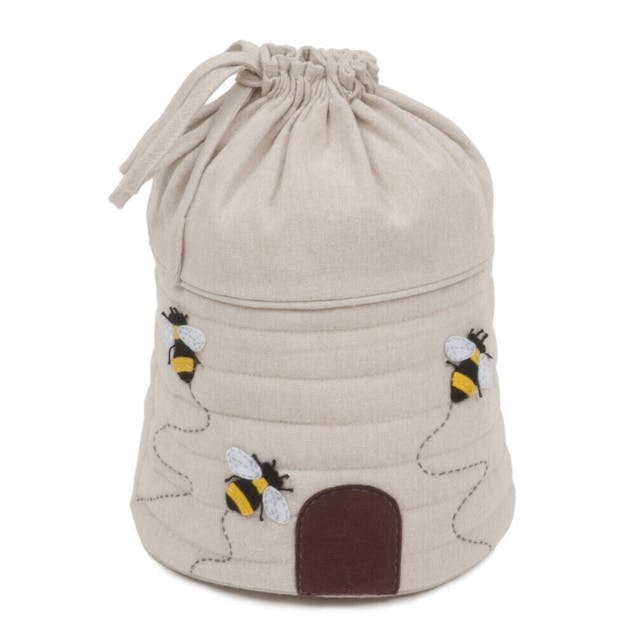 5. Craft box: For those project extras, loose threads and more
Talk about vintage-inspired cool. A kitsch craft box organizer makes the ideal gift for makers (Christmas gift ideas anyone?). A cute craft box like this beautiful wooden collector's box from DMC (pre-filled!) will look pretty darn cool at your craft station, desk or vanity.
6. Yarn bowl: For keeping your working yarn in one tidy place

For keeping your working yarn in one tangle-free zone, yarn bowls are a great way to stay organized! Yarn bowls are ideal for singling out a single skein or ball of yarn for a project. The clever design means you can feed your working yarn through the gap, without getting your strands crossed. Yarn bowls come in all shapes and sizes to suit all yarn weights.
This beautiful large wooden bowl by LoveCrafts is carved out of natural wood and suited to chunky and super chunky crochet and knitting yarns. They also make a lovely addition to your craft room when they're not in use too!
7. Plastic storage box: The perfect way to organize & display all your pretty accessories

Plastic storage boxes are a fab way to keep your buttons, toggles, stitch markers and other accessories neat and organized, whilst also making them super accessible! With so many accessories being so darn pretty, it's easy to stow them away and forget about them. Plastic storage boxes, like this Hemline Plastic Storage Box, available in different sizes, are the top choice for displaying and storing your crochet and knitting accessories, so you can always have them to hand!
8. Hessian tubs and baskets: Keep your stash in one place!
Storage baskets or hessian tubs are a great way to stow away the bulk of your stash, fabric and materials. Don't forget to pick baskets with strong handles. Super handy for keeping your craft space tidy!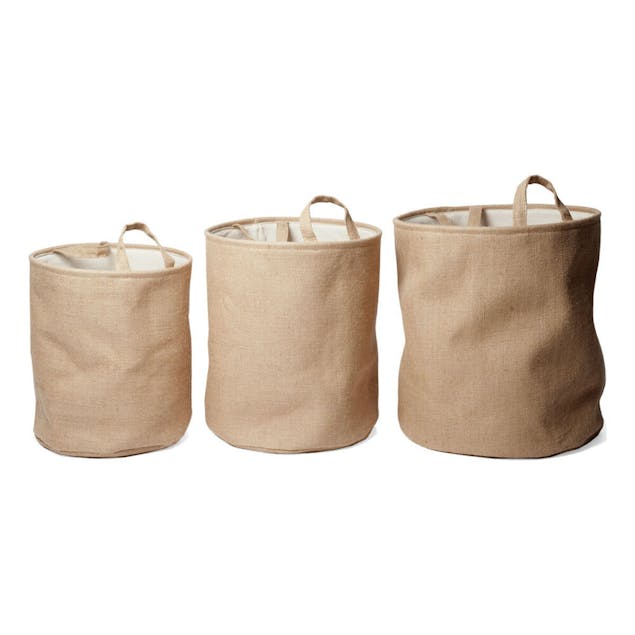 Make your own! DIY knitting and crochet storage patterns to try
Have fun organizing your space with these handmade storage solutions. To store your small projects, yarn stash or display your finished makes, these storage baskets are perfect to make for any crafting home.