The 5 best stash-busting knits
Published on

April 15, 2019
By

Siân
2

min read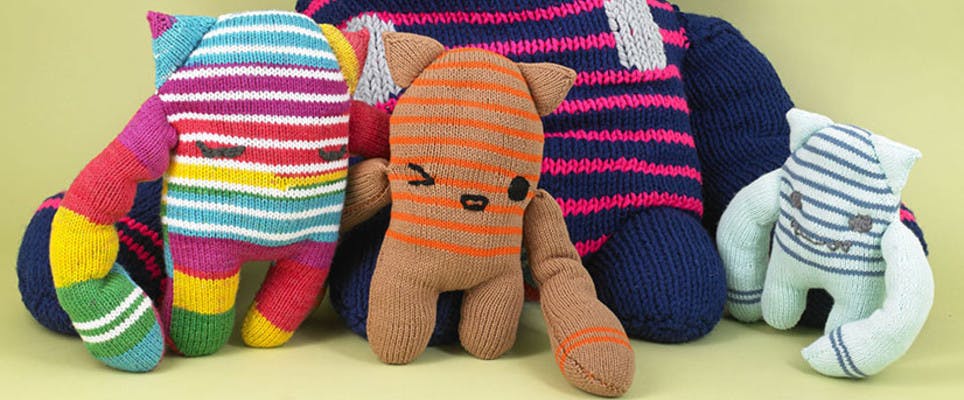 How many of you think about using up your stash before you buy more yarn? Yes, us too. So here are a few of our favorite, FREE stash-busting patterns to give you some inspiration.
Rye socks by Tin Can Knits
Socks are a fantastic way to use up scrap yarns, and this free pattern by Tin Can Knits is knitted up in aran/worsted weight yarn - which you're bound to have plenty of in your stash! Use up multiple colors by switching the cuffs, heels and toes to contrast colors.
Preemie hats for charity by Carissa Browning
This super-popular free pattern includes 5 different pattern motifs by Carissa Browning, and creates the perfect combination of stash-busting, and knitting for a good cause!
Kiko the knitted monster by Paintbox Yarns
This pattern by Paintbox Yarns is free and our favorite! Use up any weight yarn scraps to create different sized monsters. Make Kiko minis with your 4ply, playmates with your DK, or the ultimate snuggle-buddy with your super bulky stash!
Swatchtastic bunting by Tin Can Knits
Make your scraps stylish and knit up the free swatchtastic bunting pattern by Tin Can Knits. Perfect for any yarn weight - and a great opportunity to try out that new stitch sequence you've been thinking of!
Easy little heart by Claire Fairall
Use your leftovers to spread a little love with a free and easy pattern by Claire Fairall. These little hearts will make lovely gifts, or string them up to make bunting!
After all that hard work and time spent stash-busting, you'll be ready to hit the store. So why not restock your stash with some of our favorite yarns?