Olivia Kent is the crochet designer behind Hopeful Honey, the hugely successful crochet blog full of patterns, video tutorials, and inspiration galore. Let's meet Olivia!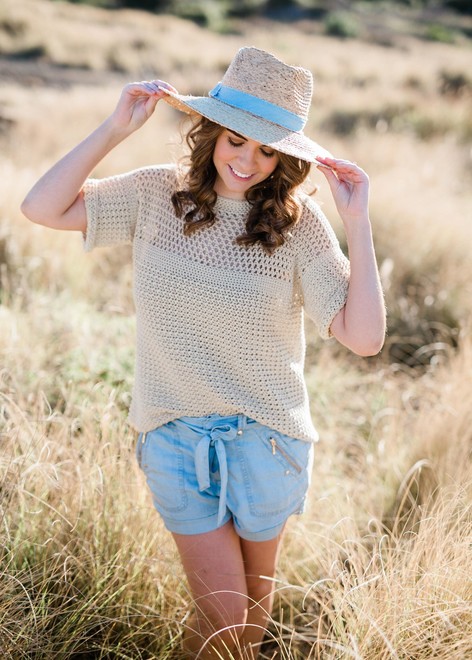 Hi Olivia! Tell us about Hopeful Honey! How did you dream up that fabulous name?
I've always been slightly obsessed with all things creative, and thankfully I was blessed with a wonderful mum who encouraged me in all my crazy (and messy) endeavours.
When I was younger I always associated crochet with doilies and granny squares, and it wasn't until I discovered Pinterest that my eyes were opened to the endless possibilities crocheting held. After that I became very passionate about reinventing crochet into a modern form of creativity. A few months later I decided to start a website called 'My Favorite Things', and it was literally love at first sight!
It wasn't long before I felt the urge to change my blog's name as I really wanted my blog's name to be unique, special, as well as encompass who I was as a person and individual. I desperately racked my brain for that particular name, and was about to give up before I randomly blurted a name out and I adored it! That was the day Hopeful Honey was born.
You live near some beautiful Australian coastline, how does it inspire you?
I've always been fond of living in a small town on the south coast of Australia. From an early age I've been very blessed to be constantly surrounded by artists and photographers, which inspired me to start on my own creative journey which eventually lead to crochet.
What are your favorite crochet projects?
Ooh, that's a tough one! I think it's impossible to round it down to just one thing, as I not only adore vintage items, but I also love creating baby booties as you can quickly crochet them up in an afternoon and bring a smile to the face of any mum-to-be.
What has been your favorite project so far?
I'm currently working on some vintage inspired leg warmers, using cotton yarn in neutral colors to add a French twist. One of my favorite projects to date would have to be the Coastal Fog Chunky Cardigan I created a few months back, as it's such a classic design and perfect addition to any winter wardrobe.
What is your must-have crochet accessory?
Definitely my bulky over-sized hooks, since I love working with all types of bulky wool. The hooks are also so large, that the items also work up very quickly and the chunkier yarn leaves a beautiful earthy feeling and texture to it. I love bulky wool so much, that I once challenged myself to create a gigantic over-sized scarf, which has turned out to be a favorite.
If you were a yarn, what would you be?
There's no doubt in my mind that I would be 'Drops Paris'! Not only do I love working with this soft and luxurious cotton yarn, the colors in this collection are to die for and complement each other so well that it's hard not to create something beautiful every single time.
What are the crochet trends coming up for this winter?
I've been noticing a lot of usage of bright, bold colors this winter with simple designs that have a sprinkling of retro charm about them.