Best friend scrapbook ideas!
Published on

August 17, 2020
By

Yaz
4

min read
From school days to travel adventures, with all the highs and the lows that life can bring, there's a reason why you're joined at the hip! A best friend scrapbook is the ultimate way to show your BFF they're number one no matter what. Place all your precious memories into one scrapbook album to reminisce in years to come.
Whether it's the end of an era, a special birthday surprise, graduation or just coz your friendship is so damn awesome - bring all your priceless memories together in one special place with these scrapbook page ideas. Get ready to dig out the old photographs, raid your stationery supplies and turn your momentos into a lifelong memory book.
6 BFF scrapbook ideas to get you started
Layer up with mixed media
There are so many fabulous scrapbook layouts to choose, but when it comes to your bestie, we say more is better!
Create a collage that stands out, using mixed media and bright colors to celebrate your best pal - grab all your paper craft supplies and have some fun! We love how Jigsaw Papers gets playful with stacked shapes, fun textures and images that practically spill off the page with excitement.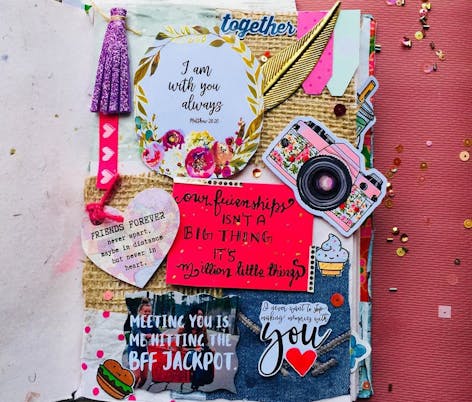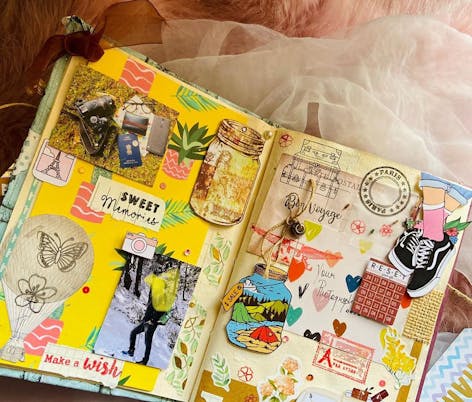 Make a friendship soundtrack 
Create your own memory mixtape by listing all your fave songs to remind you of those unforgettable times!  
We loved this crisp and clean pumpkin spice inspired layout from Dani D. Or why not take inspiration from Study Chaii's pretty pastel playlist? (P.s we love the Backstreet Boys too!)
Behind every song is an untold story"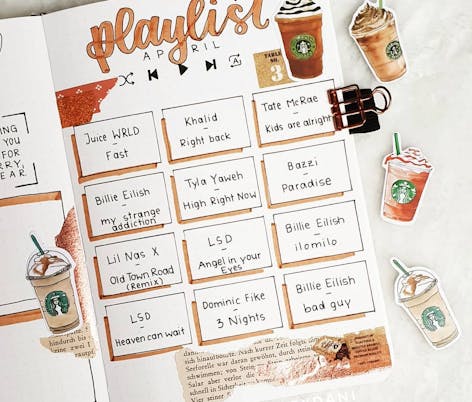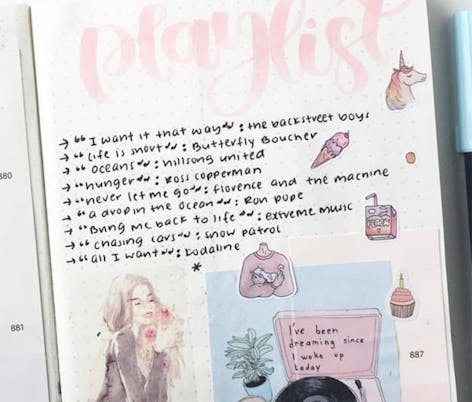 Jazz up your lists with these supplies!
Make your scrapbook picture perfect
From embarrassing school pics you swore you'd never share to prom and graduation snaps. Assemble all those unforgettable moments caught on camera by getting jazzy with your photos! Grab some scrapbook paper, calligraphy pens and create a simple scrapbook layout. 
Instax and Polaroid pics are great for creating dreamy nostalgic pages that are one of a kind, just like Elegant Book's beautiful scrapbook. We also loved this fun photo timeline idea by Wreck This Journal Ideas, to show how far your friendship has come through the years.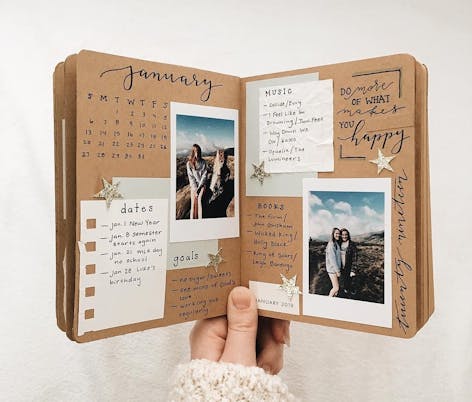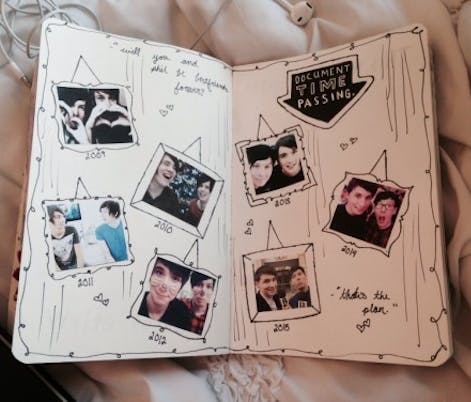 Supplies to make your photos stand out!
Make a bridal shower or wedding scrapbook
The perfect way to celebrate your bestie's special day! From pages filled with letters to the bride, with memories, advice and blessings from loved ones, to gathering all those precious memories from the bridal shower and wedding in one place. Keep and recycle tokens from the celebrations, like cake toppers, table decorations or even flowers to dry and press at home, and use to decorate your keepsake later on.
Sam Allen made her pal's day with this beautiful personalised bridal scrapbook.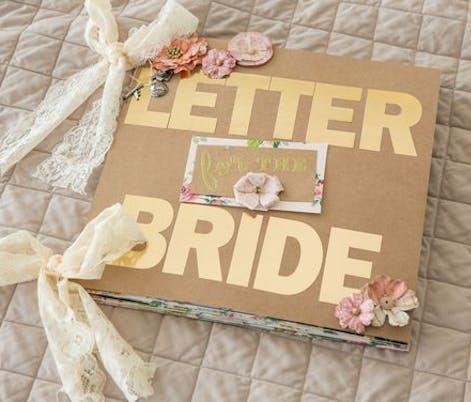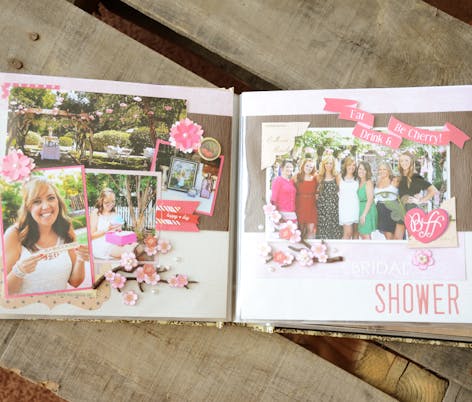 Remember the best day ever with these wedding supplies!
For those long-distance friendships and travel buddies
If your BFF loves travelling, why not make them a travel scrapbook of all their fave destinations. Or, if you've been travelling together, even better! Now's the perfect time to gather all your momentos and remind them of your adventure together.
We love how Lucy Muddy used maps, photos and even airline tickets to bring her travel scrapbook for her best friend to life. And we think this Disneyland-loving travel scrapbook, with black card, by Fazer Vários was a fab way to capture the magic!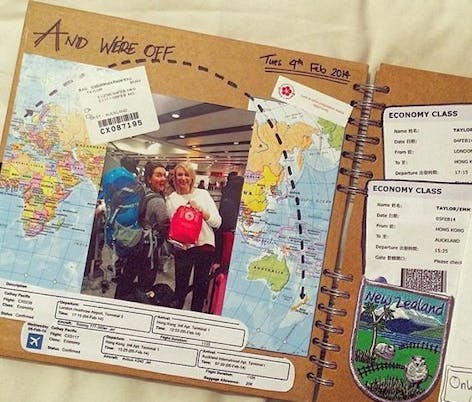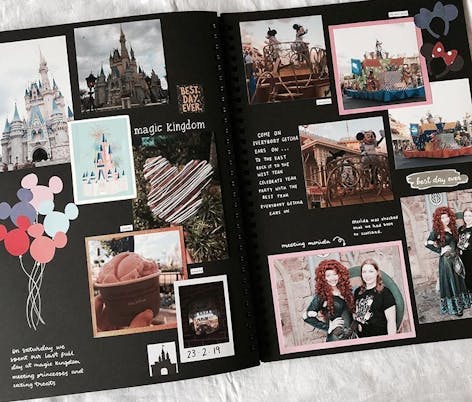 Go on a craft adventure with these scrapbook supplies
Go old school! 
We love a beautiful mess! From old magazine cutouts of their fave icons, to slashes of Washi tape, cartoon stickers, photo snaps, quotes to live by, pop-outs, movie stubs and beyond... 
There are plenty of ways to make your BFF's scrapbook as original, fun, wild and wonderful as they are.
Check out this beautiful pick and mix scrapbook from Hannah Det to this punk Grrrl DIY 90's inspired cover from Ask Me Anything - let your imagination run free!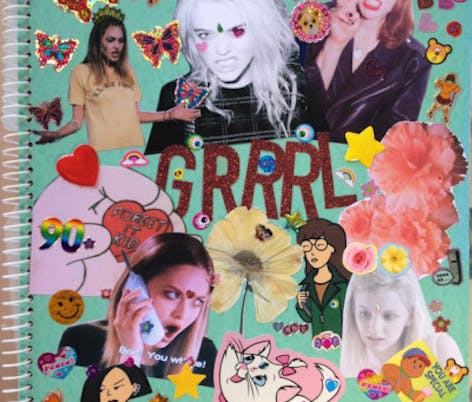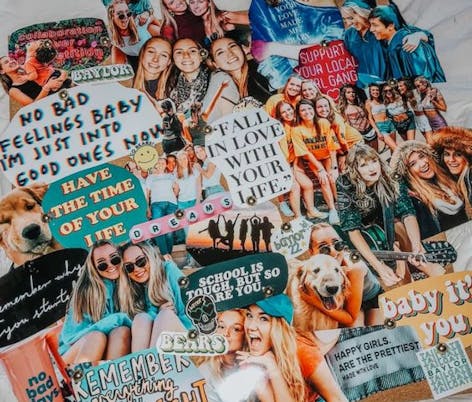 Supplies that inspire a blast from the past