Knit and Nibble: how knitting saved my life
Published on

March 20, 2019
By

Merion
2

min read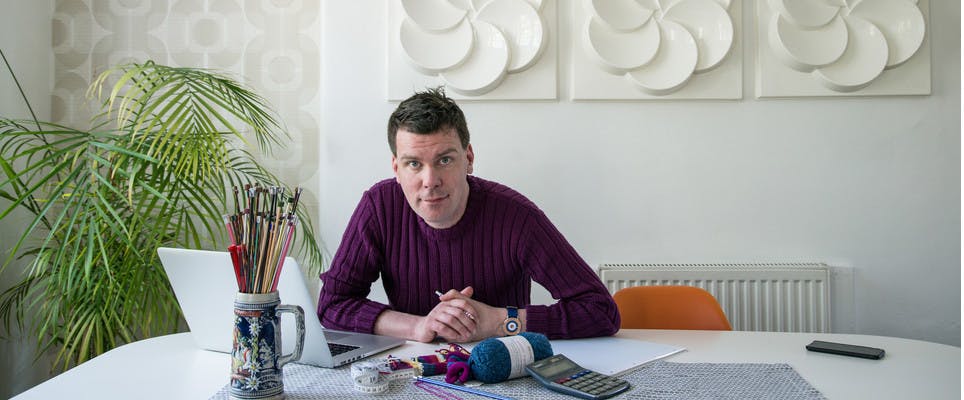 "I did not see it coming. But it arrived silently in the morning. The day after my partner Thomas' birthday party. I couldn't move my leg down the bed," says James McIntosh, knitting designer and author of Knit and Nibble, a book of knitting and snacking, of the episode of depression that left him bed-bound and helpless for a year.
"The depth of sadness in my head was too much to bear. I couldn't eat, I couldn't sleep, I couldn't function." James' attributes his depression to toxic masculinity. It  was a complete surprise, this life-loving man was famous for his exuberant lifestyle, a gap year in Siberia, a television presenting career in China, a global ambassador for AGA cookers - career choices not for the faint hearted! Thankfully he was in good hands when it struck - his partner Dr Thomas Ernst is a senior Consultant Physician in a large teaching hospital in London, and one of the only consultants to operate a mindfulness clinic to treat chronic illness and pain - very well qualified to help him recover.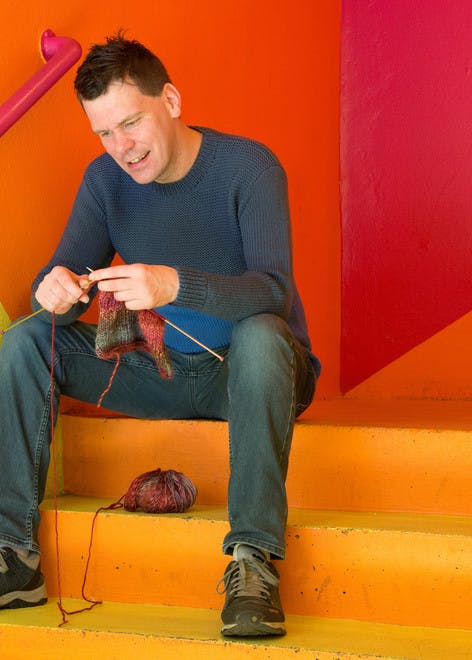 Knitting saved my life"
James taught himself to knit with a YouTube tutorial and a pair of chopsticks. Thankfully, later, Dr Thomas sent his Ward Sister to finesse his skills, and the rest, as they say, is history! He knitted his first garment, a super chunky sweater on 12mm needles in beige alpaca yarn, and when he put it on and stood in front of the mirror he felt proud of himself, a major breakthrough. He felt human again. If you've suffered from depression, this will ring home to you loud and clear - the enormous achievement of creating something, of finishing something - it's colossal.
It triggered a thirst for colour - and a thirst for knitting - and as he began to recover, his knitting career began. He started producing single patterns, and then wrote a book about knitting for beginners, Knit and Nibble.
Knitting has been celebrated, lately in the press, for its contribution to wellness. We know that the meditative process of working your way up and down a row is a gentle way to feel soothed, and the power of color, whether pastels, jewels or sleepy neutrals will have a profound effect on how you feel. Read our guide on knitting for mindfulness, and start your knitting journey with simple stitches, like easy garter stitch, and stocking stitch. Make a simple scarf, or knit squares to make a blanket - when you're ready to tackle something bigger, there are lots of easy to follow free patterns to choose from, and so many beautiful yarns to keep you motivated.