Indie designer of the week: Emma Wright
Published on

February 13, 2015
By

Kirstyn Langford
5

min read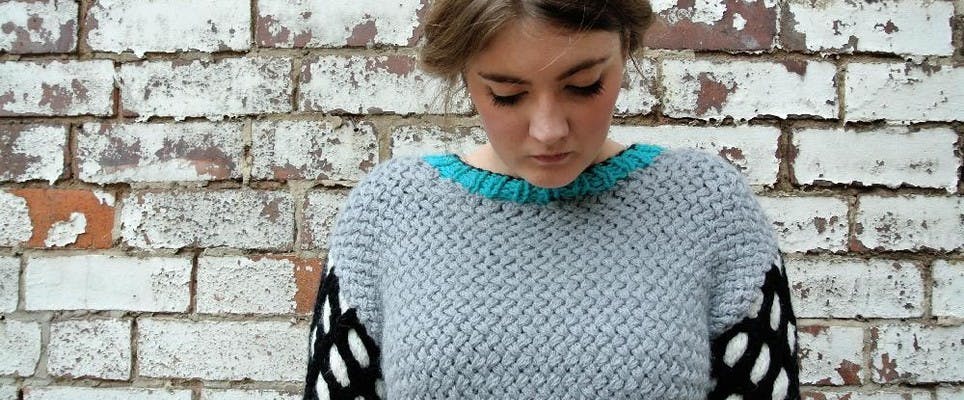 Our indie designer of the week is Emma Wright, a knitwear and crochet designer known for her flair for funky, fashion forward knits. We're completely smitten with her gorgeous patterns and can't wait to see what she designs next. We sat down with Emma to discuss anything and everything about her process, inspiration, and life as a successful indie designer. Take a read!
Hi Emma, thanks for letting us pick your brain today! Can you tell us about yourself? How did you start knitting? Who or what inspired you? 
I learnt to knit in the traditional way – my Nan taught me when I was a little girl, only I had no interest until I went to college at 16 to study Fashion and Textiles. One of the projects during my first year of textiles was hand knit, so I bought my first knitting book and all the skills my Nan taught me as a child came flooding back. I also taught myself to crochet and machine knit too!
When I begin any design project I like to start with a story or design influence I can connect with or that works with my personal design style. There are nearly always floral influences in my work and I have a major addiction to Pinterest which is a great place to store inspirational images and ideas.
What was your first knit?
My first knit was during college, I made a 1960s inspired shift dress with a peter pan collar. I never do things in half measure! It was black, only garter stitch but I had never done shaping for a neck or armholes before so as you can imagine it was a journey!  My first ever non-education knit was a Rowan cardigan designed by Martin Storey which I was actually wearing when I met him at a campaign for wool event a few years ago.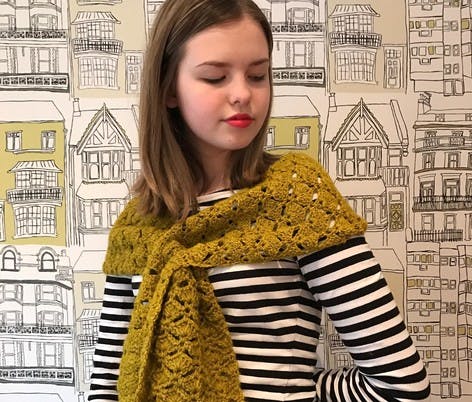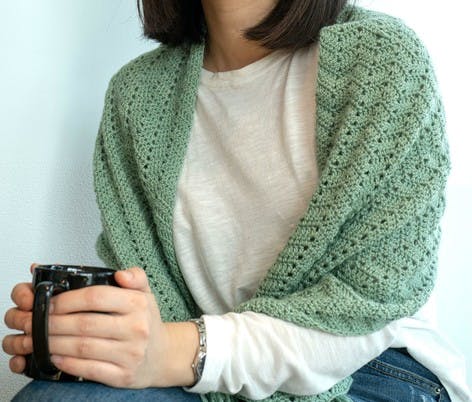 How has your knitting journey progressed? Where did you study and how did you decide which direction to take?
When I was at college my tutor wanted me to push my skills in knitwear and sent me in the direction of Nottingham Trent University where I did my degree in Fashion Knitwear and Knitted Textiles. My graduate collection was one of the hardest but most satisfying things I have ever done, I worked day and night to complete it and I am so pleased with what I have achieved. Inspired by my home county of Yorkshire, beginning with the countryside, sheep, and my love of tea as well as a play on feminine stereotypes I designed a collection of 6 outfits celebrating my love of handmade and British manufacture. I was very lucky to have my collection sponsored by Rowan, Laxtons, and Erika Knight who all made my dream of a 100% British wool collection happen.
How have your experiences influenced your design style?
During my third year of University I was a design Intern at Thomas. B. Ramsden and also did a small placement with Louisa Harding. That year I gained the freedom to build my own design identity and begun having my designs published by some very wonderful magazines and design companies.
Wow, how amazing! Tell us about working with Louisa Harding (self-confessed mega fans over here)!
Louisa is amazing, I love working with her. She is very inspirational and I am very lucky to work with her so closely. I did a small placement with Louisa during my third year at university. Louisa took me through the processes she takes to prepare for a photo shoot. I was over the moon when she asked me to be her design assistant.
What are your most treasured yarns and styles?
Can you tell us about the garment that you designed, for our Britain's Next Top Knitwear Designer competition? What was the inspiration behind it?
I knew that I had to design something wearable but creative to fulfil the brief of the competition and I really wanted the design to have my stamp on it. I have a slight obsession with bows and was feeling quite inspired by the idea of rough and aged textures. And so the Statement Jumper was born. The great thing about this garment is how versatile it is, you can wear it with the bow at the front, at the back, or with the bottom hem of the back sewn up for a structured garment. The maker can also personalize this garment by changing the contrast color or keep a natural look.
How has winning the competition changed your direction?
Winning the competition was an amazing surprise. I come from a university that encourage live projects and competitions but I have never won anything like this before. I think winning a competition like this is encouraging, it helped me to really believe in my work and has given me a brand new insight on how to approach any project I face. Winning the competition has opened many new doors for me and I am looking forward to what it brings in the future.
What are you knitting right now?
At the moment I am working on a few different projects, I am juggling as usual. I am currently putting together a mini collection of PDFs which I am quite excited about. It's inspired by my three favorite things: sheep, flowers, and British wool.