Learn about the different yarn balls and how to wind a ball of yarn
Published on

June 9, 2021
By

Sarah Jones
2

min read
A ball of yarn can come in all different shapes and sizes. It can arrive simply wound in a ball, or maybe you chose a skein where you will need to use a yarn winder to create a ball to knit or crochet with. With our handy guide you'll know your stash better than ever! You'll be able to tell a cake from a donut ball and know whether it's a hank or a skein.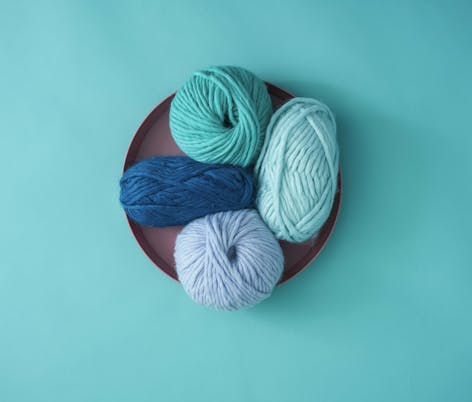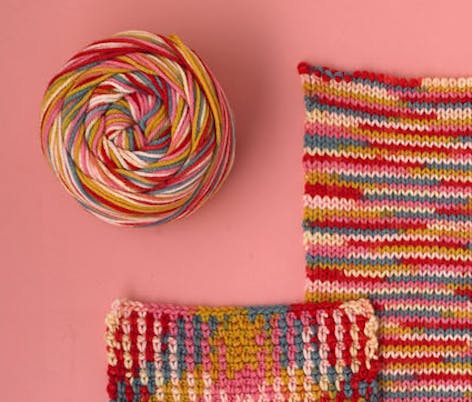 A ball of yarn
In its simplest form, and the most popular choice from our favorite brands, is the trusty ball of yarn. If you're looking to skip the winding and getting straight into making, then a ball is the way to go. Oval balls of yarn are referred to as skeins in the US, but yarn can be balled into ovals, donut shapes, cakes and mini balls.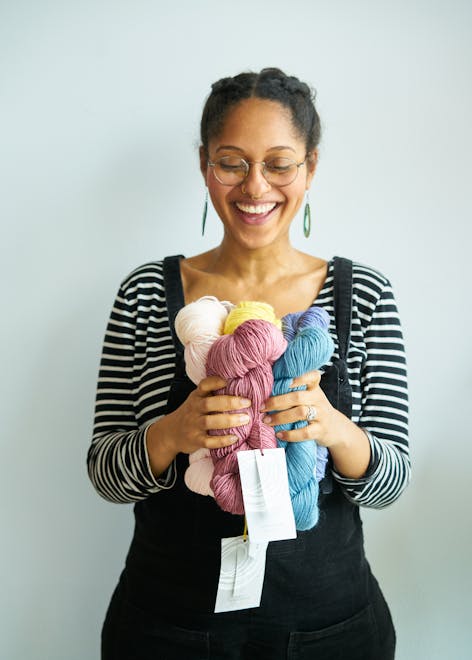 A yarn cake
For fans of colorful makes, Caron Cakes and Paintbox Chunky Pots you might already recognize this one! A yarn cake is the name given to a ball of yarn wound into a wide but shallow flat circle, to show off all the multicolored goodness hidden in the layers of yarn! This is the shape your yarn will create when you wind your hank with a yarn ball winder.
Hank or skein? 
The age-old question - is it a hank or a skein? We say both! For our US friends and other territories, hank is used for what the Brits call a skein. This is the term for yarn that is wrapped in a continuous loop with ties holding it together. 
Many artisan and luxury yarns come as a hank to preserve the integrity of the loft (simply, this means the twist and fiber of the yarn!) and make it easy to handle and package. They might choose to create the yarn as a twisted hank to help showcase the gorgeous colorways or, a folded hank might be used for bulkier yarns to show off all its character! 
How to make a yarn ball with a yarn winder
A yarn winder is a great piece of equipment to turn your hanks into yarn cakes - it's definitely worth having one in your stash! You'll need a yarn swift to go with it, to keep your yarn tension consistent while you wind the ball - it looks like a wooden umbrella and it holds your yarn as you wind, rotating as you work. 
Materials
Yarn winder

Yarn swift

Hank of yarn

Scissors
Use the table clamp to secure the winder to your surface. If you're using a yarn swift, make sure it's secured to the table also. 
Unfurl your hank and wrap around your yarn swift, making sure the swift is about the size of your skein. Not too loose that the hank slides off or too tight that it won't be able to spin. Cut the ties holding your hank together.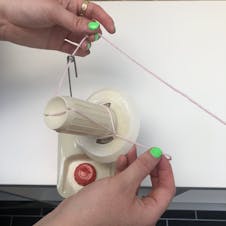 Thread the end of the hank through the feeder (if your winder has one), wrap the yarn around and tie a slip knot to secure it in place. Most winders have a notch that you can use to secure the starting yarn in place.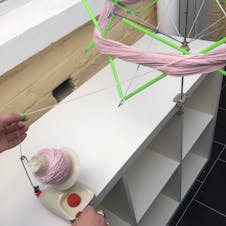 With your hand operated ball winder, start winding the yarn by turning the handle. Be careful to not turn it too fast!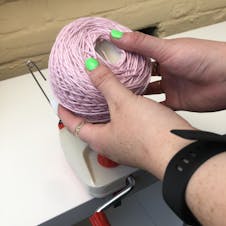 When you're at the end of your hank, pull the yarn cake off the yarn winder firmly, to make sure it stays intact. And, just like that, you're done!
Learn more fun yarn facts!