Which knitting wool is best for beginners?
Published on

January 31, 2019
By

Serena
5

min read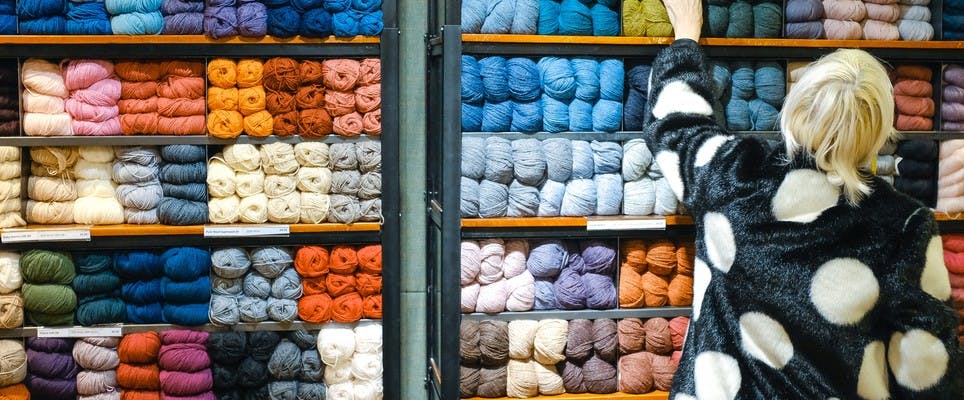 So, you have stumbled across the wonderful world of knitting, and now you must know how to learn to knit. With handy videos, you figure out how this casting on thing works, and then you look at yarn, and it's all so colorful and amazing, you don't know where to start. Wool, acrylic, cotton, blends, and what's this thing called merino?
If that's not enough, what's all this yarn weight business about? Double knitting? You're having enough problems with the single kind! Let's ease your mind and guide you through everything you need and want to know about getting started in this crazy knitting and yarn game. We'll even share our 5 favorite knitting yarns for beginners, so sit back, go grab some coffee and cake, and step into our yarn-tastic world.
There are a few factors that are really important in choosing your yarn
Ply/weight/thickness
'Ply' usually means a yarn's thickness (the 'weight' of the yarn). Some knitters will encourage you to start with the most widely-used weight, called DK, or 'double knitting'. (There is a technique called double knitting, but 'double-knit' usually refers to the yarn weight).
We suggest beginners use the thickest yarn weights commonly available, which are bulky and super bulky yarns, but the weight you choose depends on you. There are two advantages to learning with a thicker yarn. One is that individual stitches are easier to see, and the second is that the thicker your yarn, the faster your beautiful knitting project will grow! You will have to use thicker knitting needles than with a thinner yarn weight. Generally, 7 mm for bulky up to 12 mm for super-bulky.
Stretchiness
A yarn with a little 'give' in it will be much easier to knit with. You can stretch it out to make all those tricksy movements you're still getting the hang of, and the yarn will spring beautifully into place when the stitch is knitted. Generally, wool and other animal fibers will have more stretch than synthetic or plant-based materials (like cotton).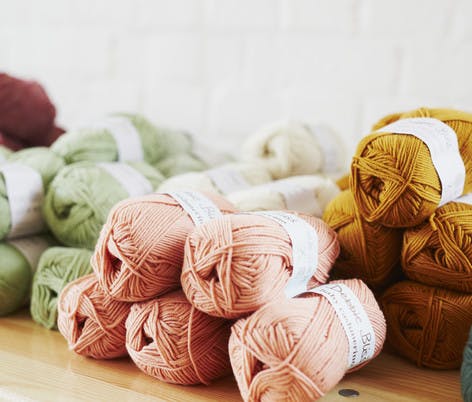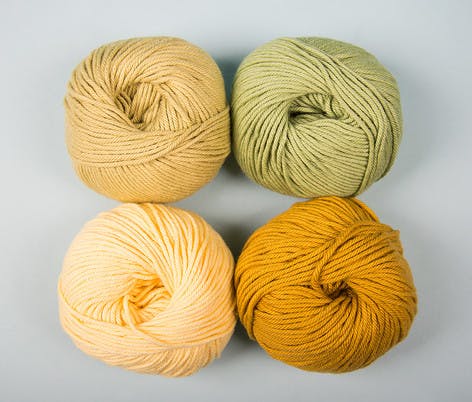 Knitting yarn can be wound into an oblong skein (above left), a donut-shaped ball (above right), or twisted into a hank (below left). Hanks look beautiful, and many of the loveliest yarns available are wound into hanks. Unfortunately, they are really rather tricky to knit from. Most knitters will unwind the whole thing and wind it into a ball by hand, often using an empty toilet paper roll as the core – probably not what you want to spend your time on! Another technique is to untwist the hank, lay it out in a circle, and just unwind each loop as you knit it – but this will be fiddly if you have to put your knitting away. Skeins are the easiest of the three to knit from, as balls can collapse a bit towards the end.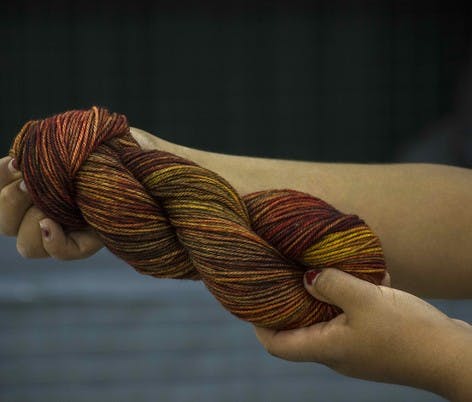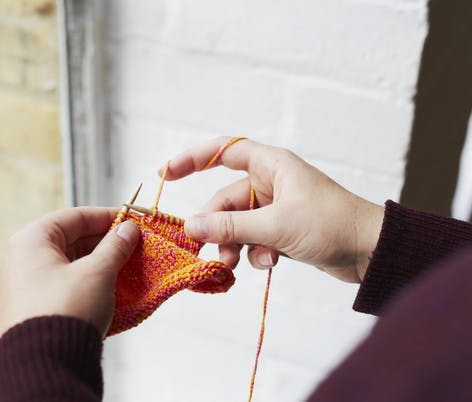 Splittiness
You don't want to spend half your time sticking your knitting needles through the middle of your yarn by mistake. It's better to go with a simple spun yarn, rather than the more complicated chain-construction, roving, or fancy yarns.
Price
A lot of people will recommend the cheapest yarns for beginner knitters on the basis that you don't want to spend too much money on a hobby you might not keep up. However, we think you're much more likely to keep it up if you can fall in love with what you're knitting! If you really don't like synthetic fibers, or find sheep's wool too scratchy, you can treat yourself a little bit without spending too much. Debbie Bliss Cashmerino Aran and Willow and Lark Woodland are both lovely yarns that won't break the bank, yet the gorgeous hand-dyed Noro Shiro, while one of our favorites, is definitely not practical for a beginner!
Our top 5 knitting yarns for beginners
Paintbox Yarns Wool Mix Super Chunky
Paintbox Yarns Wool Mix Super Chunky is a great beginner's yarn that will knit up quickly and give lovely stitch definition. With its super chunky weight, this wool and acrylic blend in over 60 fun shades, is a perfect yarn to start your knitting journey with.
Stylecraft Swift Knit Super Chunky
Stylecraft yarns are beautifully spun, to very exacting standards. This yarn ticks all the boxes: great price, simple construction so it won't split, an acrylic and wool blend for stretch, all wound up into a handy skein. It's even multi-colored so you very first knit can be of varying hues without you having to worry about switching balls!
Hayfield Super Chunky with Wool
Another great choice of you want to keep things straightforward and simple. Hayfield Super Chunky is spun of many strands wrapped together, which will make it less inclined to split and give it more stretch. It's great value too!
Rowan Big Wool
Rowan is one of the best-known and most popular knitting brands, renowned for the high quality of its yarns. It is a bit of a price jump compared to the other yarns here, yet being 100% merino wool makes Rowan Big Wool a lovely and luxurious yarn to invest in. With a huge range of colors to boot, this yarn will certainly encourage you to keep up your knitting. It is in a ball rather than a skein – almost as easy to knit from.
Debbie Bliss Baby Cashmerino
Consistently our best selling yarn, Debbie Bliss Baby Cashmerino must be doing something right to be pleasing so many of our customers. This wool, acrylic, and cashmere blend in sport weight is absolutely divine to knit with. While it is a smaller weight than our other suggested super chunky weights, because of its beautiful in-hand feel, we think Debbie Bliss Baby Cashmerino is a winner for beginners and experts alike. This popular and oh-so luxurious yarn comes in 54 delectable shades from bold tones to delicate hues. Treat yourself to this lovely knitting yarn and you'll never look back!