How craftivism gives a voice to the voiceless with Kaelyn Guerin
Published on

August 10, 2020
5

min read
Crocheter and punch needle artist, Kaelyn Guerin from Eastern Mississippi, talks craftivism against a backdrop of an American reckoning - racial tensions, societal unrest and a global pandemic, this is how craftivism gives a voice to the voiceless.
If women did it, it was not considered art
While no one will deny that skillful crafting requires some mastery, it is largely regarded as a pastime that generates a product that could be largely mass produced. The resulting creation could be done with the intent to make profit but is often only for domestic consumption. Regarded as lesser arts and sometimes called leisure arts, crafts encompass many of the hobbies and domestic work women of privilege enjoyed in antiquity.
Crafts have long since been dismissed as a form of fine art and gender has played a huge role in making that distinction. Simply put, if a woman did it, then it was not considered art. So how does something so seemingly benign spark a movement that has all the tenets of a feminist, anti-capitalist, environmentalist uprising? Well, first of all—it isn't benign.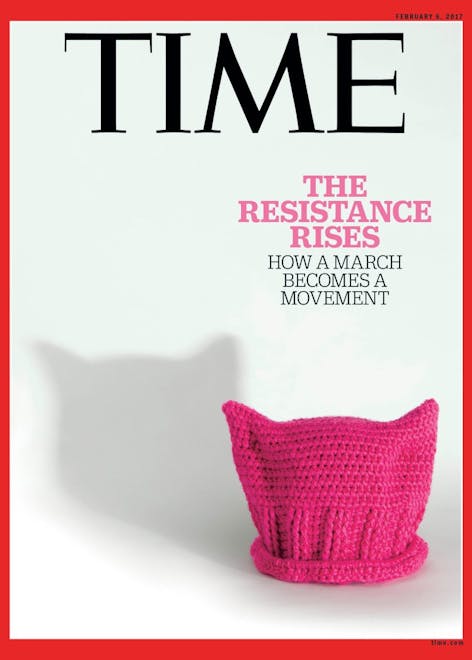 ...to purl, to punch, or to knit, the piece is transformed into a message: You will see me.
Since the early 2000s makers have evoked craftivism, a clever combination of the words craft and activism, to express discontent and support of a range of societal issues. But while social media would tell you that is the start of it all, women and other historically marginalized groups have utilized their hands to build what their voices could not since before art was art. Historically significant instances of women utilizing their domestic prowess with a needle is an obvious example. 
At the onset of the French Revolution, women known as tricoteuse or simply "knitting woman" would knit between beheadings at the guillotine. This gruesome act of silent defiance would create many of the little red liberty hats that would later become synonymous with the Resistance. Knitted hats would later cross the pond and return en masse during the 2017 Women's March. The often debated, but visually impactful Pussyhat, was donned by many of its 470,000 participants. 
A legacy of craftivism
The convergence of art and political uprisings are rampant throughout history. Singers have roused citizens with everything from ballads to conscious hip hop.  However the silent, mindful practice of subverting crafts makes strangely and uniquely powerful waves. When a maker sits with raw materials in a moment of restlessness or rage to count, to purl, to punch, or to knit, the piece is transformed into a message: You will see me. It gives a voice to the voiceless on issues that may seem otherwise out of reach. 
Shut up and color. 
Shut up and knit.
Or sew. Or crochet. 
How weighted are these words when used as a dismissive order to anyone considered unaware, uninformed or too inexperienced to have the wit to form an intelligent opinion about the discussion at hand? It is and always will be, an insult to relegate half of the population to menial tasks and deem it "woman's work". And so the patriarchy half-expected a sullen glance from across a table, perhaps even a forlorn expression and an exclamation of displeasure. Those momentary rebellions could be quickly stifled by a stern glare. Instead they got craftivism.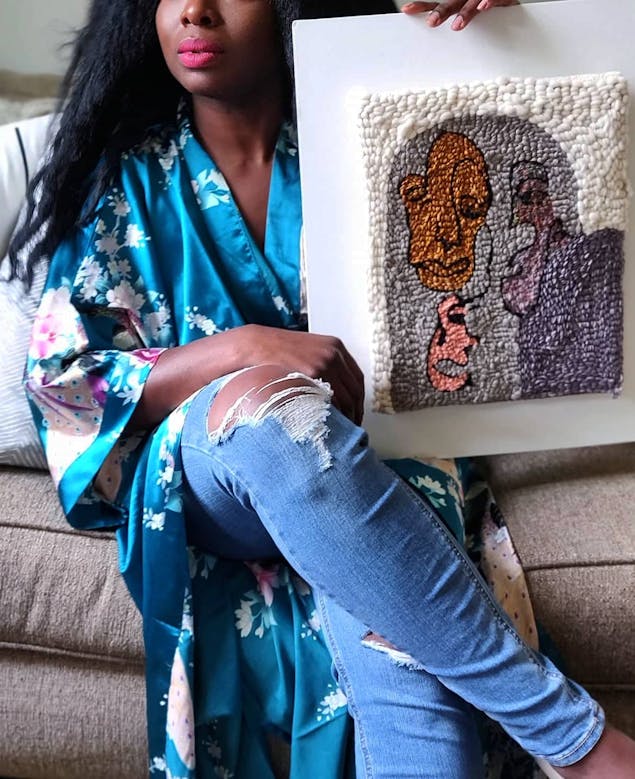 The future of craftivism
So where does this leave us? America is seeing a reckoning of sorts with topics that have never actually left the discussion table: Racial tensions and societal unrest hold a slight margin over a spiralling pandemic that has politicized community over self and individual efforts to flatten the curve of the spread of coronavirus. The weight of all of it trickles into home economics.; it influences the mindless pattern you may choose to distract you from joblessness, the threat of closing local businesses, reopening schools for your children or maybe even your inability to access your favorite fibers due to Covid shipping restrictions.
And black squares show up in your social media feeds to express solidarity. And you decide to make masks for your friend that works at the hospital. Or you yarnbomb your favorite tree at a park that has closed since March and will likely not reopen until next March. You fill the space between known and unknown making beauty in between. Can anything be more radical than that? 
   We are the makers of our own future. We are the crafters  
          of calmer minds. Our stitches are strength. And hope. And  
          love. For strangers, for loved ones, and most importantly, 
          for ourselves. Because without crafting our best selves, we
          are less use to others. 
                                                                  --Betsey Greer 
Betsey Greer, in addition to helping to pen the Craftivist Manifesto, also wrote Craftivism: The Art of Craft and Activism, a book that delves into the intersectionality of politically driven social action and crafts made with intention for change. 
Download Kaelyn Guerin's Rhianna punch needle design!
This Rhianna punch needle design by Kaelyn Guerin is part of 'Today's Inspiring Women' - an exclusive LoveCrafts' pattern collection. The collection, launched 8th March for International Women's Day, celebrates the women you've chosen to be the voices, the activists, the role models, the movers and the shakers, shaping a better world.
10% of proceeds from all kits to make the patterns will go to Women for Women International, helping women survivors of war rebuild their lives.
Listen to more makers talk about craftivism