Sloths have (slowly) won over the hearts of the world! And what's not to love about these weirdly cute animals with their button eyes and long claws? We are embracing our inner sloth and showing you our 8 favorite knitting and crochet sloth patterns, accompanied by amazing sloth facts!
Cedric the sloth shopper by Irene Strange
Ever dreamt of taking your very own sloth buddy wherever you go? Well, it doesn't have to stay a dream anymore with this amazing pattern by Irene Strange.
Sloths spend most of their time in trees, but they probably won't mind swapping them for an arm for some time!
Stevie sloth by Cilla Webb
This laid-back buddy is Stevie, and a FREE pattern by Cilla. Why not use a few of the many brown and beige shades in Paintbox Yarns Simply DK to knit him up - don't forget to use safety eyes if you are making him for a child!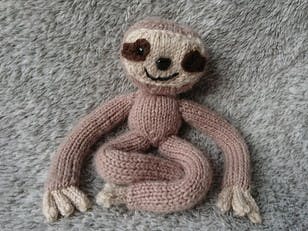 Cuddle-sized zippy the sloth by Holly Salzman
Sloths come in all shapes and sizes! Zippy's size is perfect for a cuddly companion for all ages. The crochet pattern by Holly Salzman is perfect for everyone.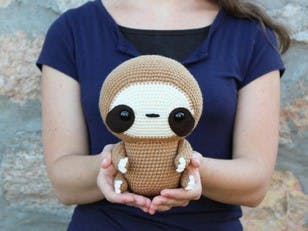 Did you know sloths live up to 30 years and even longer in captivity?
Sloth by MysteriousCats
This cute amigurumi sloth by Ana Y is called Nacho! This name doesn't reflect his favorite food though: A sloth's diet consists mostly of leaves – one of the reasons why they haven't got much energy and are so slow.
Tinsel sloth by Fiona Goble
Another reason to love tinsel yarns - just look at the effect it gives when knitted up to make Fiona's sloth! Get your claws on some brown and gold shades of King Cole Tinsel Chunky to make yourself a sparkly friend!
Sloths actually only sleep for about 10 hours a day – we reckon we could beat that!
Sloth blanket by The Almond Snug
Unleash your inner sloth and spend a lazy day on the sofa under this blanket by The Almond Snug. The adorable motif and super soft DMC Natura Just Cotton yarn it's made in will make the idea of getting up simply preposterous!
Despite being usually really slow and therefore safest on a tree, sloths can actually swim really well and love to be in water!
Sloth socks by Renee Kies
We know, technically this is not a pattern for a sloth, but we just couldn't resist such a comfy looking sock pattern! These socks are one of many fantastic patterns designed by Renee. We think they are best worn when doing your impression of a sloth - with your feet up and resting on the sofa!