10 Christmas sweater knitting patterns
Published on

November 20, 2018
By

Meg
5

min read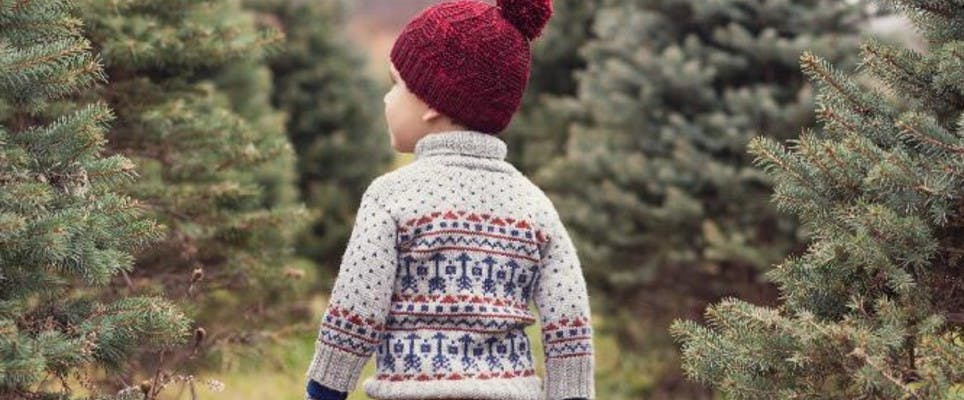 What better way to express your extreme obsession with all things Christmas than with a fabulously festive sweater? Get into the holiday spirit this year by knitting your way through these sweater patterns that everyone in the family will love!
1. Junior Christmas Jumper by Susan Crawford
This Christmas, knit your little ones a sweater featuring one of their favorite parts of the season: Santa's reindeer. In a classic Christmas green, with contrasting white for the reindeer, this sweater for ages 1 to 8, has an element of fun while still being a favorite they'll want to bring out every year. They'll be longing to dash through the snow in this cozy knit!
2. Sleigh Ride Sweater by Paintbox Yarns
A festive sweater is for life, not just for Christmas, that's what we say! The perfect wintry themed number will see you through the entire season, through chilly January and the cold dregs of February. And we have just the ticket. The Sleigh Ride Sweater in Paintbox Yarns Wool Mix Aran is the perfect intermediate knit. Using the Fair Isle technique, this totally adorable pine tree motif knit will become a firm favorite!
3. Maxfield Sweater by Martin Storey
If the man in your life refuses to embrace a novelty Christmas knit this year, then this DK weight sweater in Rowan Felted Tweed could be the one that eases him into Christmas knits. This colorwork sweater can be knitted in his (or your!) favorite colors and worn for every eggnog drinking session and late night shopping trip. Trust us, a few years of Christmas joy with this gorgeous sweater and he'll be ready to graduate to a cartoon snowman with a 3D nose.
4. Locksley by Emily Ringelman
Knit your little ones a classic Fair Isle sweater that they won't want to take off this Christmas! This worsted weight knit with arrow motif and a shawl collar is the perfect blend of Christmas cheer and classic style, making for an essential festive knit.
5. Skógafjall by Dianna Walla
Think of Christmas sweaters and images of bright and dazzling reds, over-the-top textures and novelty prints spring to mind. But stop right there. Christmas sweater season doesn't have to mean garish. If you're looking for something that is understated in a sublime palette, then the Skógafjall sweater with a pine tree motif by Dianna Walla is the sweater for you. The sleeves and the body of this Scandi-style sweater are worked in the round from the bottom up, ending in the yoke and neckline.
6. The Grete Sweater by Knitting Inna
Knitted in the loveliest and softest yarn, Debbie Bliss Baby Cashmerino, the Grete Sweater is a perfect addition to everyone's festive wardrobe. This knit is a best-selling Norwegian-style design that can be knitted in your favorite color combination. We're particularly enjoying the nordic blue hues - Lagoon and Mist, paired with white and green detailing.
7. Hornshaw Sweater by Martin Storey
Ever since Bridget Jones entered our lives, we've all been hoping for our very own Mr Darcy to walk in donning a reindeer Christmas sweater. Well ladies, you're in luck as the Hornshaw Sweater by Martin Storey in collaboration with Rowan is here! Featuring a classic reindeer on the front, and knitted primarily in forest green Rowan Big Wool, this sweater is one to swoon over this Christmas.
8. Unisex Christmas Jumper by Monica Russell
Red, the color of Santa's rosy cheeks, sparkly tree ornaments, and glossy holly berries, makes it a classic Christmas color that we all flock to whenever December comes around. If you're Christmas wardrobe lacks this signature color, then this unisex sweater by Monica Russell is an ideal addition. Knitted in DK yarn with a contrasting white snowflake pattern, this jazzy sweater is the best companion for all of your Christmas outings.
9. Christmas Tree Children's Sweater by Intarsia
We couldn't create a list of Christmas sweater patterns without including an adorable novelty knit. This novelty sweater is one that both you and your children will love with its happy Christmas tree that spreads the Christmas joy wherever it goes. Knit this fun sweater in your favorite festive colors for your little ones to really get into the spirit of Christmas this year.
10. Snowslide by Myriam Forneris
We believe that it's perfectly fine to continuously wear the same sweater at Christmastime, because like the availability of eggnog, the Christmas sweater only has a limited acceptable showtime, and you have to take advantage of it! This year, we're bring you a new option for your Christmas knit that you'll definitely want to wear everyday and all day long! Traditional Fair Isle sweaters and novelty knits may not be your thing, but if you're after something modern that still has that Christmassy vibe, then the Snowslide is the Christmas knit for you. This sweater by Myriam Forneris is knitted in bright and happy shades of red and classic snowflake white. It's a lovely contemporary knit that you'll be wearing until eggnog leaves the grocery store shelves!